Kim K Celebrated Her Niece Penelope's Birthday With A Hilarious Pic Of Her & North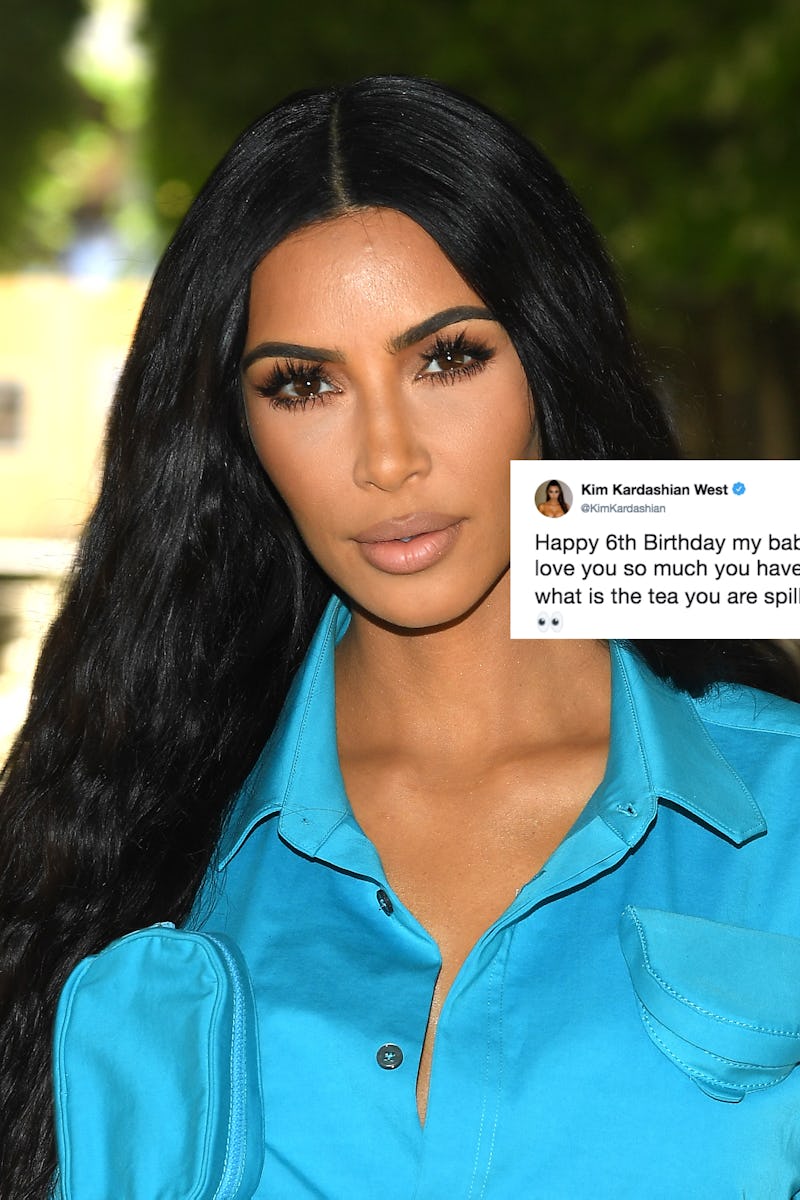 Pascal Le Segretain/Getty Images Entertainment/Getty Images; Kim Kardashian/Twitter
In 2018, birthday wishes aren't officially official unless they're posted on social media. Most people have a few family members and friends' birthdays to keep track of, but the Kardashians have a lot of birthdays to keep up with. On July 8, Kim Kardashian shared a birthday post for Penelope Disick that was just perfect.
First off, Aunt Kim just gets points for posting about P's birthday, since not every family member came through for that. In their defense, though, the Kardashian/Jenner family seems to be growing at an exponential rate, so there really are a lot of birthday and that's not even counting friends.
Aside from actually posting about Penelope's sixth birthday, Kim truly delivered with a hilarious photo and caption. She tweeted a black-and-white photo of her niece Penelope with her daughter North West hanging out in a two-seat stroller and staring at each other with the most expressive faces. She wrote,
"Happy 6th Birthday to my baby girl Penelope! I love you so much you have no idea! But P, what is the tea that you are spilling here?!?!?!"
And of course, Kim made sure to include a tea cup emoji and the eyeball emojis. It really does look like the two cousins are in the middle of a gossip session. They could've just been laughing there in silence for all we know. Or maybe they were talking about their other famous mothers. Unfortunately, we will (most likely) never know what they were discussing at this moment.
Penelope's grandmother Kris Jenner shared a birthday post of her own. It wasn't nearly as funny as Kim's, but the caption was very sweet and Penelope looked like a total style star in the photo.
The grandmother of nine wrote,
"Happy Birthday to my beautiful granddaughter Penelope who turned 6 today!!!!! P you have brought such love and joy into our world and i love every single second of watching you grow up!!!!! Thank you for every single memory and for all of the joy and laughter you bring to us every day. I love you so so much my precious P"
Penelope's mom Kourtney Kardashian shared a series of photos from their Portofino vacation cementing P's status as a fashionista. Penelope out-dressed the most stylish adults with her clothing and accessories, let alone the other 6-year-old girls in this world.
Along with the fashionable photos, Kourtney wrote, "My little birthday ladybug makes my heart incredibly full every day. So in awe of her."
Before the birthday post, Kourtney shared another photo of her daughter living it up on their vacation. The mother-daughter duo both rocked white swimsuits, with P adding a big black hat and white sunglasses to her look. Along with the photo, Kourtney wrote, "what's mine is yours."
On July 8, dad Scott Disick shared a paparazzi photo of himself holding P and captioned it, "My little peep." Just imagine being able to do a Google search for family photos instead of looking through a phone or computer for the perfect picture. He didn't actually write "happy birthday," but it's safe to assume her sixth birthday is the reason he posted the photo.
Aunt Kendall Jenner did not share a post about Penelope on her page, but she did share some photos on her Instagram Story after she wished a happy birthday to her good friend Jaden Smith. The model wrote, "It's also P's birthday," along with a photo of Smith, Penelope, and Khloé Kardashian.
Unlike most aunts, Kendall has the luxury of turning on the TV to see cute moments of her niece to take screenshots of. She also shared a screenshot of baby P from Keeping Up With the Kardashians along with some green heart emojis.
Considering that Penelope is only 6, it's not likely that she's going to see all of these posts or grasp the sentiments for a few years. But when she's older, she probably will wonder what she and cousin North were laughing about back in the day. She will probably be curious about which Keeping Up With the Kardashians episode Kendall took that screenshot from. She might end up having a double birthday party with Smith. One thing that will most likely not change is her superior sense of style featured in all of these birthday posts.