Kim Kardashian Wants To Raise Awareness For The Homeless On 'KUWTK'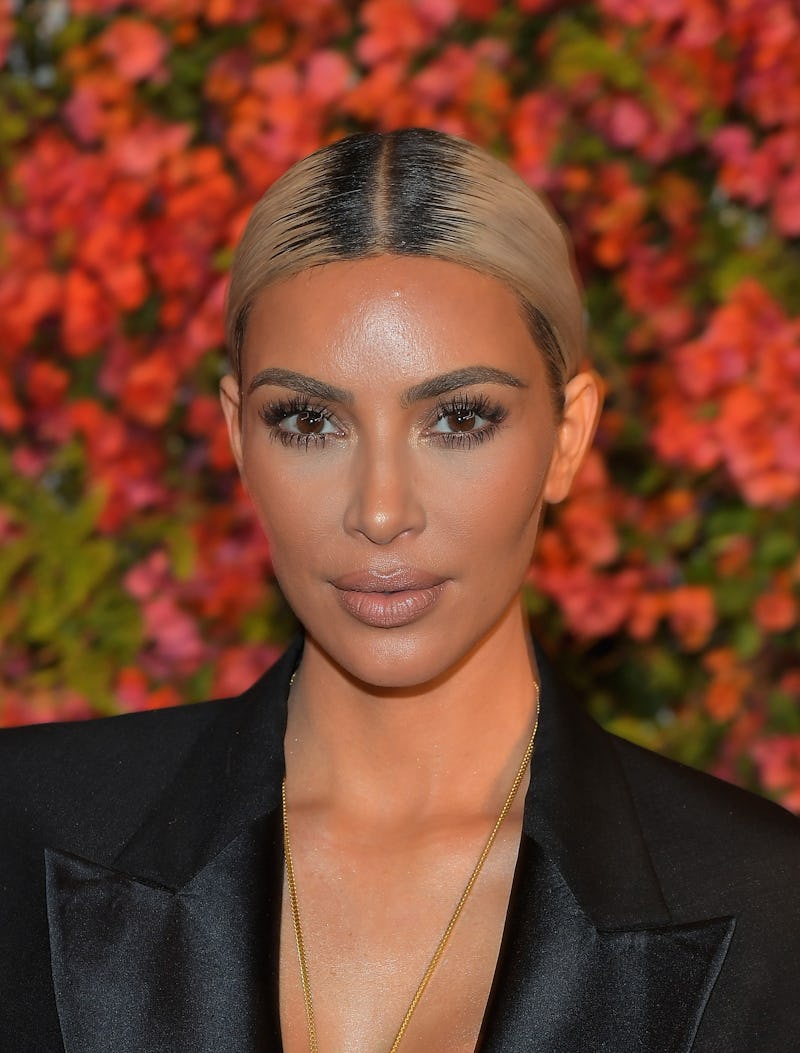 Charley Gallay/Getty Images Entertainment/Getty Images
Since the Kardashians entered the spotlight, they've always been passionate about certain issues close to their hearts, and now, Kim Kardashian is getting involved again. On Sunday night's episode of Keeping Up With The Kardashians, Kim visited with homeless people in LA, and after realizing how many people need help, she decided to get involved to raise awareness about what a huge problem it is that so many face.
After a visit to skid row with Kourtney and Khloé and realizing exactly how many people are homeless and living in tents along the side of the road — not far at all from where she and her family live — Kim decided that it was time to take action, citing her memories about how her dad used to take her and her siblings to skid row to remind them that not everyone lives the way they do. Immediately, she knew she wanted to find a way to help these people, although at first she didn't know how; she only knew that she wanted to call more attention to the issue. But then, she ended up chatting with some of the people who were or are still homeless, and hearing their heartbreaking stories only made her even more passionate about the cause.
At the Union Rescue Mission, these women sat down with Kim, Kourtney, and Khloé to share the stories of how they became homeless. For some people, being without a place to live happened as quickly as losing a job or being kicked out of their parents' home at a young age, and they truly tried to emphasize how not everyone who is homeless is facing addiction. Like one woman told them, she simply didn't make enough money to pay for a place to live, and she was working too much to find a way to get out of the hole she was in.
After that discussion, Kim talked to councilwoman Nury Martinez, and the two of them went down to skid row to talk to some of the homeless who were living there to find out if the city's programs were helping them. Unfortunately, it became obvious very quickly that it was impossible for programs to get the resources they needed to help everyone get off the street.
In the end, Kim decided to throw party that would benefit Alexandria House, an organization that offers transitional housing to women and children and helps them find a permanent place to live, as well as secure a better financial future. There, she listened to women who live in the house tell their stories, and brought in people to help them build resumés and offer advice for finding jobs.
Once again, their stories were heartbreaking, especially when a woman stood up to talk about how she'd been homeless and without help from her family while she battled breast cancer. Kim couldn't help but get up to give her a hug, and it was such an emotional moment.
"The problem is just so big that it's not gonna take just one person saying they want to make a difference," Kim said in her ITM interview. "It's gonna take the whole city and the country coming together to fix this huge issue."
It's awesome to see Kim using her influence for good, especially when it comes to drawing more awareness to such a huge issue that people in LA (and all over the country) are facing. There's a long way to go before this epidemic can be solved, but as long as people with a reach like Kim's keep talking about it, progress can definitely be made.