Kim Kardashian Declared That She's Done With Selfies & You Won't Know How To Feel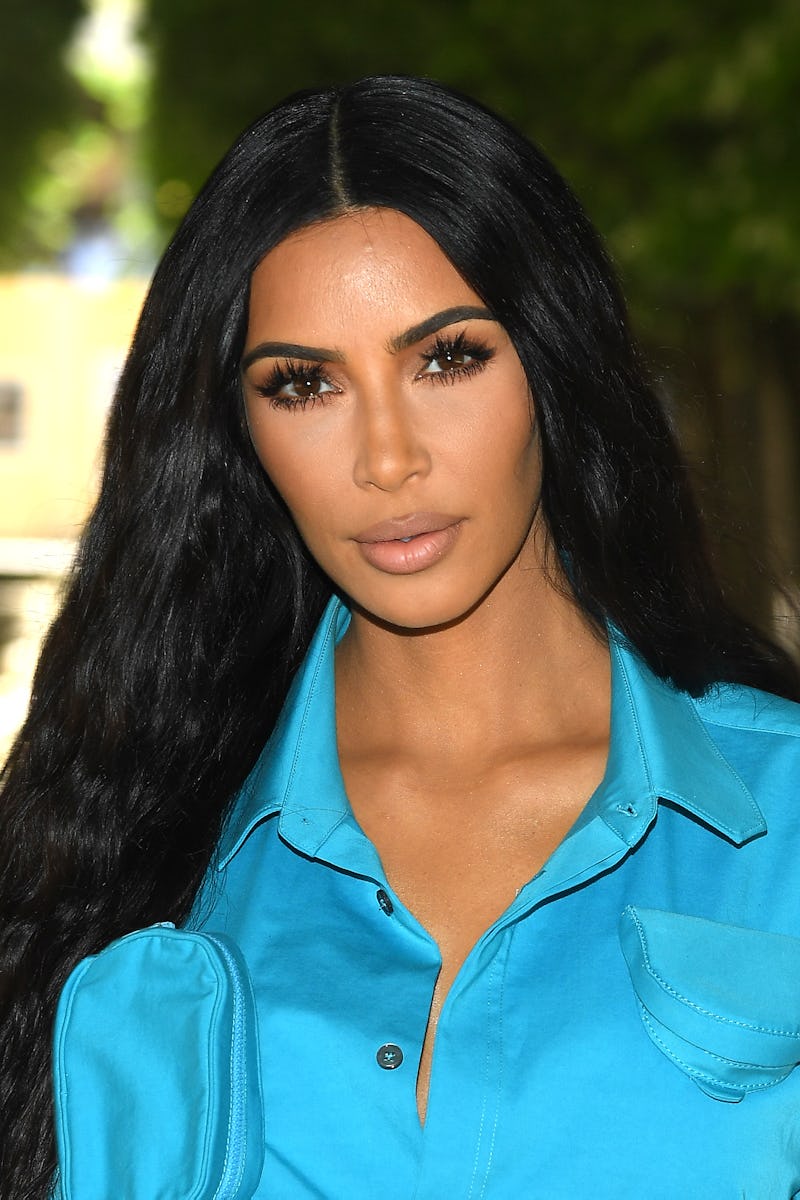 Pascal Le Segretain/Getty Images Entertainment/Getty Images
Guys, it happened: The selfie is officially over, according to Kim Kardashian at least. As People reported, Kim Kardashian is done with selfies. The reality star told ITV's This Morning all about what she thought about these types of photos, and it may very well mark the end of an era for the one-time selfie queen.
In the interview, someone off-camera asks Kardashian if she would be able to take a selfie with them. She responded, "You know, I don't take selfies anymore. I don't really like them." When the interviewer, Sam Rubin, asked her why, she said, "It's not all about sitting there taking selfies. I just would like to live in real-time a little bit more." OK, this is a game-changer, everyone.
Her reason why she doesn't want to take selfies is perfectly understandable. Still, it's wild to think that the Keeping Up With the Kardashians star is totally over the photos now, especially since she's so well-known for the snaps that she pretty much invented them (even if she isn't actually the one who did). How can you just stop using your own technique, girl? In case you were wondering, this doesn't mean that she's over photo-taking entirely.
"I don't mind pictures. But, I'm just not on my phone the way that I used to be," Kardashian said. So, don't expect the makeup mogul to be completely camera-averse.
Apparently, selfies have actually been over for quite some time according to Kardashian. She previously said in a game of Would You Rather?, which was posted on the official KUWTK Twitter account, with sister Khloé Kardashian that she would be alright with not posting one of her once-famous snaps on social media. When asked, "Would you rather never be able to post a selfie or never be able to post on Snapchat again?
The KKW Beauty businesswoman responded, rather surprisingly, with, "I would rather never be able to post a selfie again. Yeah, I kinda feel like selfies are kind of a few years ago." Even though Kardashian said that self-portrait pics were over in this most recent This Morning interview, it appears that they've been over for a while now. If the former selfie queen declares it, it must be true.
Selfies were once dominating the game, though, especially as it concerns Kardashian. In fact, she was so into the photos, and was so well-known for them, that she published her own book of, you guessed it, selfies. Before the photos were "over," so to speak, they had a big moment in the KUWTK star's book titled Selfish.
In the book, which was published in May 2015, she revealed her influence in the world of selfie-taking. Alongside photos upon photos of her own selfies, she wrote, according to The Mirror, "I took pictures of myself with digital cameras when I was in junior high and high school, and I just got hooked." She also said, "I was always obsessed with selfies."
While the photos are no longer in vogue, that doesn't mean that Kardashian hasn't obliged in a selfie or two every now and then. Recently, when it comes to the pics, she's taken them alongside her adorable children, North, Saint, and Chicago. The first time that she gave the world a glimpse of her youngest child on Feb. 26, it was actually via a Snapchat-filtered self-portrait on Instagram. So, maybe she's not totally ready to give them up?
Even though Kardashian said that she doesn't want to take selfies anymore, it looks like she'll make an exception for her cute tots. Regardless of whether she posts selfies or regular ol' photos, the snaps are likely to still be all kinds of stylish, adorable, and fun.