Kim K Takes Things Way Back To 2007 While Mourning Hugh Hefner On Twitter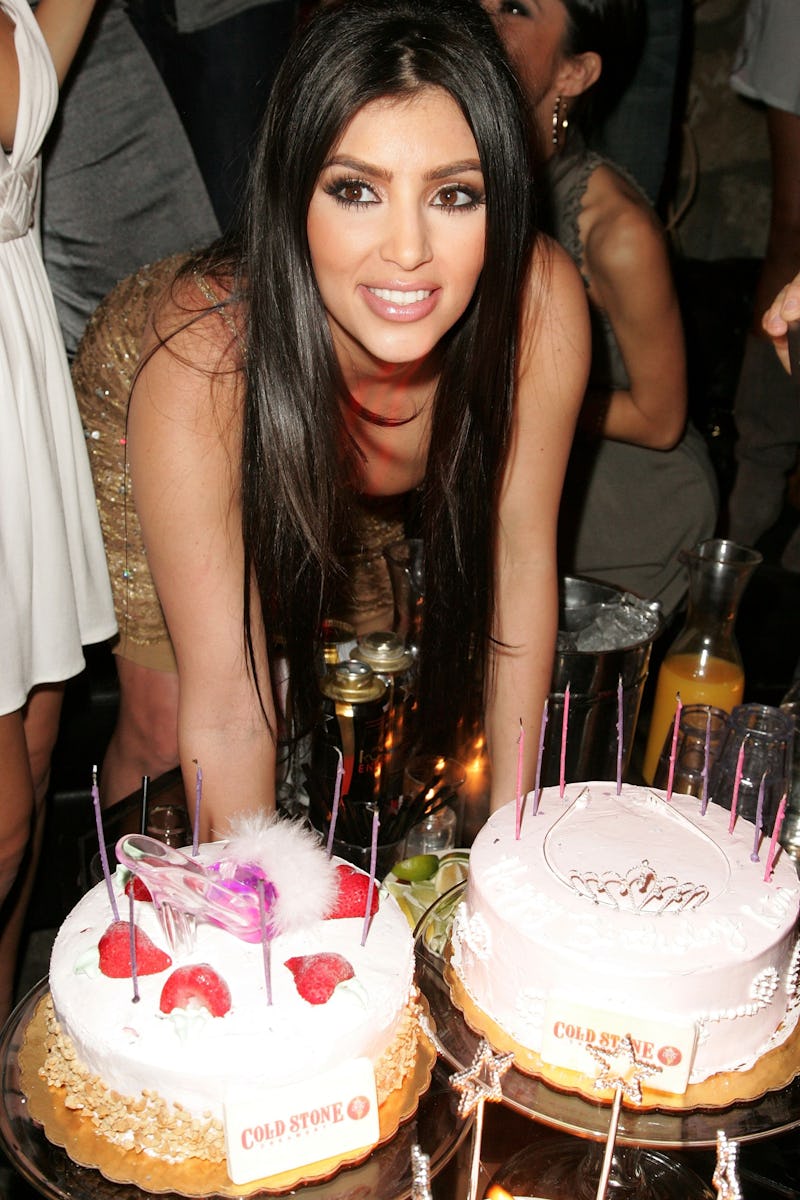 Noel Vasquez/Getty Images Entertainment/Getty Images
It was confirmed on Wednesday night that Hugh Hefner, founder of Playboy, passed away, and celebrities and fans of the mogul are taking to social media to honor him. Among those sharing their love is Kim Kardashian, who remembered Hugh Hefner through a series of tweets. She was also joined by her former BFF Paris Hilton in reminiscing about him.
In a string of tweets about the late Playboy creator, Kardashian said:
"RIP to the legendary Hugh Hefner! I'm so honored to have been a part of the Playboy team! You will be greatly missed! Love you Hef! Xoxo"
The reality star then continued to share her feelings about Hefner with a tweet mentioning a conversation she and Hilton had about their mutual friend:
"Paris & I are reminiscing about the Playboy parties at the mansion & how much we love Hef. She's texts me the perfect Hef emojis"
Hilton added to the social media conversation by retweeting Kardashian's message mentioning her and writing her own note in remembrance of Hefner:
"So sad to hear the news about Hugh Hefner. He was a #Legend, innovator & one of a kind. We had so many fun & incredible memories together. I will miss him dearly. Rest In Peace my friend."
According to People, Kardashian and Hilton were both fixtures at past parties held at the Playboy Mansion, and Kardashian even posed for the cover of Playboy back in December 2007. Longtime fans Keeping Up With the Kardashians will remember Kardashian's personal struggle to decide whether or not to pose for the magazine after her sex tape scandal, and how Hefner's kind words and reassurance helped her make the decision to ultimately pose for the photos, which she still loves nearly a decade later.
The saga originally played out on the first season of Keeping Up With the Kardashians, but Kardashian was still thinking about the photos back in December 2015. She reminisced about the photos on her website and app, saying, "I found these old photos from my December 2007 Playboy Magazine shoot by Hype Williams and had to post them! They are so good. Awww, I look like a baby LOL!"
According to a statement to People from a rep for Hefner, the Girls' Next Door star passed away at the age of 91 in his home on September 27:
"Hugh M. Hefner, the American icon who in 1953 introduced the world to Playboy magazine and built the company into one of the most recognizable American global brands in history, peacefully passed away today from natural causes at his home, The Playboy Mansion, surrounded by his loved ones."
Hefner's son and Playboy Enterprise's Chief Creative Officer, Cooper Hefner, spoke about his father's lasting impact in a statement:
"My father lived an exceptional and impactful life as a media cultural pioneer and a leading voice behind some of the most significant social and cultural movements of our time in advocating free speech, civil rights and sexual freedom," said Cooper. "He defined a lifestyle and ethos that lie at the heart of the Playboy brand, one of the most recognizable and enduring in history. He will be greatly missed by many..."
Hefner sold his infamous Playboy Mansion back in August 2016 to his neighbor, J. Daren Metropoulos, under the condition that he would be allowed to continue to live there until his death. In addition to his Playboy empire, Hefner was also known for his relationships with women — his reality show The Girls' Next Door documented three of his more high profile ones — and he was married three times. He leaves behind his current wife, Crystal Harris, and his four children from his previous two marriages.