Kim Kardashian & Patrick Starrr Collaborated For This Epic YouTube Makeup Tutorial
KKW Beauty Instagram
Kim Kardashian knows exactly what she is doing with her KKW Beauty line. The reality star and entrepreneur extraordinaire is embedding herself in the digital beauty realm with KKW Beauty, going right to the influencers and linking up with them. Kardashian let vlogger Patrick Starrr do her makeup and it was an epic glam fest full of tips —including KKW's most bizarre beauty reveal— and chatter.
It was also a brilliant marketing move that added credibility to KKW Beauty and reached a wider, makeup-loving audience that might not be rampant fans of KKW herself.
Kardashian was totally game and a good sport, allowing Starrr's fabulousness to take center stage as he did her makeup.
Starrr was adorbs and didn't pretend that he was anything but beyond stoked for KKW to be sitting in his chair and making an appearance on the YouTube channel. They had the cutest chemistry.
Starrr did Kardashian's makeup with her own KKW Creme Contouring & Highlight Kits and more.
We see Kim before Starrr got his hands on her, looking naturally beautiful without a drop of makeup on her face. Then we watch as Starrr built her look. They banter throughout, with Kardashian engaging him and asking about his favorite products.
She even revealed this bombshell — that her center-parted hair requires her to spray tan her scalp at around 9 minutes in. #Continuity
PatrickStarrr on YouTube
It's 33 minutes of makeup and gabbing. You can skip through it and I can guarantee that wherever you stop, it will be good.
The best thing about this video is that it brings Kardashian down to earth and to our level. She is super relatable in this clip, especially when she says she is not good at doing eye makeup.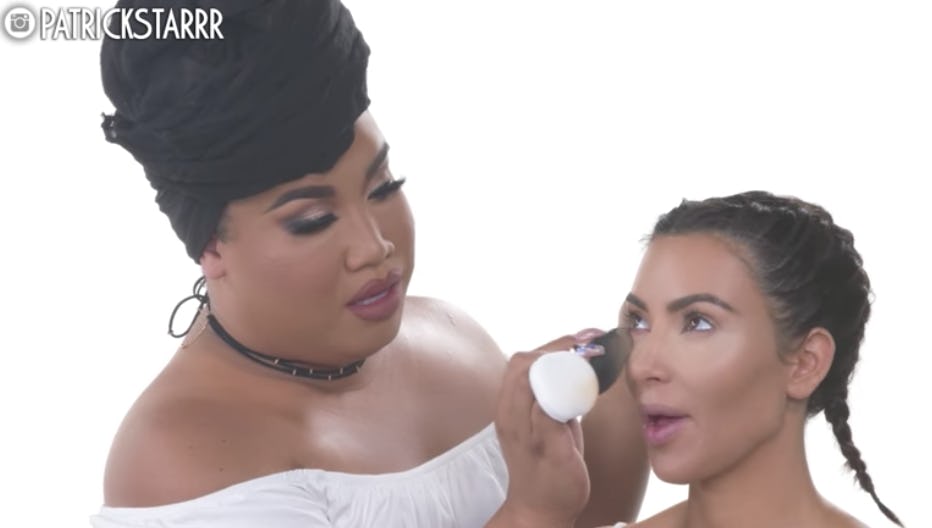 PS and KKW are quite the pair.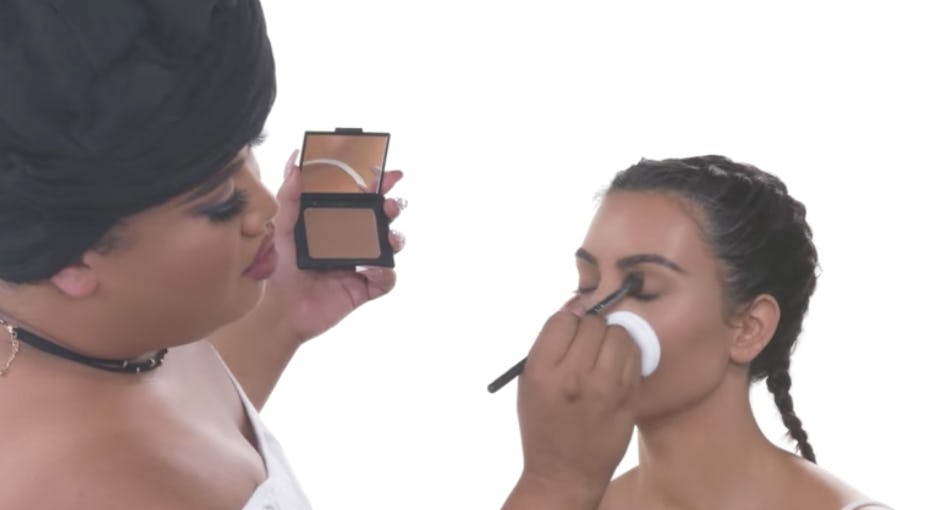 Starrr worked dat magic on Kim K. My favorite tip gleaned from this video? Starrr suggested warming up a pencil liner by rubbing it against your hand before applying to the waterline. As an avowed waterliner, Ima try that one.
The Patrick Starrr & Kim Kardashian-West collab has me cry laughing hahahahahaha sleepovers, rice crispy treats, and 'twerking'

— ✨ (@megalmond) August 4, 2017
Twitter was here for it.
That Patrick Starr x Kim Kardashian made me love Kim even more lmao. The woman is a true business woman who deserves every penny she has.

— Grandma's Muffin (@Brandysull) August 3, 2017
My point exactly.
so i just spent 30 mins watching patrick starr put makeup on kim kardashian instead of studying nice

— ✨ sab ✨ LOVE CITY (@hoseoqe) August 3, 2017
Priorities!