Kim K Promoted Appetite Suppressant Lollipops On Instagram & Twitter Was Not OK With It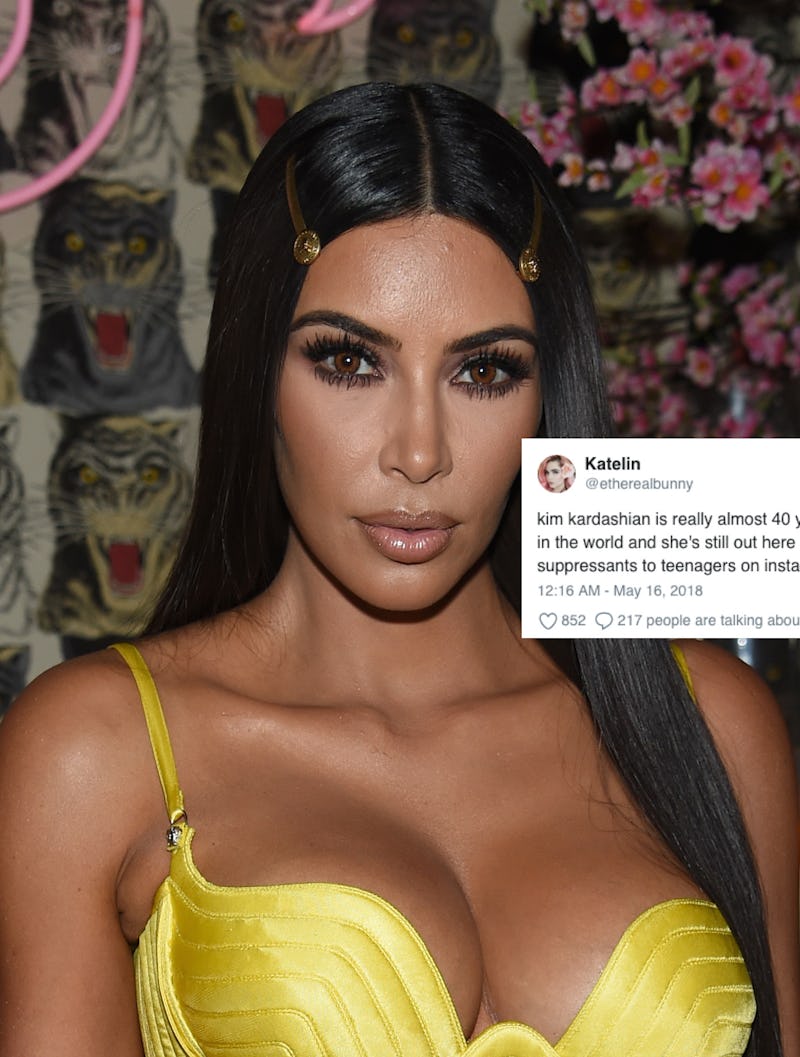 Dimitrios Kambouris/Getty Images Entertainment/Getty Images
As those who follow Kim Kardashian on pretty much any one of her social media platforms probably already knows, the reality star is big on dieting. But, judging by the backlash to one of her most recent posts, it sounds like the internet mogul might have taken her diet-centric online content a little too far. Per a Wednesday morning report by BuzzFeed, Kim Kardashian promoted appetite suppressants on Instagram and many people who saw the post were not OK with it. (Bustle reached out to Kardashian's rep for comment on the post and the response, but did not receive a response at the time of publication.)
UPDATE: As of Wednesday afternoon, the post was back on Kardashian's Instagram.
UPDATE 2: An Instagram rep told BuzzFeed that the post had been removed by accident: "We mistakenly removed content we shouldn't have and apologized to Kim for the inconvenience caused."
EARLIER: As BuzzFeed noted in its story, Kardashian's comment section was flooded with criticism about the reported post, which the star has since removed from her Instagram feed; although it's unclear if this was in response to the backlash. While the reported post is no longer visible via Kardashian's Instagram, screenshots of the photo and caption have been reposted to Twitter a number of times, where people are also expressing their issues. And if you're wondering exactly why everyone's been so upset, Kardashian fans and dissidents alike have been voicing their grievances for the better part of the last 12 hours and making their thoughts very clear on how they think she's misusing her platform, encouraging young fans to try to "be like her," and being insensitive to those with eating disorders.
Per screenshots, her original Instagram post pictured a close-up of Kardashian making eyes at the camera while eating a red lollipop. In the post's caption, she reportedly wrote:
#ad You guys... @flattummyco just dropped a new product. They're Appetite Suppressant Lollipops and they're literally unreal. They're giving the first 500 people on their website 15% OFF so if you want to get your hands on some... you need to do it quick! #suckit
In the past, several Kardashian and Jenner family members have posted ads about diet supplements like teas, but the "Appetite Suppressant Lollipops" seemed to get people talking more than ever before.
The post gave rise to a medley of complaints from folks on social media, most of which criticized the potentially dangerous and "irresponsible" message that they believed Kardashian's Instagram post promoted.
More specifically, many people on Twitter were quick to point out the dangers of promoting unsafe eating habits, especially given the fact that Kardashian's fan following is comprised largely of young women.
A handful of upset Twitter users spoke to similar points in their responses to Kardashian's post, with some pointing out that she shared the appetite suppressant promo during Mental Health Awareness Week:
As many of those Twitter users who responded to Kardashian's post noted in their comments, disordered eating — in any one of its many iterations — often proves itself to be an incredibly serious, painful, and longstanding mental health battle for so many people.
And, while Kardashian might not have intended to promote unhealthy eating habits or unhealthy beauty standards with her post, the simple fact that she shared the post with her following in the first place, in effect, still seemed to convey that message for many people who viewed it. Perhaps Kardashian's removal of the post from her Instagram account suggests the star has heard the internet's grievances and will learn from them moving forward.