Kim Kardashian Just Wore An ENTIRE Outfit Made Of Dollar Bills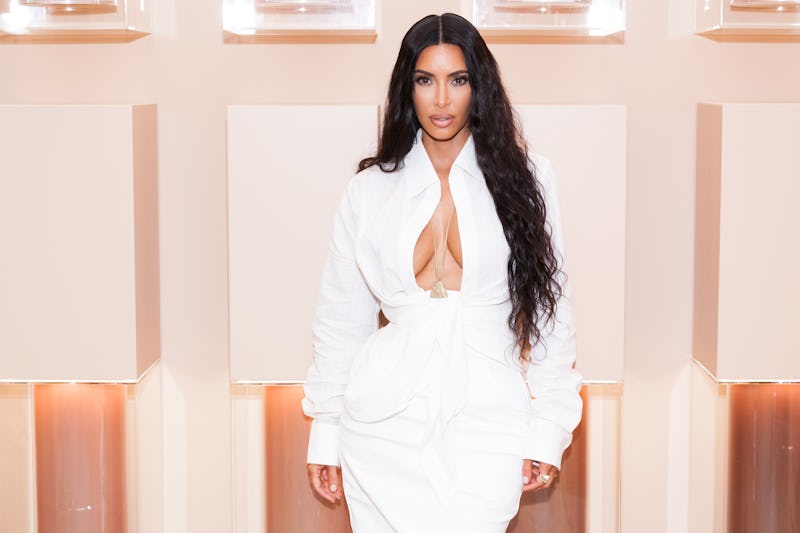 Presley Ann/Getty Images Entertainment/Getty Images
Nostalgia can call our name at the most unexpected times. There are times when we dig through the backs of our closets, pulling out clothes bundles at a time, just to find one blast from the past "lewk" that calls for a revival. Kim Kardashian West wearing an outfit made of money is that reminder to us all that she's always been a stunner.
This is sort of a new side of Kim as she usually steers away from bold colors, unless we're talking that KKW Beauty blue eyeshadow. Although at times, some of Kim's day-to-day outfits are simple, but very chic, this vintage 2001 Jeremy Scott trench coat and matching money thigh-high boots have made a very expensive statement. While she usually sports a lot of blacks, whites, and (a classic Kim K) nude, she showed out for an Anastasia Beverly Hills party in nothing but hard cold greenery.
In regular Kim Kardashian West fashion, where there's rich-looking fabric, there's a full-body mirror to see the full effect. Kim took to Instagram to show off the trench coat and boots in her (ehem) purse & shoe closet.
"What do you do when your friend sells her company for a couple billion?" she asked in the post. "You wear a full money fit and throw her a party. Okkurrr." If only I had a couple billion for KKW to throw a bash in my honor. A girl can dream.
She captioned the closet video, "didn't come to play" and there's no doubt she meant business for her beauty bestie's party.
Although covered in dough and in her high fashion element, Kim matched her "money fit" with a sparkling (and just as expensive-looking) bucket bag with an imprinted dollar sign to complement the all around luxe look. Kim, you look like a bag of money.
It's been a while since Kim has shown up like this, but we're sure glad she did. As if she wasn't already doing the absolute most, wearing the innings of a bank vault, she found the backdrop to match. As paparazzi clicked away at their cameras, Kim strutted through a money hallway with lumpsomes of cash dangling from the ceiling.
Keeping it simple, or as simple as a money print outfit can get, Kim wore her hair up in a high pony tail, sticking to her all black Armenian locks. We lowkey missed the dark hair, Kim. In addition to her golden animated money bag, she also accessorized the look with a pair of retro sunglasses that came straight out of the Men in Black franchise. Yeah, that's retro AF, girl. We stan.
Also in attendance at the ABH party, was momager Kris and soon-to-be billionaire baby sister Kylie.
Although the rest of the family wasn't there, the amount of money in that one room is probably enough to shake your core. If there's one thing we know about the Kardashian/Jenner family empire, it's that they never disappoint in pulling out the most memorable outfits for a sick celebration.