Kim Kardashian's 2018 Met Gala Dress Was Quintessential Kim K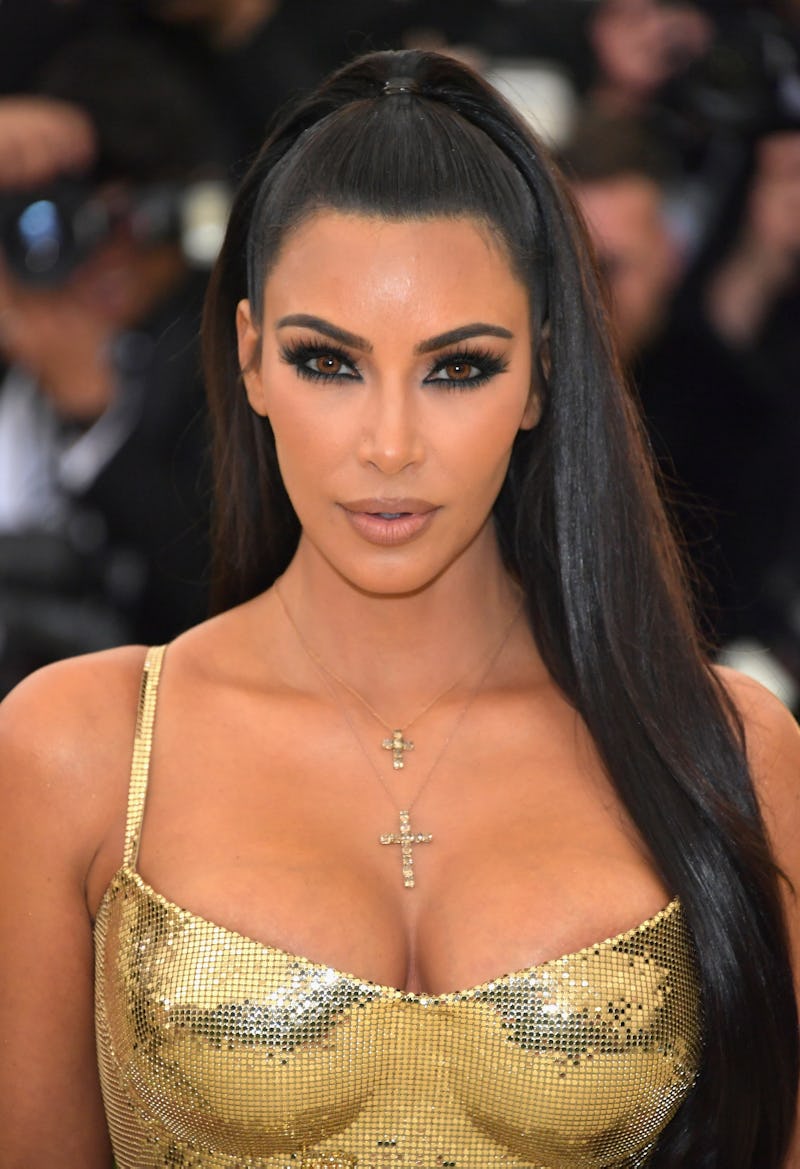 Neilson Barnard/Getty Images Entertainment/Getty Images
Kim Kardashian is always one to watch — whether she is dropping a new beauty product, hitting a red carpet, grabbing grub at a trendy eatery, or turning up at the Met Gala. Kim Kardashian's 2018 Met Gala Dress was liquid gold Versace with cross details embedded into the fabric. The frock literally flowed like gilded, molten lava painted on her signature curves. Her entire look totally channeled Cleopatra. Or is that "Kleopatra?"
She served up a lewk that was a literal representation of this year's theme of Heavenly Bodies and Catholicism — but in a very subtle way. It was also signature Kim K.
This year's gown had a similar silhouette to her 2017 dress, which was straight in shape. At last year's event, Kardashian opted for a simple, off-the-shoulder, and stark white sheath paired with a blunt, center-parted lob. Aside from her Met Gala debut in floral Givenchy, the entrepreneur's style for this event has been somewhat familiar and recognizable.
Also, it's worth nothing that KKW didn't rock a thigh-showing slit, which she has done at three out of five Mets. However, it is indeed refreshing to see Kardashian ditch her recent Yeezy threads — leggings and puffer jackets in the athleisure aesthetic — in favor of getting dressed up and dipped in gold.
KKW was a golden goddess, while her super long, black locks and extreme, cat eye flick were reminiscent of Cleopatra.
The fabric looked like gold body paint.
The reality star and makeup mogul added a cross around her neck. It was a simple accessory — but one that honored the theme.
The dress looked like it was designed specifically for Kim K.'s kurves.
While last year's Met Gala ensemble was soft and sweet, it didn't exactly "wow" us like, say, Rihanna did and always does.
While her Givenchy gown from 2013 was divisive and polarizing, since it was such a bold pattern, it was indeed unforgettable. Her blue gown in 2014 was totally not memorable by Met Gala standards. It was pretty but ho-hum.
The superstar wore a naked and fringed dress in 2015 — it was the epic drama we were always hoping for from Kim at the Met. Her metallic Balmain gown in 2016 hugged all of her curves. It was futuristic and fun.
In 2018, Kardashian is a Met Gala regular and she sticks to her own theme. This dress is her Met-allic Gala dress. It was actually deceptively simple once you get a closer look and noticed those crosses. Or "krosses."
Kardashian, who has been rocking a straight bob lately, went for high drama with her hair. The high and tight pony, complete with massive length, was another familiar element and a recognizable Kim K. koif. Her stylist prepped her hair for the city's humidity with Color Wow Dream Coat. It kept the mega mane frizz-free and glossy.
Her usual sculpted and contoured cheekbones, heavy smoky eyes, and nude lips were in full effect. The look was created using KKW Beauty products.
Her hands and her baby bump — that was North— were concealed in 2013. But she showed some leg with a slit.
She showed a predilection for slits at the Met Gala in her follow up dress in 2014. KKW rocked a satin blue frock with a sweetheart neckline and pockets. It was by Lanvin.
This was her take on the naked dress trend in 2015. She rocked beaded and feathered Robert Cavalli.
Melted and metallic silver Balmain was her choice for the 2016 Met Gala. Once again, she rocked a slit. Notice that trend, yo!
Her beachy, column frock from 2017 was a Vivienne Westwood number. Both this and her 2014 Lanvin were her most understated Met Gala looks.
Where does KKW's 2018 Met Gala dress fit in with her previous ensembles? Besides channeling Cleopatra, it was was patently Kim Kardashian.