Kim Kardashian Left A Rather, Uh, Thirsty Comment On Kanye West's IG Photo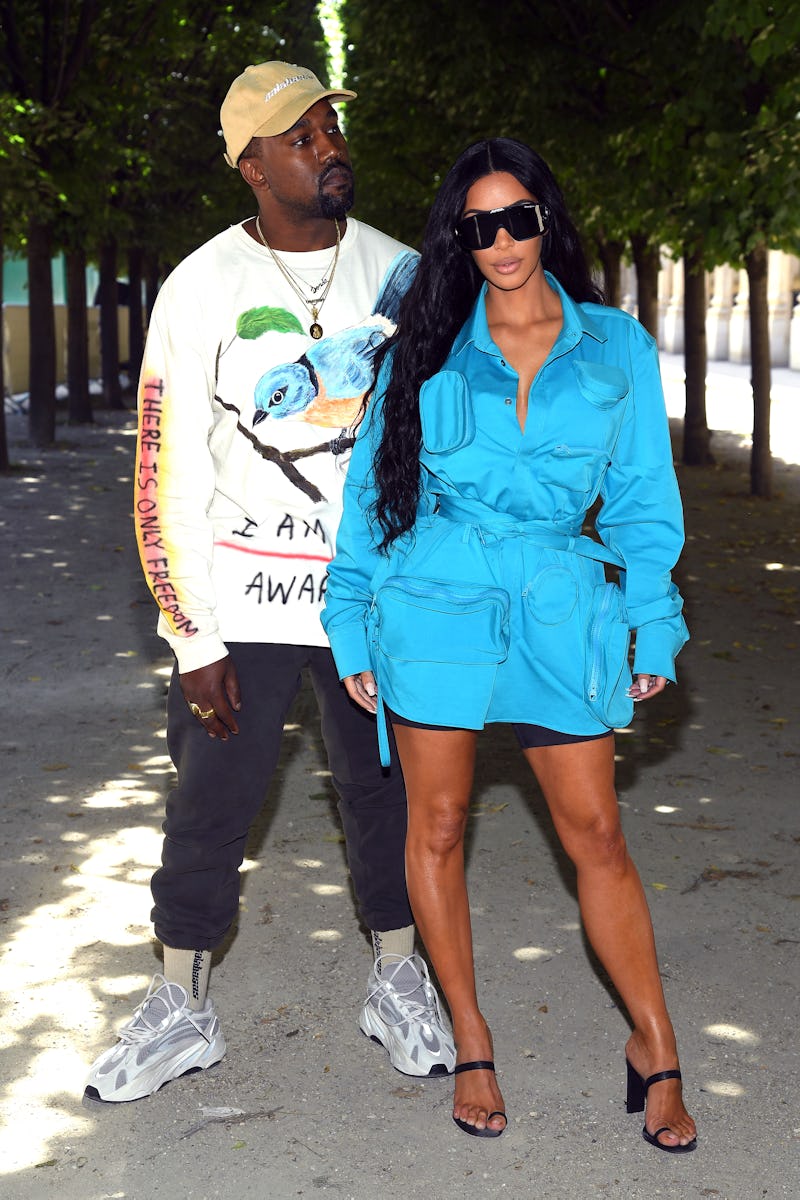 Pascal Le Segretain/Getty Images Entertainment/Getty Images
Flirting on social media isn't just for the single people. Married couples get in on the fun, too. Kim Kardashian left a thirsty comment on Kanye West's Instagram, as Cosmopolitan pointed out on Wednesday. Just like pretty much everything Kardashian does, this received several comments in response. As per usual, there is just so much to "keep up with" here.
On Tuesday, West posted a photo of his grey sweatpants and sneakers. It just seemed like a random (but truthfully mundane) Instagram post, low-key advertising some sneakers that he designed, but then his wife came through with a comment of her own. The reality TV mogul wrote, "Grey sweat pants challenge? Lemme see," along with a laughing face emoji.
Some people immediately knew what the Keeping Up with the Kardashians star was referring to with her response to the photo. Others were admittedly clueless. Just to get everyone on the same page, the grey sweatpants challenge went viral back in 2016. It started out as an excuse for people to show off their, ummmm... manhood while wearing grey sweats. It pretty much just involved guys posting photos, wearing grey sweatpants (obviously), so they could show off the outline of their penises. Yep, you really did read that correctly.
If anyone can get this "challenge" back as top trending topic two years later, it's KimYe. As of this moment, it does not appear that Kanye responded to his wife's comment, but a lot of other people sure did. And of course, just like almost anything Kardashian or West does, there was a mix of positive and negative feedback.
Nevertheless, there were a lot of people who were living for Kardashian's Instagram thirst for her own husband and had no problem responding to the reality star's comment.
One follower shared support by writing, "i love y'all for keeping the love aliveeeeee," along with fire and winking face emojis. Considering the prevalence of celebrity breakup and divorce news these days, it really is refreshing to see that a married couple is still flirting it up.
Another fan told Kardashian, "this is actually so cute." To be fair, "cute" is in the eye of the beholder. There are plenty of people who do not think that a sweatpants outline is "cute," but to some, the fact that Kardashian left a playful comment on her husband's post is adorable, regardless of what the comment actually was. A follower agreed and write, "the comment is cute i luv them."
Still, there were others who weren't as into it. Someone tagged Kardashian and wrote, "Chiilllllllll." Another person told her, "oh you wildin wildin." Meanwhile, an Instagram user called out the reality TV star, writing, "Kim thirsty af." At least it's for her own husband though. Right?
It just seemed like West was sharing an objectively unexciting photo of some grey sweatpants and sneakers, but leave it to Kardashian to spice things up. Even a comment that Kardashian leaves on someone else's Instagram is bound to garner lots of attention and feedback from her fans and haters. It's already enough to keep up with Kardashian's own social media posts, but the really entertaining stories just might be in her comments on other people's accounts.