Kim Kardashian's Photo Of Chicago & Kanye Shows A Softer Side To The Father-Of-Three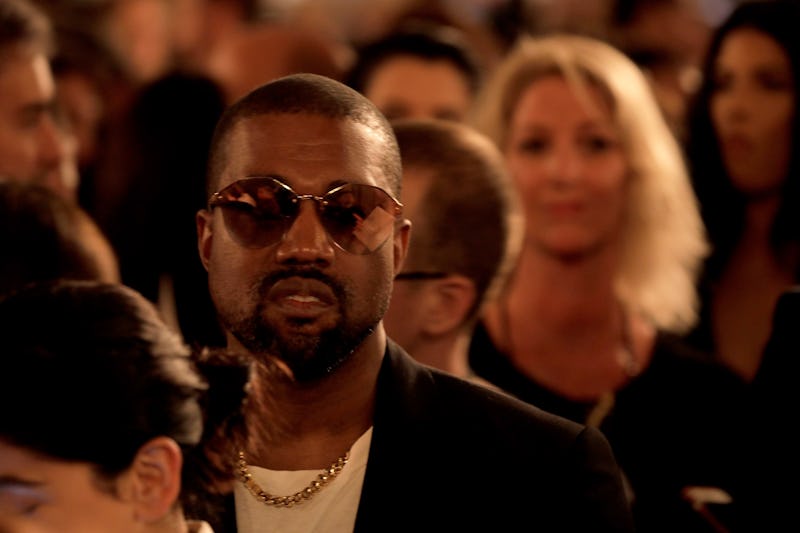 Randy Brooke/Getty Images Entertainment/Getty Images
In the last few months, Kanye West has been making headlines left and right. From his oscillating support for POTUS to his upcoming album release, Kanye has been a constant topic of conversation. But Kim Kardashian's recent photo of Chicago and Kanye shows a softer side to the father of three, one that gives followers an idea of what Kanye might be like when he's just hanging out at home.
Kardashian posted the photo of Chicago and Kanye having a picture-perfect moment on Nov. 13, captioning the post with a simple smiling emoji. Though it's certainly an intimate photo, it's not the only moment of intimacy shared by the Kardashian-West clan: Kardashian often shares photos like this on her Instagram, to the joy of her followers. On Nov. 8, Kardashian posted a photograph of herself and her three children, writing, "North is always a mood 😂"
As for Kanye, he has spoken openly in the past about how fatherhood changed him as a person. To SHOWStudio's In Camera in October 2015, Kanye said, "Do I worry about being in the public eye and raising kids? Yeah. Any situation you're in, you're going to worry about raising your kids." Kanye continued, "It's champagne problems. There's people who can't feed their kids."
West further explained how his work schedule has changed with children, and that it's much more of a priority to get home as soon as possible, saying, "Now I'm on the first flight back home to see my daughter." He added, "Having a family, period, has completely made me rethink the way I rap. I just love my family."
And it seems like that's true. Later on in the interview, he reiterated just how much he loved his wife and children, saying, [I'm] so, so, so, so happy. And I'm happy for the normal reasons to be happy. Because I married the woman of my dreams and I have a beautiful daughter and so many beautiful people around me … I have a son on the way."
Of course, Kanye now has a third daughter, too, amid growing speculation that he and his wife are looking to adopt a fourth child. As for his wife's perception of him as a husband, Kanye has received equally glowing reviews.
In October, Kardashian told Alec Baldwin on his nighttime talk show, The Alec Baldwin Show, that being with Kanye had taught her to be a little bit less independent, in a good way. She said, "I've always been so independent and working, and [had a] schedule, and when you get married and have a husband with a career and kids, your independence … you have to let it go. I had to learn that being with a man like Kanye."
She added, "I let him have his own views and opinions, even if they're different than mine."
In a slightly more esoteric characterization of her husband, Kardashian told The Cut that Kanye smells like money. She said, "I can't explain it, but [he smells] like a rich person...Like … money, I don't know! He smells like what you think a really expensive, Saint Laurent fragrance campaign would be."