Kim K's Reported New Wedding Ring Is Simple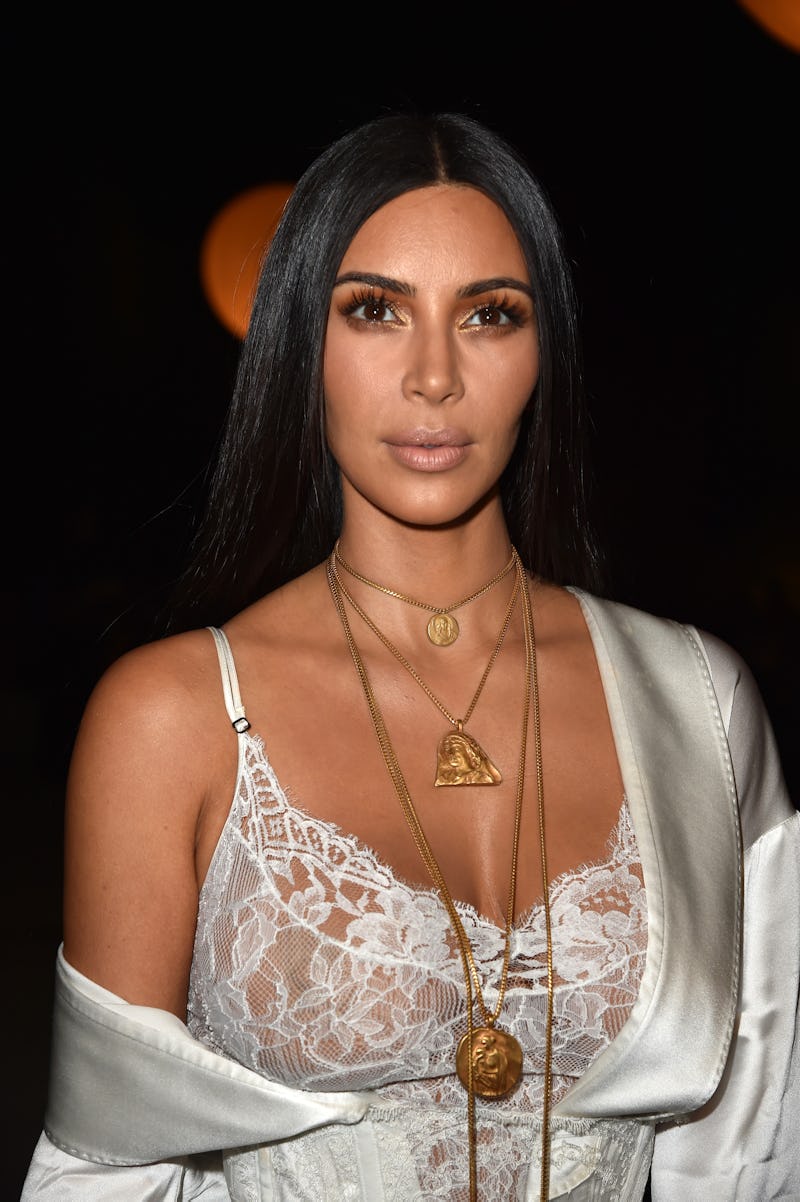 Pascal Le Segretain/Getty Images Entertainment/Getty Images
Your life can go back to normal now, because yes, Kim Kardashian is back. She recently flew to Dubai, the first trip she's taken outside of the country since the robbery in Paris, according to the Daily Mail. Photos from the airport reveal Kim Kardashian's reported new wedding ring, which is simple and understated, a departure from her typical style.
Kardashian has been absent from social media until very recently, but somehow folks have still found a way to circulate rumors. First, she was spotted without a wedding band, and publications began speculating about her marriage. Now, according to People, she replaced the stolen ring with this simple gold, shimmering band. While it is beautiful, it's definitely different from what we're used to seeing from Kardashian.
Since I'm not Kim K, I don't know if she opted for something toned-down due to criticism of her more lavish tastes that surfaced after the robbery in Paris, or in response to the divorce rumors that swirled more recently, or if she just liked the ring. No matter what, she should be able to do whatever she pleases and dress however she wants. She doesn't have to sport a ring in the first place, but if she's going to, it should be one she loves. She shouldn't be shamed into toning down her sparkle post-robbery, but if that's what she wants to do, it's her prerogative. If this minimal band is what she's into now, by all means, she should wear it and wear it well.
According to US Weekly, the wedding ring (below) that was taken from her in Paris was an upgraded version of her original engagement piece. She reportedly still owns the original ring, according to the publication, which is special for sentimental reasons, of course.
Her ring may be smaller, but it seems like, otherwise, she's still the same old Kim K. Based on her Snapchat, she was receiving a laser treatment on the plane ride over to Dubai, and upon landing, she had an extravagant dinner with Scott Disick. See, told you. Everything is just as it should be.
It's honestly so nice to see Kardashian easing back into her public presence.
She's ready for her laser treatment, glasses and all.
Seems as though Dubai is treating her well so far.
She's also proven that she and her family are doing just fine, not that she had anything to prove.
Kardashian should totally own whatever kind of jewelry she pleases, and I hope she continues to figure out what works best for her. Bling aside, what's most important is that Kardashian is happy and healthy (and on the Internet again, if I'm being selfish)!