Kim Kardashian's Story About Her Kids Meeting Khloé's Baby True Is So Cute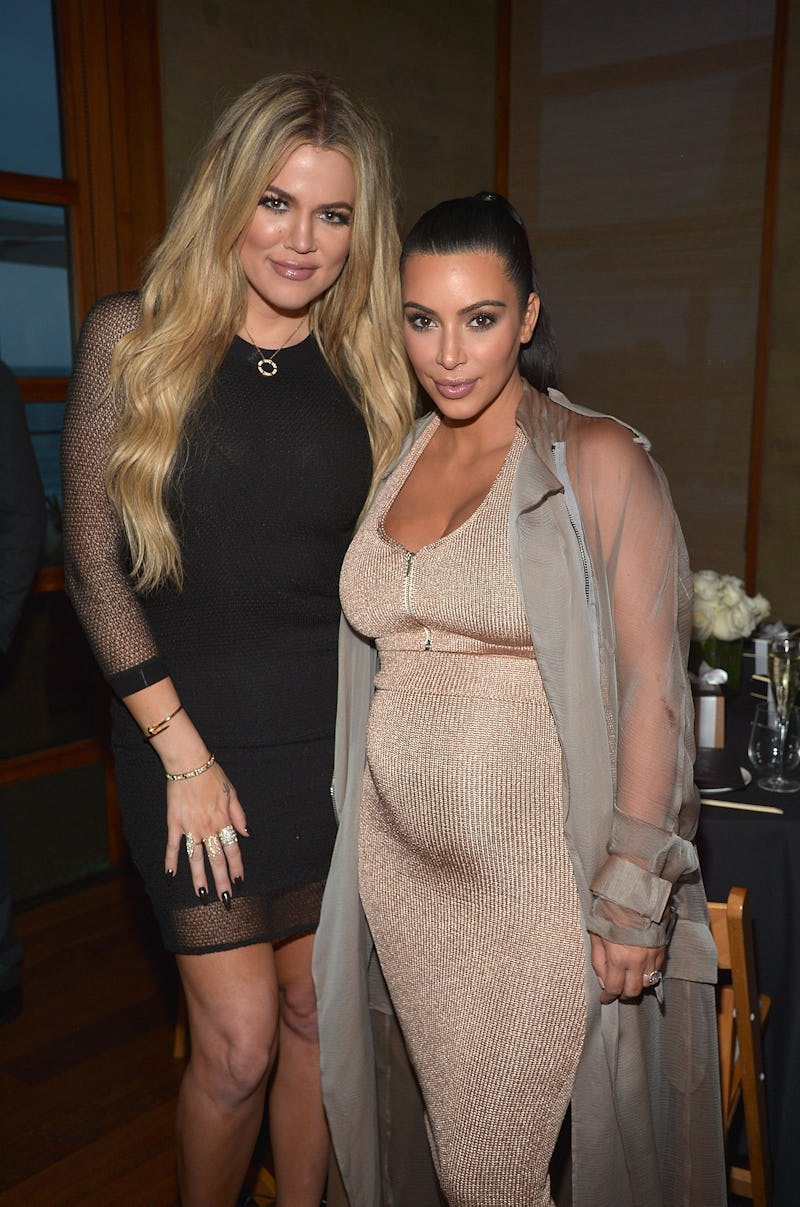 Charley Gallay/Getty Images Entertainment/Getty Images
It's been two months since baby True Thompson was welcomed into the world, and now, she's finally meeting the rest of her family. In an interview with Access Hollywood on Tuesday at the opening of her KKW pop-up shop, Kim Kardashian talked about welcoming Khloe Kardashian and True home now that they're finally back in Los Angeles, and it's so adorable to hear how excited all of the kids were to meet their newest cousin.
Although True was born in April, she's spent her entire life in Cleveland — until now. Over the weekend, the family shared their excitement over Khloé and True moving back home on Instagram, and from what Kim is saying now, it seems like nobody was more excited that her and Kourtney's kids, even if she did think it might have been a lot for Khloé to take in.
"It's very good to have Khloé back," she said. "I feel kind of bad. They came in town on Sunday and the whole family — we spaced it out so she wouldn't be too overwhelmed."
To be totally fair, Khloé did have a pretty big welcoming committee by virtue of the fact that she comes from a huge, close-knit family. And can anyone blame them for being excited she was back after being away for so long?
According to Kim, they took turns going to see Khloé and True, and it sounds like she was really excited to see True meet North, Saint, and Chicago for the first time. Even though Kim and Kourtney had already visited their sister and her little one in Cleveland, it makes sense that they probably wouldn't have brought their own little ones along for the trip.
Kim said:
"First it was Kourtney and all of her kids, then me and all of my kids, then my mom, [then] Kylie. It was just like, everyone was just coming over to see the baby and wanting to introduce my kids to their new little cousin. So it was really good to see her and have her back."
And in a different interview with Entertainment Tonight, Kim said that it was a "lovefest" when her kids finally got to see True, adding that now that she's in LA, she can finally join in on the family's baby traditions — like taking tons of photos.
"I feel like Stormi and Chicago have so many photo shoots together, and we just text the pictures to Khloé of them sitting on the couch and we're like, 'Where you at, True? We're waiting for you!'" Kim said. "Now that she can be in the mix, it's going to be so much fun."
So far, photos of Chicago (and Stormi) have been few and far between, but it's really sweet to hear that they've been spending time together, even though they're still only months old — and it's really special that True gets to join in now.
It has to have been really hard for Khloé to be living so far away from her family, especially as she became a new mother, so it's good to hear that her homecoming has been a major celebration. Hopefully, the Keeping Up With The Kardashians cameras were present for the reunion. Chances are high that seeing North and Penelope Disick meet their baby cousin for the first time was probably very adorable to witness.
Khloé's family seems thrilled to have her home, and it will be fun for fans to watch this next chapter in her life unfold. Many, many play dates are in True's future. You know, after she learns to hold her own head up and stuff.