Kim Zolciak & Her Husband Reacted To Marlon Wayans' 'White Chicks' Joke & They Are NOT Happy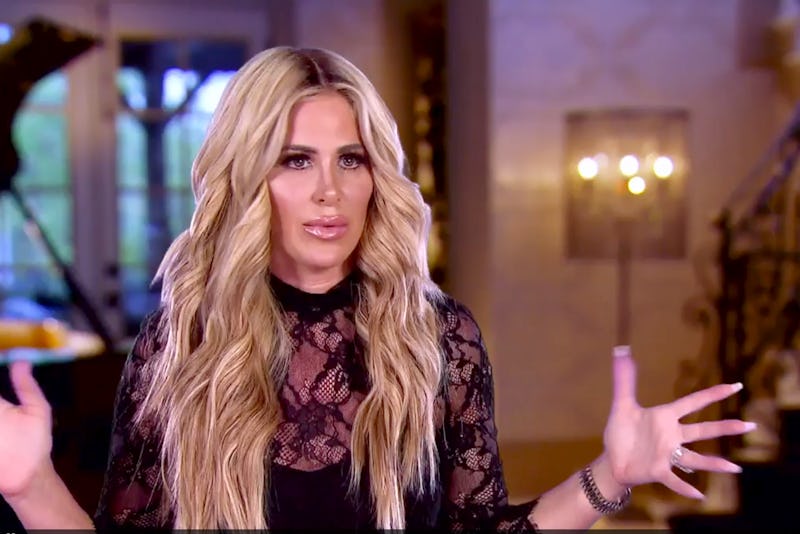 Bravo
After years of enduring drama on Real Housewives of Atlanta, Kim Zolciak is no stranger to getting shaded and straight up insulted. Unfortunately, being used to the shade does not make it any easier to hear. Kim Zolciak responded to Marlon Wayans — as did her husband, Kroy Biermann — after he made fun of her appearance during the Real Housewives of Atlanta Season 10 reunion.
Wayans posted a screen shot of Zolciak from the reunion on his Instagram page. He captioned it "No we are not in production on White Chicks 2. The f*ck?!"
Wayans must not watch Bravo because everyone who does knows that Zolciak has no qualms defending herself. She couldn't help commenting on the Instagram post. She wrote, "Was always a super big fan of yours and my kids loved you. This hurts but I guess its all for laughs" along with an emoji of a girl shrugging with her hands up on the air.
Don't Be Tardy and Real Housewives of Atlanta viewers are well-aware that Biermann normally does what he can to stay out of any controversy, encouraging Zolciak not to feed into the drama. But this time, he did weigh in.
The Twitter account Comments by Celebs posted a screen shot of the Instagram post along with a comment that appears to be from Biermann. The father of six reportedly wrote, "You should hope & pray that one day a grown man never takes this kind of dig at the expense of your daughter. Grow up dude."
One person who does seem to think Wayans' post was hilarious is Zolciak's on-again-off-again nemesis NeNe Leakes. According to a screen shot from the Comments by Celebs Twitter account, Leakes reportedly commented a bunch of laughing-crying face emoji along with a lips emoji. (Bustle reached out to Leakes for comment, but did not receive an immediate response.)
The commentary also went beyond Instagram when the TMZ cameras caught up with Biermann and Zolciak walking through the Los Angeles International Airport. A photographer asked, "What do you think about this hate coming out of Marlon Wayans? It's kind of wild, right?" Zolciak answered, "It's pretty disgusting."
The photographer wanted to know, "Would you forgive him if he apologized? Or do you think it's, like, just fair comedy? What do you think?" The OG Atlanta Housewife explained, "I think it's inappropriate that a grown ass man in this #MeToo movement is knocking a woman. I think it's gross."
Then the conversation turned to Biermann. The paparazzo said, "Kroy, we saw you were upset. I saw you commented. Any message to Marlon?" The football player clarified, "I don't know about 'upset.'" He continued, "I just think it's disappointing to men in general. Be a man, you know? He is not being a man."
He also described the Instagram post and said, "That's a total coward move, you know?" Even though Wayans is a comedian, Biermann doesn't think he should get a "pass" for the dig. He added, "No, because he's not funny."
Zolciak said that she was a fan when she commented on the post, so where does she stand now? "I don't support somebody that is ignorant," she said. "It's just ignorant and it's not funny. You know the 'f*ck' and all that afterwards is just not setting a good example."
TMZ also spoke to Wayans on April 9 and he just didn't seem phased by the controversy. "It's social media," he said. "It's a place where people go to kind of just comment. I'm a comedian."
Wayans continued, "It was just jokes. Of course, I love the girl. I think I met her, her kids, her husband and they're nice people, but I will say this: I think that we all have to be cognizant." He even added, "I did think it was Shawn [Wayans] in White Chicks. So I was just like 'What the f*ck? White Chicks 2'."
Then Wayans returned to insulting Zolciak's appearance:
"The husband is supposed to defend his wife, but I know part of him was like 'Damn. Thank God somebody said something. I've been trying to tell her to stop doing these damn surgeries. Thank you, Marlon.' He's probably like, 'That's messed up. Don't say that about my wife, but God, I told her not to go in for the tenth time. The ninth was good.'"
That is definitely not going to quell the controversy. Those words are not going to sit well with Zolciak and Biermann, but hopefully, the war of words is done. As of now, the post is still up on Wayans' Instagram account.