A New Report Claims Kimberly Guilfoyle Left Fox News Over Sexual Misconduct Allegations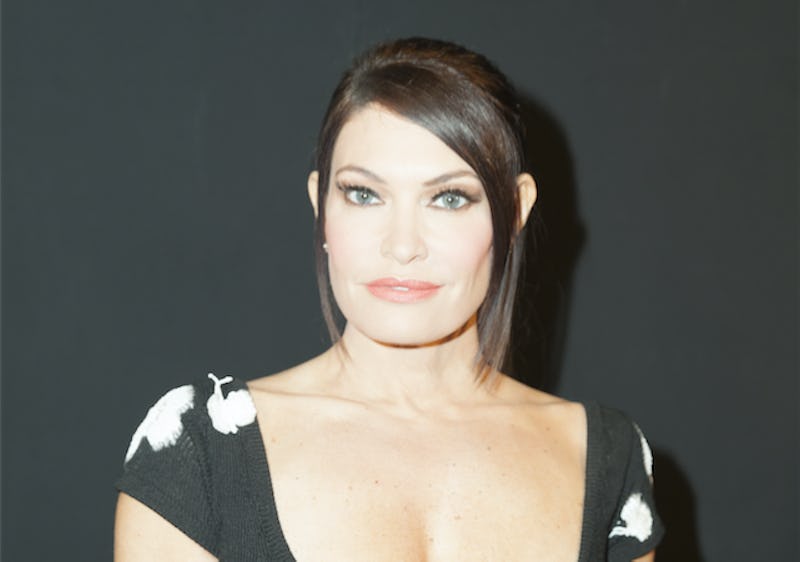 Lev Radin/Shutterstock
Kimberly Guilfoyle said she left her hosting spot on Fox News show The Five voluntarily. But on Friday, Huff Post published allegations from network insiders who claim that she was forced out after she repeatedly demonstrated "inappropriate behavior including sexual misconduct." The report complicates the question of why Kimberly Guilfoyle left Fox News.
Anonymous sources alleged to Huff Post that Guilfoyle had been the subject of a human resources investigation that began last year. They claimed that she showed colleagues personal images of male genitalia and shared the name(s) of the subject(s). According to Huff Post, sources also alleged that Guilfoyle had been "regularly discussing sexual matters at work" and "engaging in emotionally abusive behavior" to Fox's support staff, including those who worked in hair and makeup.
Guilfoyle's lawyer, John Singer, denied the allegations on behalf of his client. He gave Huff Post the following statement:
Any accusations of Kimberly engaging in inappropriate work-place conduct are unequivocally baseless and have been viciously made by disgruntled and self-interested employees. During her lengthy and decorated tenure with the company, Kimberly was beloved, well-respected, and supportive of anyone she ever met. It's utterly preposterous that there are those who are nefariously and greedily twisting innocent conversations amongst close friends into much more than what it actually was for financial gain. Kimberly has happily moved onto the next chapter of her life and hopes others will do the same.
Bustle has reached out to Singer and Fox News. Singer declined to comment and Fox did not immediately reply.
The Huff Post report describes Guilfoyle's apparent fall from grace at Fox in recent years. She reportedly entered the network as the "protégé" of former CEO Roger Ailes and enjoyed the favored treatment that came with that status. Ailes resigned from Fox in July of 2016 after he was hit with a wave of sexual harassment allegations. A lawsuit from Fox contributor Julie Roginsky alleged that he'd made at least one inappropriate comment about Guilfoyle, saying that she would "get on her knees for anyone."
But Guilfoyle defended Ailes to the end. "This is a man who champions women," she told TVNewser when the first allegations were made public. After Ailes' death in May of 2017, she tweeted out, "Roger was a friend and a mentor to so many of us @Foxnews. He will be missed."
According to Huff Post, her support for Ailes went beyond these public statements. Many sources told the outlet that Guilfoyle pressured them to come out in favor of Ailes and against Gretchen Carlson, who was the first woman to sue him for sexual harassment. She reportedly told the network that two female hosts supported Ailes without consulting them (they were "shocked"). She allegedly called up women who appeared on air at Fox to ask them whether they were "Team Gretchen" or "Team Roger."
Sources told Huff Post that Guilfoyle had a young female assistant who felt uncomfortable working for her and tried to get reassigned. Guilfoyle allegedly spoke about her sex life in detail to the assistant and engaged in "emotionally abusive behavior" towards her. One source claimed that the young woman "was desperate to get away from Kimberly."
Human Resources reportedly warned Guilfoyle that her behavior had to stop last fall. According to Huff Post, HR approached her after investigating her conduct towards producers, makeup and hair artists, and other employees.
Guilfoyle, who is currently in a relationship with Donald Trump Jr., exited Fox on July 20 after working for the network since 2006. She's since joined the PAC America First and plans to campaign for President Trump's reelection. To announce her move, Guilfoyle tweeted on July 24:
Today I have a bitter-sweet announcement. I've decided to leave Fox News Channel and dedicate myself full time to joining America First as Vice Chairwoman, campaigning across the country and firmly standing with President Trump. I will miss my Fox family. I thank Fox for the opportunities it has provided me. I thank all the talented producers, staff, and above all I thank the best fans out there.