Kimberly Guilfoyle Is Practically Gushing About Being Madly In Love With Don Jr.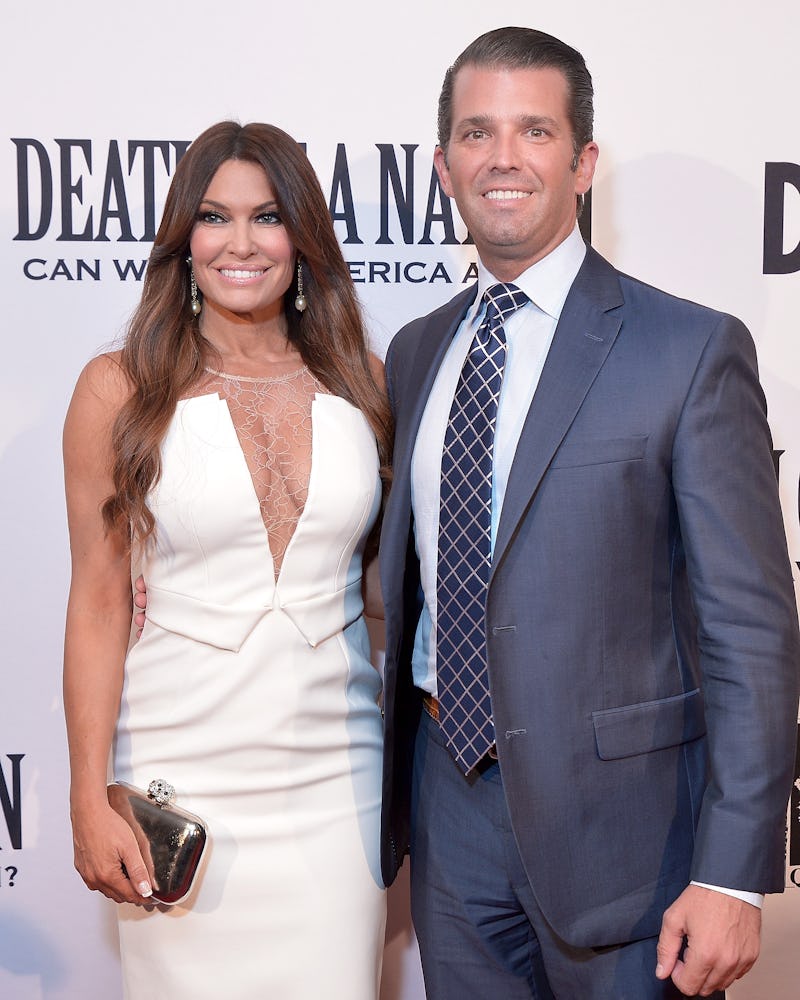 Shannon Finney/Getty Images Entertainment/Getty Images
Love seems to be very much in the air. In an interview with The Washington Post on Wednesday, Kimberly Guilfoyle gushed about her love for Donald Trump Jr. From giddily talking about their romance, to flying the possibility of "merging" the Trumps and Guilfoyles under a new name, The Post report shed light on Guilfoyle's love life with the eldest Trump son.
According to the newspaper, the former anchor for Fox's The Five show raised her hands to her face and exclaimed with a "near-squeal" about her love for Trump Jr. "I love him so much," she told The Post. "I love spending time with him. And I have no apologies. We love each other very much."
While discussing her amour for Trump Jr., Guilfoyle said, "We are best friends" and added, "I absolutely adore him." She suggested to The Post that her bond with Trump Jr. was serious and that they were in it for the long haul. Guilfoyle also said that she wanted to "merge" their families to create "The Donberly Bunch" — a spin on the title of the American sitcomThe Brady Bunch.
As it is with almost any romantic relationship, there are nicknames involved as well. According to The Post, Guilfoyle calls Trump Jr. "Junior Mints" apparently because he is "sweet as candy."
The Post report also delved into Guilfoyle's romantic past with California's Lt. Gov. Gavin Newsom — her former husband. Newsom, who served as San Francisco's mayor from 2004 to 2011, stands out as unmistakably Democrat when you consider that Guilfoyle is dating Trump Jr. Contrasting Newsom, Trump Jr. is a noted conservative; someone that The Post described as a "gleeful troller" against liberals.
The former Fox host is also apparently comfortable with introducing Newsom to Trump Jr. Both men have something in common, too, as far as their hair is concerned. Guilfoyle told The Post that "Gav's hair is slicked back" and "Don's hair is slicked back."
While touching upon on her past in San Francisco as Newsom's wife, she told the newspaper, "I have fully recovered from San Francisco." Now that she is openly conservative, Guilfoyle seems to have won the praise of her new beau as a devout supporter for his father. According to The Post, Trump Jr. said, "When everyone else said that Hillary [Clinton] was unstoppable, Kimberly stood firmly with my father."
It's that kind of support for Trump that has landed Guilfoyle the position of vice chair for the political action committee called America First Action.
In addition to gushing to The Post about her love for Trump Jr., Guilfoyle has been vocal about her passion for the eldest Trump son during events in Washington, D.C. According to the newspaper, while speaking to a group of high school conservatives, Guilfoyle brought up dating the president's son and said, "Some of you may have heard I recently started dating" Trump Jr.
"I mean what can I tell you?" the former Fox anchor mused reportedly amid hooting and howling. "Mama's a closer, you know what I mean?"