It's Looking Like Kimberly Guilfoyle Will Spend A Lot More Time With Don Jr. This Fall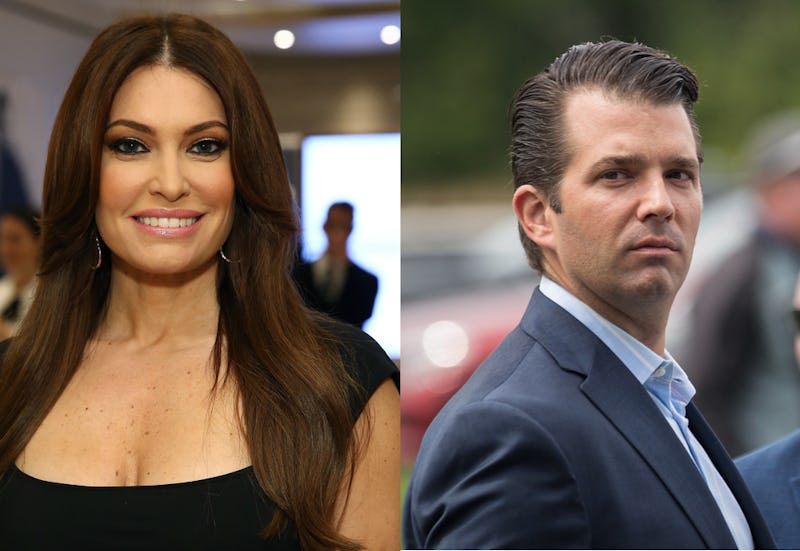 Monica Schipper/Getty Images Entertainment; Drew Angerer/Getty Images News/Getty Images
A Fox News host is reportedly planning to trade in her anchor desk for a spot on the campaign trail. According to Vanity Fair reporter Gabe Sherman, co-host of The Five Kimberly Guilfoyle will leave Fox News and campaign for Republicans with her boyfriend, Donald Trump Jr., this fall.
Update: FOX News tells Bustle in an email that it has "parted ways with Kimberly Guilfoyle."
Earlier: "Having @kimguilfoyle on the trail campaigning with @DonaldJTrumpJr for Republicans this fall is a win for the entire GOP," Trump Jr. spokesman Andrew Surabian tweeted on Friday, in what could be considered a loose confirmation of the news. "Kim is one of the most influential voices in the #MAGA movement and knows how to light up a crowd."
According to CNN, it's unclear exactly when Guilfoyle is expected to step away from Fox News, ending her more than 10-year long career with the cable news network. It's also unclear in what capacity she'll help Trump Jr. campaign. One source reportedly told CNN that the Fox News host was "likely" to work for America First Policies, a nonprofit founded by a top adviser of Vice President Mike Pence that aims to promote President Donald Trump's policy agenda. Another source said only that donors with America First Policies "had been actively trying to recruit" Guilfoyle.
In May, Axios was the first to report that Trump Jr. planned to campaign for Republicans ahead of this year's midterm elections. The president's eldest son reportedly hopes to use his "influence" with Republican voters to "expand" the majority Republicans currently hold in the Senate and "protect" the party's majority in the House, the news website reported.
According to The Hill, Trump Jr. is expected to host rallies and fundraisers for a number of Republican candidates who are running for office in the states or regions where his father performed well. Recently Trump Jr. spoke at a rally for Republican Senate candidate Matt Rosendale and Rep. Greg Gianforte in Great Falls, Montana.
Guilfoyle, a former prosecutor who was once married to vocal Trump critic California Gov. Gavin Newsom, began her career at Fox News as a legal analyst and host of The Lineup in 2006. After the show was canceled, Guilfoyle stayed on at the network, eventually becoming co-host of The Five in 2011. She's also appeared on Outnumbered and The O'Reilly Factor. Last year, it had been reported that she'd signed a long-term extension to her contract with Fox News.
Trump Jr. and Guilfoyle were first linked together romantically in May after they were seen arriving at — and leaving — a party together before having dinner in Manhattan. Divorce papers were filed by Trump Jr.'s soon-to-be ex wife two months prior, according to The Daily Mail. The couple have since confirmed their relationship and recently spent what Guilfoyle called "an incredible afternoon" at the White House over the Fourth of July.
In an interview with Breitbart Radio earlier this month, Guilfoyle hinted that Trump Jr. may have political aspirations all his own. She called him, "the number one up-and-coming political figure on the right" and claimed he "is the base."
As of Friday afternoon, neither Guilfoyle or Trump Jr. had commented publicly on news of her departure from Fox News.