Kimberly Guilfoyle's Net Worth Shows Fox News Probably Isn't Her Only Source Of Income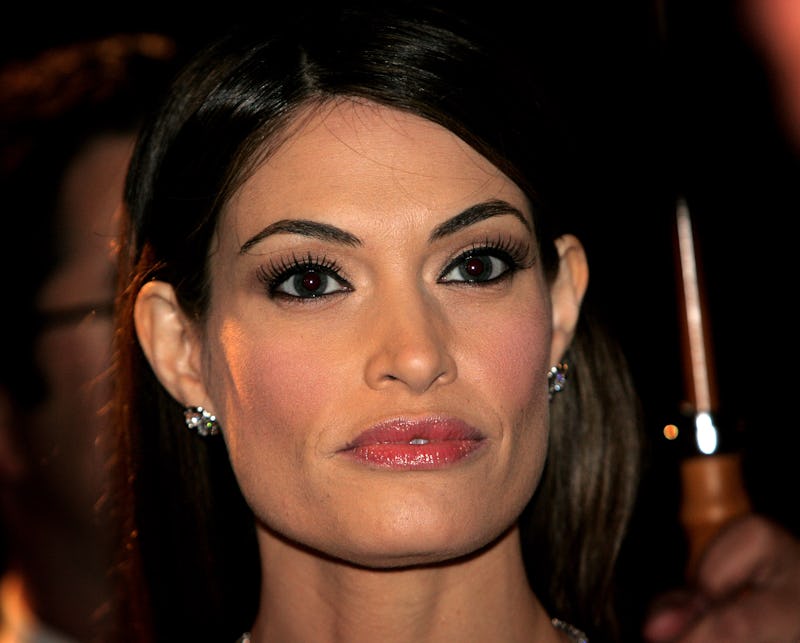 Chris Jackson/Getty Images Entertainment/Getty Images
It looks like one TV anchor is keeping herself busy when she's away from the news desk. Fox News host Kimberly Guilfoyle has a net worth that suggests she's making good money as one of the co-hosts of The Five, a conservative roundtable where Guilfoyle once joked that young women should "go back on Tinder" rather than vote. But Guilfoyle's career history includes more than her gig in political commentary. With a luxury home on the Upper West Side and a reported net worth of $5 million, according to The Richest, those multiple income streams probably helped contribute to her robust bank account.
Before accumulating her wealth, the 44-year-old San Francisco native got her early start as a Victoria's Secret model to pay for law school, she told People. While modeling clothes, swimwear, and lingerie, Guilfoyle said to People she met a lot of interesting individuals and "really learned a lot about self-confidence and self-worth." During school she also worked in a clothing store, a humble start to her path in eventually becoming a TV celebrity.
She went on to intern at the San Francisco district attorney's office and graduated in 1994 with a Juris Doctor from the University of San Francisco School of Law in 1994. It was after this that Guilfoyle's salary likely took a jump.
After a brief stint in a civil law firm, Guilfoyle began working as a prosecutor in San Francisco and for a while, dated oil tycoon Billy Getty, reported SFGate. Through her connections with the Getty family, Guilfoyle began doing political fundraising with the mega rich and worked on then-District Attorney Arlo Smith's re-election campaign. But Smith's loss led to her subsequent firing by the newly elected Terrence Hallinan.
Guilfoyle spent the next four years working as the Los Angeles Deputy District Attorney and Hallinan, impressed with her work there, re-hired her. Back in her hometown, Guilfoyle rose to further prominence when she married Gavin Newsom, who became mayor of San Francisco in 2003. A year later the San Francisco first lady moved to New York to start the television career Guilfoyle is now well-known for. The difficulties of a bi-coastal marriage would eventually result in her divorce from Newsom.
In front of the cameras, Guilfoyle had a small acting role in the film Happily Even After and hosted the program Both Sides on Court TV. She got her biggest break though she when she joined Fox News in 2006. She appeared regularly on The Lineup and The O'Reilly Factor before their cancellations, and also appeared as a guest host on Hannity and Fox and Friends. Since 2011 she has participated nightly on The Five, where she now throws her support behind the Trump administration and criticizes Democrats.
A recent scroll through her Twitter feed shows links to articles from conservative websites like the Washington Examiner, comments on international affairs like the Iran nuclear deal, re-tweets about positive approval ratings for Donald and Melania Trump, re-tweets of Donald Trump Jr., and comments on major figures, such as Trump's CIA director nominee Gina Haspel.
One of her most controversial remarks came in 2014 when she advised young women who don't have "life experience" to stay away from the voting booth and go back to online dating. "It's the same reason why young women on juries are not a good idea," Guilfoyle said on The Five. "They don't get it!" She concluded the segment by saying, "They're like healthy and hot and running around without a care in the world. They can go back on Tinder or Match.com."
After the backlash, Guilfoyle clarified the young women shouldn't vote thing was a joke. In a statement provided by the Huffington Post:
My point is you've been given a powerful blessing in life in this country to be able to vote and to be able to sit on the jury so come equipped, come prepared because you don't want to dilute the votes out there because you are uninformed and you're spoon-fed something that's inaccurate or you don't even bother to equip yourself with the facts – anybody out there, this goes for everyone.
In between making political commentary on TV, Guilfoyle also published in 2015 a self-help book with anecdotes from her personal life, Making the Case: How To Be Your Own Best Advocate. As a Fox News personality and with her book endorsed by President Trump, Guilfoyle seems to be leading a comfortable high point in her career.