You Can Now Buy KIND Bars In Mini Form — Here Are The Flavors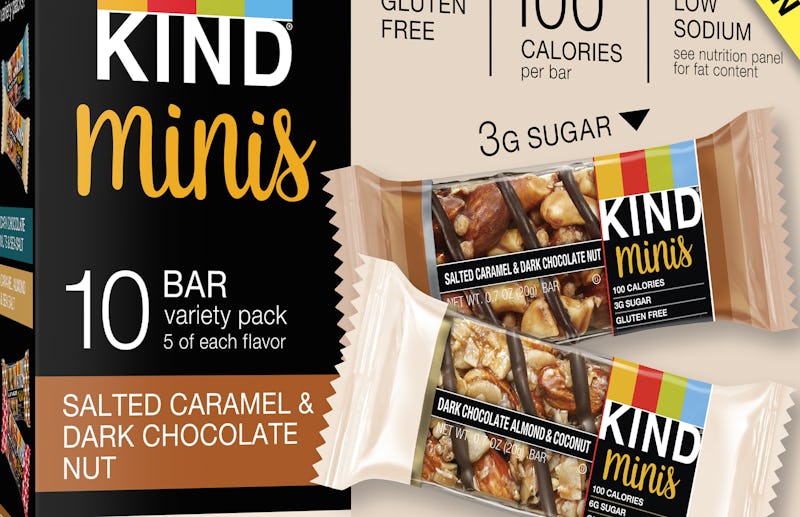 KIND
Whether you love KIND bars or find yourself drawn to anything mini no matter what it is, this news is for you. KIND mini bars are hitting shelves nationwide in December. The bars are around half the size of a normal KIND bar, and the ones available in stores will come in two flavors to start.
First, there's Salted Caramel & Dark Chocolate Nut, which was a flavor exclusive to Starbucks stores (and the KIND website) until now. The KIND site explains this one has "smooth caramel, rich dark chocolate, loads of nuts and a sprinkle of Brazilian sea salt."
The other KIND Mini being released is Dark Chocolate Almond & Coconut, which the site describes as "our beloved almond & coconut bar drizzled in rich dark chocolate for an updated take on an old favorite."
Before December, KIND Minis did exist, but they weren't sold widely in stores. As a test, KIND Minis were sold in membership stores, such as Costco. They have been available online, though. The KIND website sells a 20-pack for $13.29. They're on other sites, too, such as Boxed, which offers them in 32-packs, and Target.com, which has 10-packs. When the KIND Minis are released in stores, they'll come in packs of 10 bars with five of each flavor.
Online other flavors are available besides the ones that were just announced for stores. Online retailers sell them in boxes including two types each: Dark Chocolate Nuts & Sea Salt and Caramel Almond & Sea Salt, or Peanut Butter Dark Chocolate and Dark Chocolate Cherry Cashew. If you are looking to stock up or are more interested in these flavors, then ordering online could be a good option.
The KIND site also features other options that fans of the bars might not have been aware of, such as KIND Kids Bars, which are chewy and come in three flavors: Chocolate Chip, Peanut Butter Chocolate Chip, and Chewy Honey Oat. And since they are softer than regular KIND Bars, they aren't just for kids, but also for anyone who isn't big on chomping right into a wad of almonds. The brand also has some fruiter options with their Pressed by KIND fruit bars and Fruit Bites.
But, if you're here for the mini-ness of it all, KIND isn't your only bar option on that front. Lärabar makes mini versions of their fruit and nut bars that come in flavors such as apple pie, cherry pie, and cashew cookie. The classic Chewy bars from Quaker also come miniature sized. The brand MadeGood offers Granola Minis, which come in bite-sized pieces.
If you're interested in picking up the KIND Minis yourself, be sure keep an eye out in stores this December. But, if you want them sooner, while KIND is making a point to add them to stores, you can get them online (in many different sized boxes and flavors) right now.