KKW Beauty's First Product Of 2018 Was Just Announced & Here Are All The Details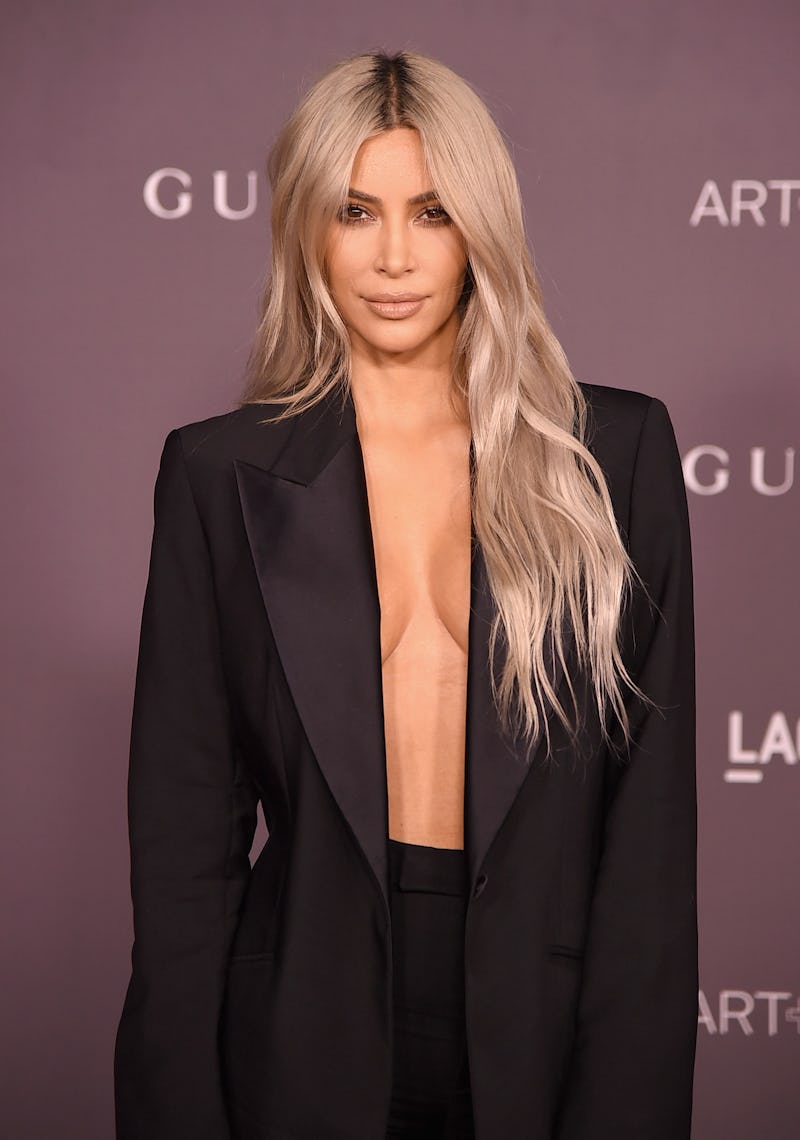 Kevin Winter/Getty Images Entertainment/Getty Images
If you were one of the beauty lovers who wanted to leave celebrity brands in 2017, I've got some bad news for you. Brands are already announcing new products. For those who do love a celeb beauty brand, though, there's good news. KKW Beaty lipsticks are launching in 2018, and while little is known at this point, Kim Kardashian West fans are well on their way to getting even more KKW-approved lips.
According to Brit + Co, Kardashian confirmed on her app that lipsticks are the next product coming from her eponymous beauty brand. However, that's not all she revealed. Apparently, the new lipsticks are the product she's most excited for in 2018 — insinuating that there's going to be more than one new product launch. At the moment, however, no details are known except that the lippies will be out sometime in 2018.
As for lipstick shades, fan can make educated guesses. Kardashian is known for rocking gorgeous nudes on television screens and red carpets. From peaches to nude pinks, they're truly her signature. Thus, it makes sense that her lipstick collection would follow that trajectory.
Plus, KKW Beauty is known for releasing products that are practically synonymous with Kardashian's beauty style. From cream contour sticks and powder kits to highlighters and glosses, everything within the range is very Kim Kardashian, and it seems doubtful she'll release bold hues when she's so well-known for her neutrals.
Of course, this isn't the first foray into lip products for KKW Beauty. Kardashian West has been working with lippies for some time actually. Back in April of 2017 — before the launch of KKW Beauty — Kardashian West partnered with her younger sister Kylie Jenner — of Kylie Cosmetics — to create a set of four creme formula liquid lipsticks.
The set of four — all named after Kardashian herself — is all nude. Pinks and peaches dominate the set, and the KKW Beauty founder seems extremely proud of the products as they are now listed as for sale on her brand's website instead of the Kylie Cosmetics site.
The collaboration with Jenner isn't her only lip product, though. Only a few short weeks ago, KKW Beauty's Ultra Light Beam Highlighters and Glosses debuted. The bundled products are seriously glow-inducing, and they introduced a new lip formula to the KKW Beauty family.
While official news of the new lipsticks has just come from Kardashian herself, rumors of the new product have been swirling for some time. Back in November, makeup artist Ariel Tejada revealed that Kardashian West had been wearing an unreleased KKW Beauty lipstick for quite some time. In a comment captured by Instagram account TrendMood, the artist is seen replying to a question about what is on his client's lips. Turns out, it's the newly announced KKW Beauty lipsticks.
Just take a look at that color. Would you expect anything less from Kardashian? Since the lip look is, in fact, from her line, nudes do seem to be the name of the game, and there's certainly a bit of sheen to the new lippie. Maybe a satin finish bullet lipstick?
The other question, however, is will a lip liner be included in the launch? In the image, Kardashian's lips certainly look lined. It's not like she's never launched two products at once. Just look at her Ultra Light Beam launch.
If you've always been envious of Kim Kardashian West's nude lips, you'll soon have a chance to get lipsticks crafted directly by the brand owner and reality star. While a launch date hasn't been announced, you can rest easy knowing that the new KKW Beauty lipsticks are coming this year, and they certainly seem to be in Kardashian West's signature nude hues. Here's hoping for an early launch for KKW's new lipsticks to help fans ring in the new year.