Did Kourtney Really Reject A Proposal From Scott?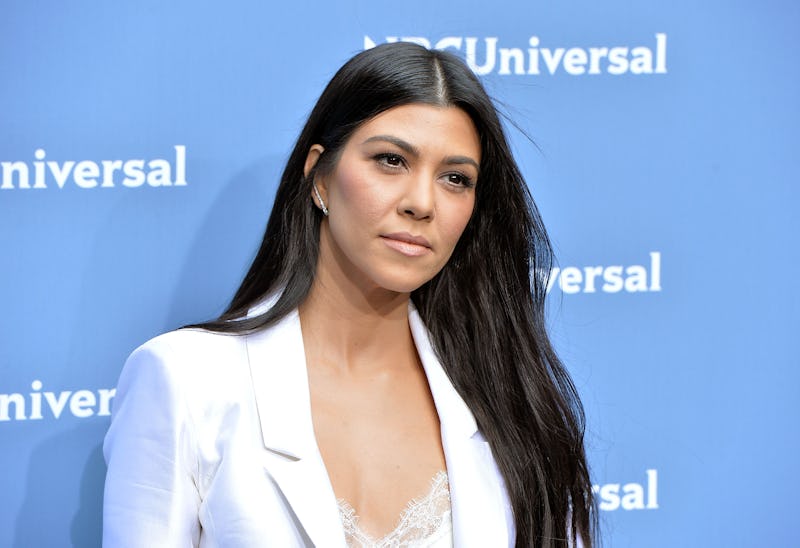 Slaven Vlasic/Getty Images Entertainment/Getty Images
It looks like things between Scott Disick and Kourtney Kardashian aren't going as swimmingly as many had thought. Just a couple months ago, the couple sparked rumors of reconciliation, but a new report about the state of their relationship makes it sound like things aren't sweet as it seemed. According to an Us Weekly insider, Disick asked to Kardashian marry him during their Costa Rica vacation, which she ultimately rejected. Bustle has reached out to reps for Disick and Kardashian for comment, but did not receive a response at the time of publication.
The insider claimed that the E! cameras were rolling and said, "Scott proposed to Kourtney... not with a ring. He just said, 'Let's get married.'" Reportedly, Kardashian "told him no," and Disick was subsequently "embarrassed, upset and angry." Another insider claimed, "Kourtney is over being with him."
If it's true that Disick was on a two-year mission to change his ways to eventually win Kardashian back, this rejection may have put a final coffin in his hopes and dreams of reconciliation, which would be understandable. But, Kardashian has every right to stand up for herself and not fall into something simply because he was "being good."
One important note to take from all of this — and which would make things much more dramatic than Kardashian simply saying she wouldn't marry him — is how Disick reportedly reacted to the rejection. Us Weekly reported that following the blow, Disick left their family vacation early and headed to Miami, where he was spotted with various bikini-clad models.
Us also reported that Disick flew another woman in secretly to Costa Rica and stayed with her in the production team's hotel. A source claimed to the publication,
"Kourtney is not upset he's seeing other women... She's upset he'd disrupt the trip with the kids. If you're dating someone important, bring her to meet the family. Don't hide her."
Us Weekly also reported that, according to someone close to Disick, bringing the woman to Costa Rica was just for the show. (Bustle reached out to E!, which had no comment.) Either way, it sounds like there's a good chance everything will get cleared up once the show returns and we'll see what is real and what is just rumors.