Khloé Is Making A Big Move Soon — At Least According To Her Momager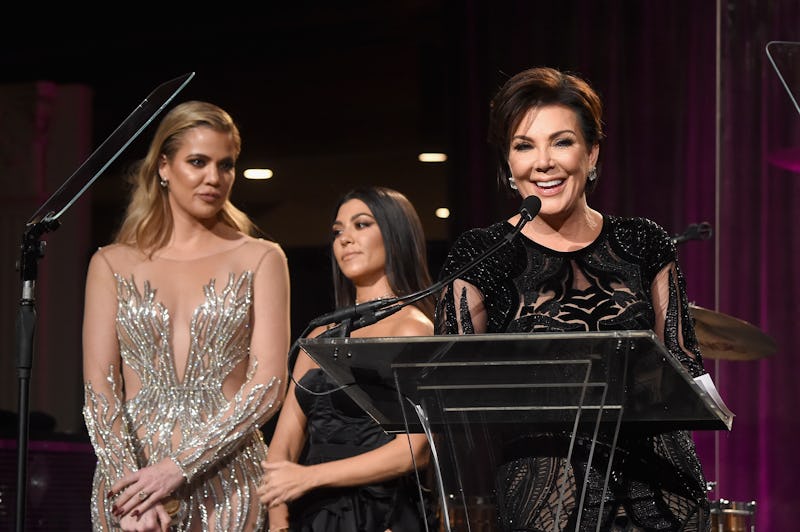 Jamie McCarthy/Getty Images Entertainment/Getty Images
Khloé Kardashian might finally say goodbye to Cleveland once and for all, according to her momager. In an interview with Us Weekly, Kris Jenner said that Khloé Kardashian is moving back to California. Could this update hint at Kardashian's relationship status with Tristan Thompson? A full-time move back to her home state would be a pretty major decision.
Jenner told Us Weekly, at the premiere event for the TV series American Woman, that her daughter is planning on coming back to California. "She'll be home soon, so it's really great," she told the publication. But, will Kardashian ditch her Cleveland digs for good? Apparently, that very well could be the case. When Us Weekly asked whether the Revenge Body star would be making a full-time move back, she replied, "I think so! Yes!"
If Kardashian indeed makes the move back to California, that could be a major sign that she and Thompson may be putting the brakes on their relationship, as the once-solid couple would not even be residing full-time in the same state.
The basketball player is still set to reside in the Ohio city through 2020, as he signed a five-year contract with the Cleveland Cavaliers basketball team back in 2015, per ESPN. Because of that commitment, it wouldn't appear as though he could be moving to California with Kardashian for good (which is why she was spending so much of her time in Cleveland in the first place).
Of course, since the NBA season is about to end, it is possible that Thompson could be moving with Kardashian and spending some time with his family in Los Angeles before his basketball season starts up again. As seen on Keeping Up With the Kardashians, the couple did manage to split their time between Los Angeles and Cleveland. However, that was before the reality star reportedly made the decision to raise her daughter in the Midwestern city full-time, as Us Weekly noted.
In her interview, Jenner made no mention of True's father or his current relationship with her daughter when discussing the move. Until Kardashian clarifies her relationship status herself, fans can only speculate as to what this potential move might mean.
There has been much speculation as to whether the two would stay together after cheating allegations against the athlete emerged in early April, only days before she welcomed their daughter, via multiple sources including the Daily Mail and TMZ.
Ever since the scandal broke, the Kardashian family has reportedly been eager for her to move back to Los Angeles, according to E! News. And according to Jenner's recent interview, the family might finally get their wish. If they do, that would mean that if Kardashian and Thompson did want to make things work, it might have to be more of a long-distance relationship situation, as it was before.
While she has yet to discuss her relationship status with Thompson directly, she did respond to one fan's concerns about her possible reunion with the basketball player. The Twitter user questioned Kardashian's Instagram story quotes, one of which read "10 years from now, make sure you can say that you chose your life and didn't settle for it." The quote immediately got some wondering if it was Thompson that she had in mind when posting it.
The user in question also expressed annoyance over what they considered "super passive IG posts." They wrote, "She's just in the stage of 'but I love him!'" and captioned their tweet with "#WednesdayWisdom." But, the Revenge Body star wasn't going to let that comment go. She responded by saying that fans could only assume what her intention was. "Assuming anything is anything but wisdom," she wrote.
Still, Kardashian has not directly discussed where she stands with Thompson. However, based on her mother's comments, a move back to California could be the biggest unspoken message about their relationship yet.