Kris Jenner's Christmas Decorations Are Really Something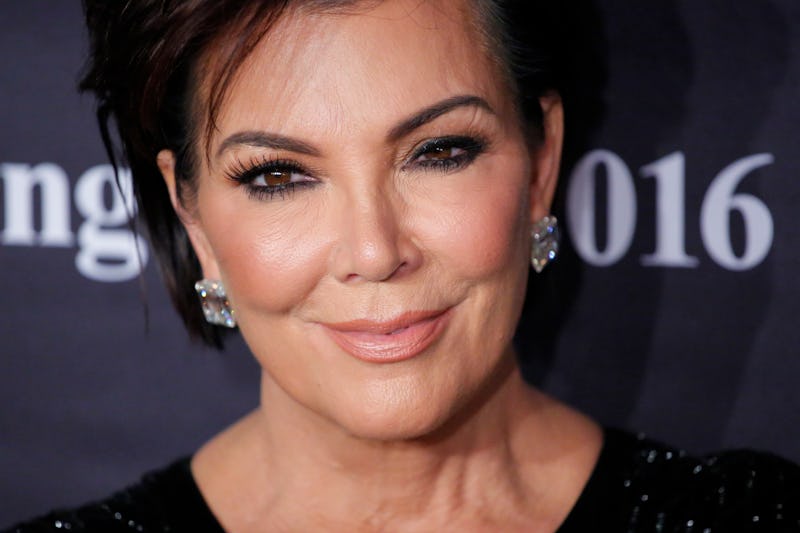 KENA BETANCUR/AFP/Getty Images
Kris Jenner is best known as the queen of the Kardashian-Jenner empire, but what you may not know is she is a bomb holiday decorator. Each year, fans have been blessed with a super chic Christmas card from the first family of reality TV. But, thanks to a little spread in Architectural Digest Kris Jenner's 2016 Christmas decorations are taking their rightful place at center stage.
With help from floral designer Jeff Leatham, the momager decked the halls of her Calabasas, California home with brightly lit Christmas trees and adorned the bannisters of her staircase with glorious garlands of cedar and various firs. To complete her "Kandyland-chic" vision, Jenner and Leatham added peppermint swirls to make her humongous red and white tree pop. However, Jenner told AD she was "most excited about" a one-of-a-kind Parisian, red metal and glass polar bear. The crystalized adornment meshes perfectly with Jenner's red, white, and black decor in her foyer. It's truly a can't miss piece. While three animatronic reindeer stand by the chimney with care, St. Nicholas is sure to stop in his tracks in awe when he drops off gifts for Jenner's grandchildren.
"The reindeer haven't been named yet," Jenner says in the five-minute video tour of her home. "I wanted to do something obvious like Dancer and Prancer, but Mason and Penelope and Reign and Saint and North are going to choose the names. I can't wait for that."
In the meantime, it's looking like Jenner's eye for style is rubbing off on her children, because Kourtney Kardashian has five Christmas trees. In an interview with Vogue magazine, Kardashian said she always goes all out for the holidays not just for her three kids but also the rest of the Kardashian clan. "Christmas morning takes place at my house and my entire family comes here, so I also have the responsibility to make it special for all of them, and I love doing it," she said.
From a driveway guarded by nutcrackers to a cozy dinner set up with snowman dishes, Jenner's holiday decorations should stay up all year!