Krispy Kreme Just Launched A Cinnamon Swirl Doughnut With Cream Cheese Icing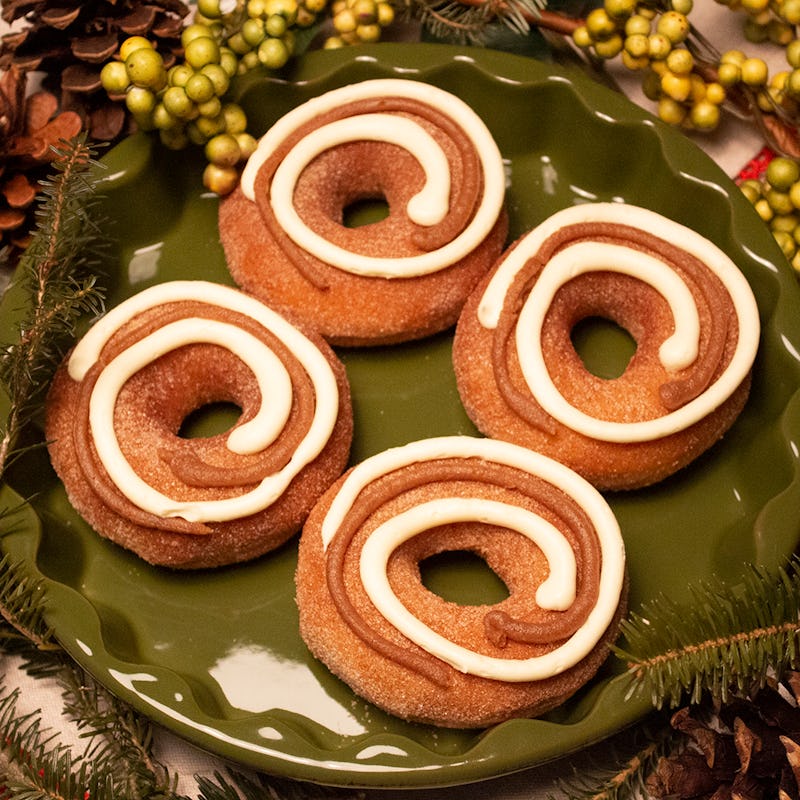 Krispy Kreme
Doughnuts are a year round delight, but they enjoy a ~moment~ each fall. Gone are the days of ice cream cones. Shining in the autumnal spotlight is now the doughnut, enveloped in a symphony of spices that will make you want to cozy into all things knitted and flannel. Leveling up the fall doughnut game is Krispy Kreme. Today, Nov. 13, Krispy Kreme introduces the new Cinnamon Swirl Doughnut, and I will introduce myself to a dozen of them.
Cinnamon sugar sparkles on the fried ring of dough in the golden glow of fall light. In fact, the spice you won't see excluded from recipes calling for fall flavorings is cinnamon. Once the weather drops below 50F, cinnamon sticks can be found popping out of hot toddies. Ground cinnamon blankets the top of your morning latte. It's even a main component in pumpkin spice. The second the calendar turns to September you can expect most bites to include a touch of cinnamon.
And now Krispy Kreme is making sure we appreciate the flavor for all it's worth. The Cinnamon Swirl Doughnut takes center stage across the US and Canada today, Nov. 13. Trust me, there will be no shortage of balancing sweet and spicy, the combination that cinnamon and sugar does so well, in these doughnuts.
What exactly makes the Cinnamon Swirl Doughnut more special than any other doughnut? Easy. It goes beyond the cinnamon-sugar sprinkling we know so well and love. On top of all that cinnamon sugar you'll bite into cream cheese icing and a gooey cinnamon swirl. Brittany Dubin, culinary manager for Krispy Kreme, hypes up the bite saying, "Our cinnamon swirl doughnut accomplishes the unthinkable: you get a gooey cinnamon swirl, decadent cream cheese icing and melt in your mouth doughnut in every bite." She continues, "Of course, no pumpkin spice season is complete without Krispy Kreme's Pumpkin Spice Original Glazed Doughnut" Wait, what?
That's right, like a ~bonus~ track, Krispy Kreme is rolling out a bonus treat for all us sweet fans. The doughnut house is bringing the Pumpkin Spice Original Glazed Doughnuts back. However, these fried gems will only be available for a limited time. You can take a big bite or 20 out of this quintessential fall doughnut for one week. The doughnut, which features pumpkin spice and cinnamon on top of the famed original glazed doughnut, will be available from Nov. 16 through Thanksgiving Day, Nov. 22. Think of it as the perfect way to pre-game your turkey day feast.
Whether you're reaching for the Cinnamon Swirl Doughnut or the Pumpkin Spice Original Glazed Doughnut, you are bound to get a blast of that scrumptious fall flavor. Each doughnut captures the delight of fall. A whiff of cinnamon wafts memories of leaping into leaf piles your way. Thankfully all those lovely fall ~feels~ are accessible through the new Krispy Kreme Cinnamon Swirl Doughnut.
Enjoy these doughnut flavors on their own, a dozen at a time, or served on a silver platter and displayed regally in the center of your Thanksgiving dessert spread. And ~obviously~ share your love for these picture perfect treats on Instagram with @KrispyKreme.
In addition to all the fall flavor the Cinnamon Swirl Doughnut satisfies, it also gives us something to be thankful for. Yes, there is a lot besides sweet treats to be grateful for. But just in case you happen to be stumped when the question, "What are you thankful for?" lands at your table setting, you'll at least have one answer. Cinnamon Swirl doughnuts in all its cream cheese frosting glory, enjoyed in the morning or after dinner, and — most importantly — shared with the ones you love.