Kristen Bell's 2017 Golden Globes Dress Dips Low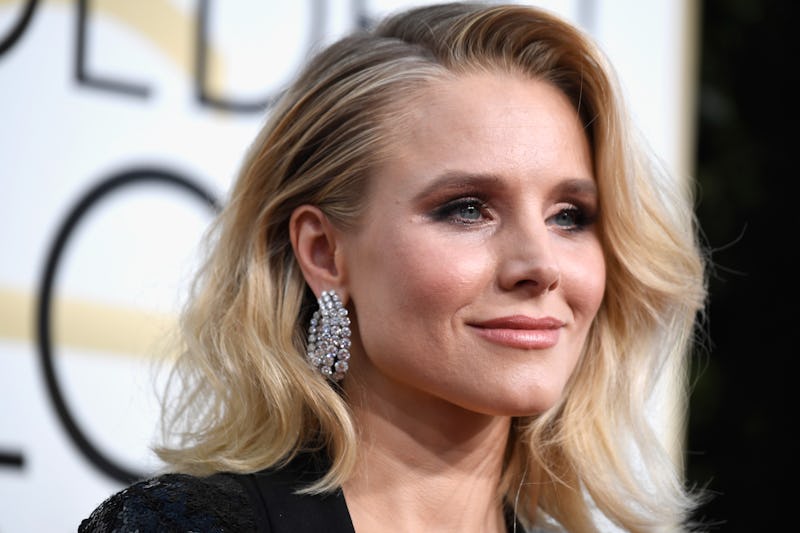 Frazer Harrison/Getty Images Entertainment/Getty Images
While being interviewed on the 2017 Golden Globes red carpet alongside her dapper husband Dax Shepard, the adorable Kristen Bell made a passing comment about the hot weather in L.A. Know what else is hot? Oh, just Bell's black sequined Jenny Packham 2017 Golden Globes dress, that's what. It was insanely hawt and dangerously sexy, thanks to the deep, boxy, and U-shaped bodice. You could say that Bell was courting a wardrobe malfunction, but she was likely aided by the miracle that is double-sided tape. Her dress dipped majorly low, showing off major cleavage but in a classy and appropriate way.
That's because the dress had long sleeves and was floor-skimming. It didn't show off anymore skin other that of her chest. The actor showed off just the right amount with her frock. She actually posted a photo of herself wearing her dress, sans makeup, earlier in the day. It was a super fun juxtaposition of her bare (and beautiful) face and the majorly glam gown.
Bell mentioned the weather not as small talk but because she was worried she would be cold with her chest exposed.
Shepard's ensembled served as a classic compliment to his wife's head-turning dress. He was handsome and gentlemanly in a dark suit and tie. The Bell-Shepards were flawlessly matched on the 2017 Golden Globes red carpet.
Peep Bell in her shimmery, slinky dress earlier in the day below.
Image: Kristen Bell/Instagram (1)