Kristen Stewart Shaved Her Head & It's #HairGoals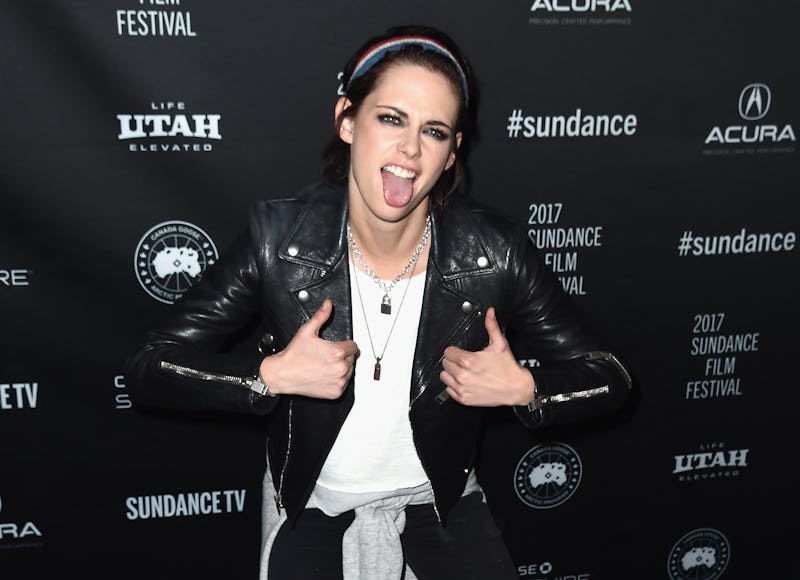 Nicholas Hunt/Getty Images Entertainment/Getty Images
Super short hair, don't care! Kristen Stewart shaved off her hair and now has a buzz cut, with the coolest twist. The actor has been changing her coif quite often in recent years, going from her long and brown Bella Swan locks of the the Twilight x Robsten years to a lob to a punky pixie. Now, Stewart has peach fuzz and it's gorgeous. There is also a twist.
K. Stew's super short, remaining locks are also bleached blonde. That makes it a double whammy change. But of course, she worked it.
There's no workaround here — her new 'do is a drastic change in length and it's a bold hue, especially since Stewart is most associated with her aforementioned thick, wavy, and brunette locks.
As someone who considers my long hair a curtain and a shield, much like Blake Lively does, I can honestly say that it must be super liberating to not only chop it all off, but to go that close-cropped. No styling products. No tools. No time spent "doing" your hair. No dealing with shed strands on the bathroom floor. No basing your looks on your locks.
K. Stew is preternaturally gorgeous and her style has always had a punk rock skew — leather jackets, skinnies, and beat up Converse usually make up her off-duty uniform — so she pulls this off with ease.
Her newly-shorn look is below.
OMG, right? The super short 'do and the smoky, smudgey eye makeup totally call loads of attention to her green eyes.
Stewart's eyes are so intense and beautiful, and her brow game easily earns an A+. That's why her shaved, bleached blonde hair is amazing.
This sexy AF creature! She is radiating beauty.
I need to take a second to offer mad props to K. Stew. I couldn't do it, but she did and she slays a shaved head.
This tweet pretty much says it all.
Even if her buzz cut is not your personal #HairGoals, her fearlessness with her follicles and her style over the past few years should be!
Amazing, right?
Stewart is generally #HairGoals and #StyleGoals.