Kristen Stewart Talks About Trump Tweets On 'SNL'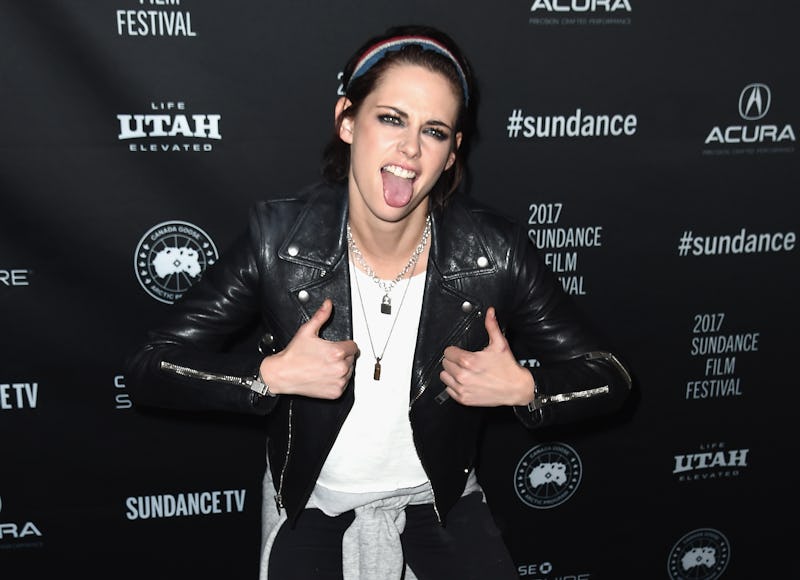 Nicholas Hunt/Getty Images Entertainment/Getty Images
Kristen Stewart hosted Saturday Night Live on Feb. 4 and opened her episode of the NBC sketch comedy series by, well, addressing the president. Kristen Stewart's SNL monologue responded Trump's old tweets about her past relationship with Twilight co-star Robert Pattinson and, in an unrelated occurrence, dropped some uncensored profanity live on air that was not directed at the president. You know, these tweets were posted when Trump was a reality TV star and not yet commander-in-chief. "I'm nervous to host because the president is probably watching," she began her monologue. "I don't think he likes me that much."
Stewart went on to recall her former relationship with Pattinson and noted that "for some reason, it made Donald go insane." "People have been coming up to me and saying, 'That's so crazy, the president tweeted about you once," she continued. "No, he tweeted about me 11 times." I did fact check this and the tweets were real and actually posted by the current president in 2012 and 2013, even though they may seem like parodies cooked up by the SNL writers. Most of the tweets commented on the break up between Stewart and Pattinson that occurred back then and how Trump seemed to be on Pattinson's side — the now-president even extended an invite to the Miss Universe pageant to Pattinson. Seriously, these tweets are real.
Some of the tweets Stewart referenced in her monologue are below, and, as you can see, they are totally real.
After reading through the tweets, Stewart came to a conclusion and told the audience, "I don't think Donald Trump hated me. I think he was in love with my boyfriend."
She then addressed the president directly, with a special message for him: "Donald, if you didn't like me then, you really won't like me know. I'm hosting SNL and I'm so gay now."
Unrelated to her message to the president, Stewart dropped the f-bomb live on air and uncensored as she closed her monologue, showing just how excited she was to host the show on Saturday night.