Sorry Kylie Jenner Fans, You Might Not See Stormi For A While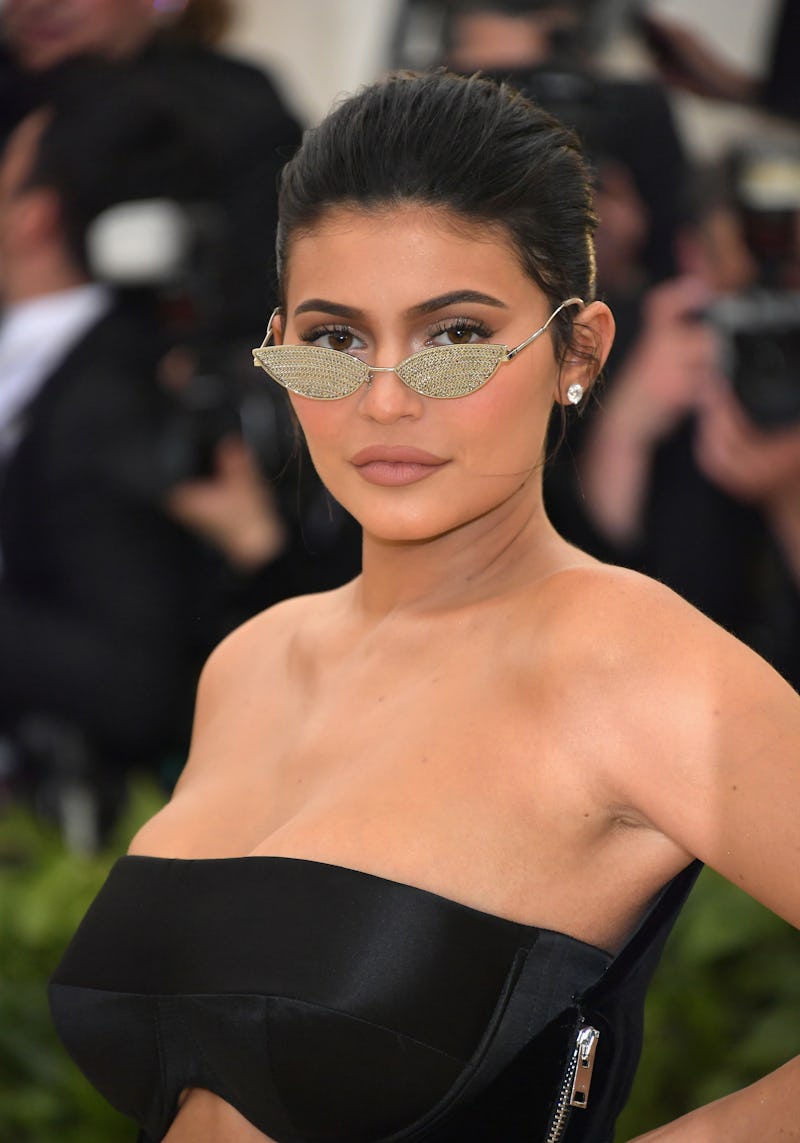 Neilson Barnard/Getty Images Entertainment/Getty Images
If you follow Kylie Jenner on Instagram, you may have noticed that almost all the photos of her daughter, Stormi, have disappeared, and now, we know why. As much as fans have loved the updates as her baby grows, Jenner says she isn't sharing photos of Stormi right now, and it's hard to blame her for that. She kept her pregnancy totally private, so why wouldn't she stay cautious now that her baby is here?
The fact that Jenner removed the photos came to light on Sunday, when she shared a new photo of herself and Stormi with most of the baby's face cut out of the picture. According to Entertainment Tonight, a fan commented, "she cut her baby out" on the picture, to which Jenner replied, "Yeah I cut my baby out. I'm not sharing photos of my girl right now."
Well, that explains that. For whatever reason, Jenner has decided Stormi's face doesn't belong on her social media right now, and as her mother, she's fully within her rights to make that decision. Certain photos of the four-month old still remain on her mom's page, but all the ones that were deleted were ones where Stormi's face was visible.
So far, Jenner hasn't offered up any other explanation about why she felt the need to stop sharing photos of Stormi, but she doesn't have to. Pulling the photos off of social media is one way that Jenner can control the way her life and her baby are shared, when obviously, so much of the public's perception of her is out of her control.
It makes sense that Jenner — or any celebrity, for that matter — wouldn't want to put everything out there when it comes to their child. It's hard enough to figure out how to raise your kids (especially the first one), but it has to be even more difficult when you live under a microscope. It wouldn't be a surprise if she just wants to keep her child safe in anyway she can; any parent wants to do that and Jenner faces other threats particular to her celebrity status. On Keeping Up With The Kardashians, we've seen various members of the family, including Jenner, deal with stalkers and break-ins at their homes. Who wouldn't want to keep their child as safe as possible when scary incidents like that are very much a part of your reality?
There are plenty of precious photos of Stormi that still exist on Jenner's Instagram; they just happen to be the ones that allow her to share her life with her daughter without compromising Stormi's privacy. The one she used to announce her birth is still there, and so are a few pictures she's taken since then, like the one from last week when she celebrated Penelope and North's birthdays.
Besides, this isn't exactly strange behavior for her. Jenner has always kept the most personal parts of her life very close to her, without always letting her fans in — despite the fact that she does happen to live in front of the entire world by nature of the family and the business that she's a part of. She's never been one to open up about who she's dating online, and she stayed silent on her pregnancy until after Stormi was actually born. This is just the latest part of her life she's decided to lock down, and it's completely understandable that she'd want to.
Maybe in the future, Jenner will feel comfortable sharing photos of Stormi (including her adorable face) again. But if not, that's OK, too — that's totally her call. Jenner and Stormi's happiness are what's most important, and so far, it seems like they've already become quite a pair.