Kylie Jenner Has Navy Blue Hair, Again, You Guys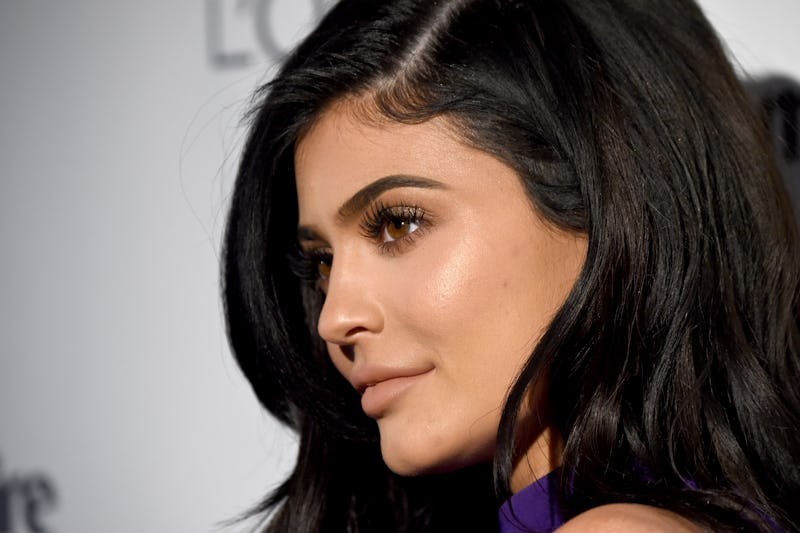 Frazer Harrison/Getty Images Entertainment/Getty Images
Another day, another hairstyle for Kylie Jenner. At least, that's certainly what it feels like. This girl changes her hair as often as most people change accessories, so it should really come as no surprise that just days before her NYC pop-up shop opening, she debuted a new 'do. Kylie Jenner has navy blue hair, and folks online seem to be all about this color. UPDATE: Jenner has swapped her long navy strands for her natural hair color, according to a recent Instagram post.
EARLIER: This isn't the first time Jenner's rocked dark blue locks, but she's been keeping her hair blonde or her natural color more recently. No shocking rainbow hues as of late, but this navy blue could be only the beginning. You really never know with this girl. There's also no way to tell exactly how long she'll sport this 'do considering this is most likely a wig. She recently admitted that her chop was the real deal, and her new navy tresses are super long. Considering there's no way she could have grown her mane out that quickly (because even the great Jenner couldn't pull that off) these have got to be extensions or a wig of some sort.
Temporary or no, fans have taken to Twitter to discuss the most recent hair change, and people are loving it. Because seriously, when it comes to her beauty choices — Jenner does no wrong.
The change is honestly kind of subtle, but it's definitely there.
You can see it especially well in this lighting.
OK, Jenner. I see you.
She can pull off any hue.
Nothing wrong with a little red and blue contrast.
She's attended an event with blue strands before, so could this be in honor of her pop-up opening? Only time will tell!
Just days ago, she was rocking a short bob. Does she know how to switch it up on us or what?
1. Heart Eyes
People definitely don't seem to mind the change, though.
2. In Love
In fact, they love it. Let's be real, people live for this kind of thing, and Jenner never fails to keep us entertained!
3. Hair Inspo
Some are even wanting to try this look out for themselves. I say go for it!
4. 2017 Goals
New goals for 2017? Umm, I think yes.
5. Any 'Do Will Do
So true.
6. Hashtag
Jenner's got fans creating hashtags in her honor. #yestobluevibes
7. Hair Swap
Never a dull moment. That's for sure.
8. Besties
She should totally be best friends forever with this color.
9. Digging It
Seriously. What's not to love about these locks?
Well, folks, here's to another successful Jenner hair change!