Kylie Jenner Is Pregnant, According To A New Report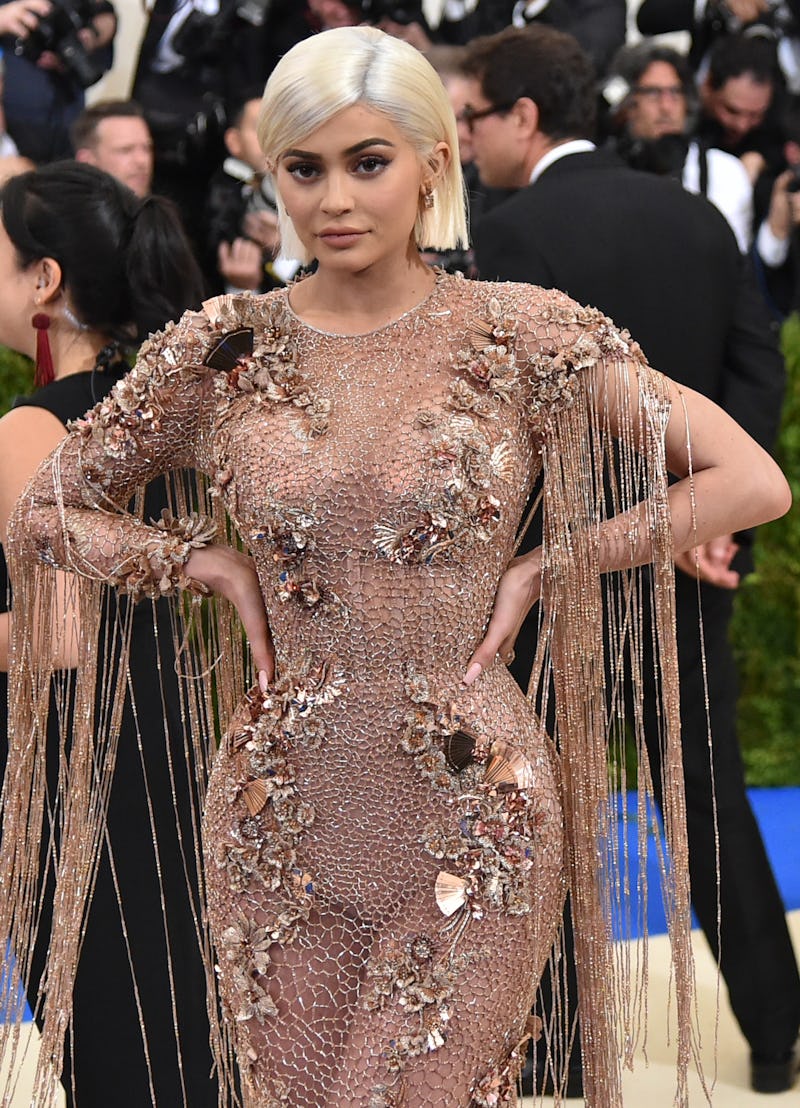 Mike Coppola/Getty Images Entertainment/Getty Images
In news that no one saw coming this Friday afternoon, TMZ is reporting that Kylie Jenner is pregnant and expecting a child with Travis Scott. To be clear, neither Jenner nor Scott have confirmed anything — at least not yet. Bustle has reached out to Scott's rep for comment, but did not receive a response at the time of publication; Jenner's rep could not be reached.
UPDATE: In a post on Twitter, Kylie Jenner confirmed she gave birth to a healthy baby girl on Feb. 1. In the tweet, Kylie wrote:
"I'm sorry for keeping you in the dark through all the assumptions. I understand you're used to me bringing you along an all my journeys. my pregnancy was one I chose not to do in front of the world. I knew for myself i needed to prepare for this role of a lifetime in the most positive, stress free and healthy way i knew how. there was no gotcha moment, no big paid reveal i had planned. I knew my baby would feel every stress and every emotion so I chose to do it this way for my little life and our happiness."
EARLIER: According to TMZ, sources have claimed that both Jenner and Scott have been sharing the alleged news with their friends. TMZ also reports that they are "told" but "cannot verify" that Jenner is having a girl. The publication reports that Jenner has been posting old photos of herself on her Instagram or ones from the chest up, rather than new ones. That said, it's hard to tell because of how often she switches up her hairstyle and color, but there do seem to be quite a few modeling shots as of late and ones promoting her products or her show, Life of Kylie. TMZ also points to a photo the reality star recently shared on her Snapchat in which she is surrounded by three of her friends and wearing a baggy shirt that could be concealing a baby bump.
People magazine is also reporting that the youngest Kardashian-Jenner sister is pregnant. A source claimed to People, "They started telling friends a few weeks ago. The family has known for quite some time. She is REALLY excited and so is Travis!"
The 20-year-old Keeping Up With the Kardashians star has previously made very clear that she did want to have children at some point, and preferably while she was still in her 20s. In a January 2016 episode of the E! reality show, Jenner told father Caitlyn Jenner that she wanted to have children around age 25. "I feel like 30 is too late," she explained when Caitlyn suggested 30 instead. At the time that the episode was recorded, Jenner was with her now ex-boyfriend Tyga. Jenner also had an idea of the number of children she might have. "Every psychic said I'm only going to have two kids," she told Caitlyn.
Jenner also commented on wanting children in a 2015 Teen Vogue interview. "When I look to the far future and decide to have kids, I need to have a million girls," she said at the time. "Ten years from now — in 2025 — I hope I have a kid." Well, it sounds like it might have happened much sooner than that.
According to Life & Style, Jenner also commented on kids in a Snapchat video in October 2016. At the time she reportedly said, "I'm getting a lot of questions about kids. How many kids do I want? Do I want kids? And I do want kids, but not now."
As for Jenner and Scott, they have been together since earlier this year. Since then, they have kept their relationship mostly under wraps. Even though Life of Kylie, which aired this summer, gave a more in-depth look at the makeup mogul's life in some areas, Jenner was very cautious when answering questions from producers about her dating life. She also doesn't post about the rapper on her social media, but they have been spotted out together before by the paparazzi, including at a basketball game in April.
One way that they've made their love known is by getting matching butterfly tattoos earlier this year, as reported by People. As source told the magazine:
They recently got matching butterfly tattoos on their ankles that they were showing off to their friends and family. They were super affectionate and Travis was constantly kissing Kylie on the cheek and whispering in her ear. Their relationship seems to be getting stronger and they're closer than ever.
While Scott and Jenner have not yet confirmed or denied the pregnancy reports yet, Page Six claims that they "hear the family will be confirming the news today."