Kylie Jenner Showed Up At A High School Prom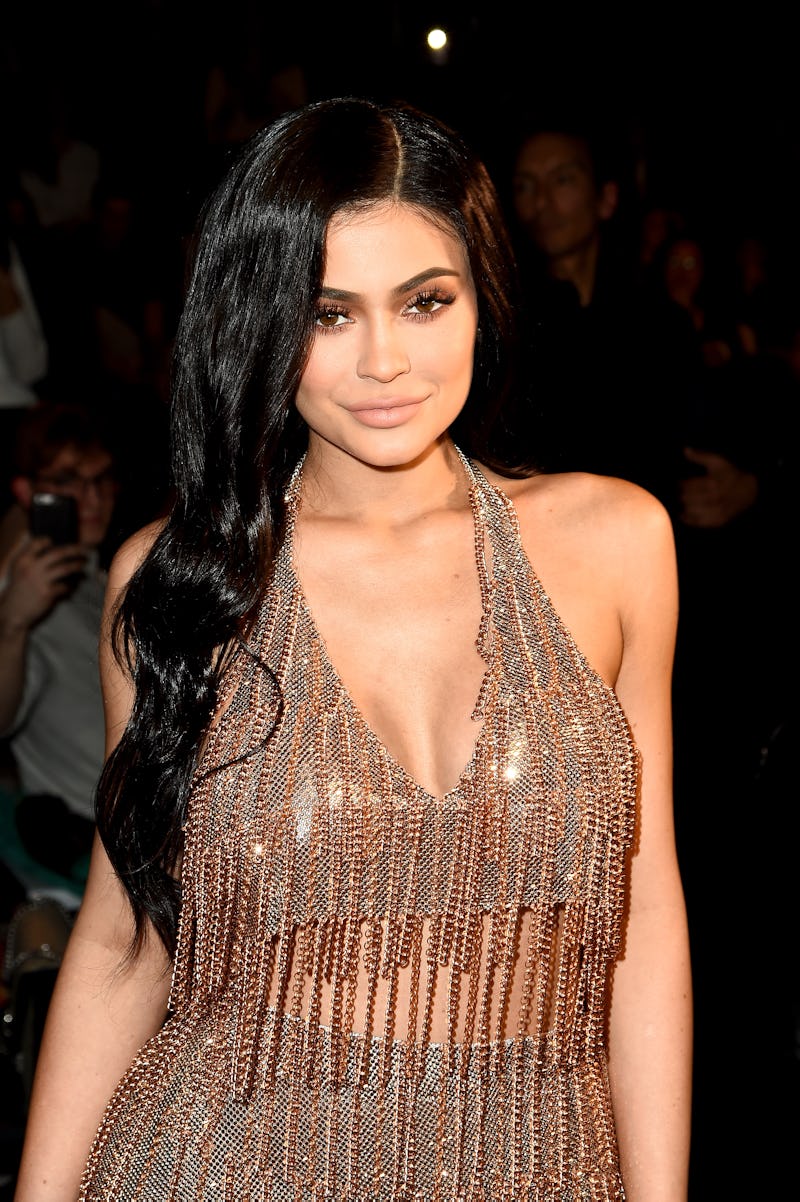 Nicholas Hunt/Getty Images Entertainment/Getty Images
There are some prom traditions that never change. The floral corsages, the awkward posing for photos, the embarrassing yourself on the dance floor. If you went to prom, these were probably all part of your experience. Kylie Jenner, on the other hand, didn't get to go through this rite of passage, due to her fame — but this weekend, she finally got to go. According to E! News, Jenner showed up at Rio Americano High School's junior prom, surprising everyone and seemingly having a great time.
The California high school held its junior prom on Saturday, and nobody suspected the event would have a celebrity guest. To all the students' shock, however, Jenner arrived at the event with her bestie Jordyn Woods, both wearing full prom dresses and ready to party.
According to the E! report, Jenner was the date of Rio junior Albert Ochoa. The students attending the prom documented the KUWTK star's appearance on social media, using Twitter and Snapchat to prove that the spotting was real. One girl claimed to be the sister of Jenner's date, posting a vid of the two hugging on the balcony. Even the students unrelated to Ochoa were blown away by the appearance, and there were plenty of photos being snapped.
It wasn't just an exciting appearance for the students; since Jenner was homeschooled from the 9th grade until her graduation in 2015, she never got a chance to attend a traditional high school prom. Life as a reality star is unconventional, and Jenner revealed in a 2014 Google+ chat that prom was an experience she would still like to have. "I plan on making one of my friends take me to prom. I feel like I need to go to one. I want to go to one of them."
Although the 19-year old celeb may not have been able to attend her own prom, it's clear that this weekend, she finally got to live her high school dream, and make the occasion a pretty great one for the students she surprised, too.
Even people who didn't manage to snap a pic tweeted out their disbelief. One Twitter user even claimed to have rejected Jenner's date.
Clearly, Ochoa didn't take the rejection too hard. His peers were in disbelief, but there was video evidence of him heading toward the dance floor with Jenner:
For anyone who didn't catch a glimpse of the reality star at the event, a post on her Snapchat account revealed that she and Woods both wore gorgeous gowns, complete with corsages. Hopefully Jenner got the prom night she always dreamed of, and now doesn't have to wonder and regret if she missed out on a magical experience for years to come.
Of course, the rest of us can be envious that our proms didn't feature this kind of excitement. Sure, the students at Rio Americano had a major celeb like Jenner show up to their big night, but my prom had a fondue fountain and that's just as exciting, right?