The Beats By Dr. Dre x Balmain Collab Campaign Stars Kylie Jenner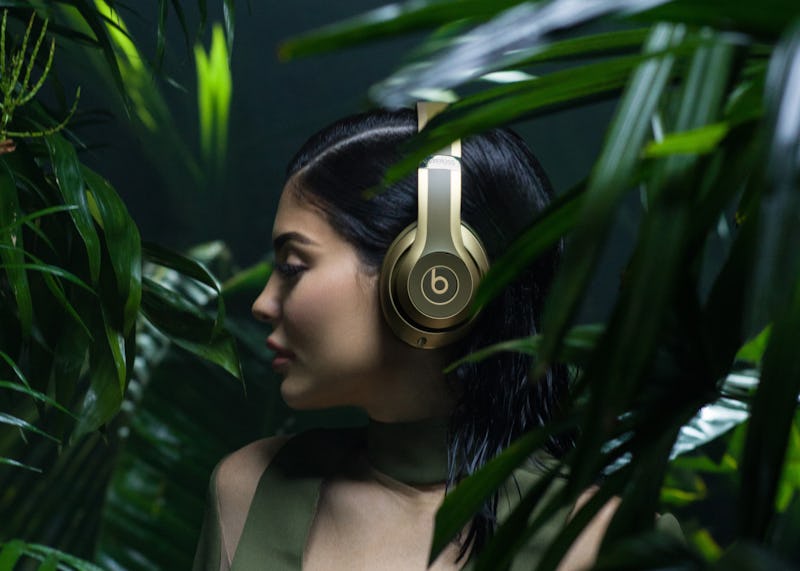 Beats By Dr. Dre and Balmain
Some of the greatest things result from collaborations — Lennon and McCartney, Missoni and Target, Lady Gaga and Beyonce, etc. When two artists work together, something magical just comes out. Case in point: Beats by Dr. Dre and Balmain joining forces to create the ultimate (and stylish) headphone experience.
Available on July 19, the special edition collection will feature Beats Studio Wireless and Powerbeats 3 Wireless headphones. With Beats' groundbreaking technology, Balmain is bringing its style foot forward, giving the market possibly the best headphones in the game right now.
"Anyone who's been following the story so far knows that there are two basic truths about our unique DNA: Balmain celebrates the strength and beauty inherent in diversity and sees fashion as inseparable from music. Knowing that Beats is just as dedicated to these same core values made saying 'yes' to our partnership a very easy decision," said Olivier Rousteing, Balmain's creative director.
Available in two colors, Khakhi and Safari, the two styles both come with metallic gold accents, a true Rousteing signature. Unless you live under a rock, you've seen all of the Kardashian-Jenner clan rock Balmain to a party or event. And what do all of the looks have in common? Metallics, of course.
These practically scream luxury.
The two colorways are so simple and subtle, but with the metallic trimming, they look extra special.
Jenner stars in the Beats by Dr. Dre x Balmain collaboration, rocking the gorgeous headphones in of course, you guessed it — Balmain.
"Beats are my favorite headphones, so this is something I'm passionate about and I'm excited to be a part of this campaign," said Jenner.
"Music means so much to me. I can put on a song and just escape. I think a lot of people can relate to that feeling. No matter what you're going through, when you put on a song that you love, and that you just connect with, it can change your whole mood and just lift you up, even if it's just for a few minutes... I love that escape music gives us," Jenner added.
Along with the beautifully crafted headphones, you'll also get a matching suede case featuring the Balmain plaque and Balmain coin zipper pull, so you can store your headphones in style, too.
Loving these two color options.
With "premium sound and exquisite design," these babies will set you back a bit, though — the Balmain Special Edition Beats Studio Wireless retails for $599.95 and Powerbeats3 Wireless for $249.95. They're available for purchase on July 19 at Apple.com, Balmain.com and Balmain's New York and Los Angeles stores, according to the press release.
Along with their gorgeous design, there's also some pretty cool features that come along with them. The Beats Studio Wireless has a rechargeable 12-hour battery, is noise-canceling, and features a built-in microphone. The Powerbeats3 Wireless, on the other hand, is meant for athletic needs. Sweat and water-resistant, these come with ear hooks, RemoteTalk with Siri activation, Class 1 Bluetooth and Apple W1 chip for seamless Bluetooth connection, a 12-hour battery life, and a "Fast Fuel" charge that "provides 1 hour of playback only five minutes of charging." Pretty cool, right?
For a visual of the different options, check the one-sheeter, below:
Are you obsessed yet?
That's exactly how Rousteing wants people to feel about his newest collaboration.
"Seeing music and fashion as completely intertwined simply reflects how my generation grew up—we simply cannot conceive of one without a full helping of the other. Beats gets that, too. It's obvious that the brand agrees with me that the best of music can only be paired with the best in design," he said.
Well done, Rousteing, Dr. Dre, and Jenner.