Kylie Jenner & Travis Scott Just Bought Their First Home Together For $13 Million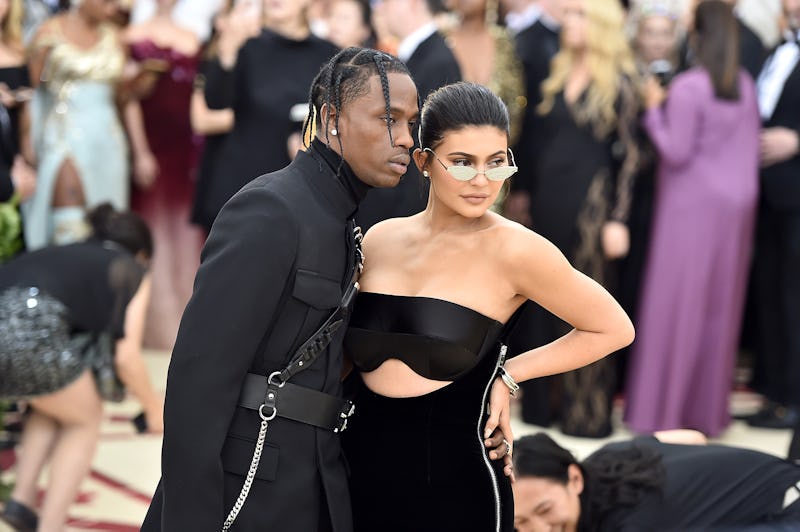 Theo Wargo/Getty Images Entertainment/Getty Images
Since Miss Stormi Webster was born earlier this year, it's seemed like Kylie Jenner and Travis Scott have been in full family mode, and their latest move is a big one. According to TMZ, Jenner and Scott have reportedly bought a $13 million mansion in Beverly Hills, and after seeing photos of their new house, it's clear that their new digs are seriously impressive.
The site reports that their new home was purchased in the Beverly Hills Post Office neighborhood for $13.45 million. The house is very luxurious, boasting a master bedroom that spans 2,300 square feet and features like a gym, a huge garage, and a massage room — and yes, of course there's a pool. This house definitely seems like it comes equipped with plenty of room for Stormi to play... with room to spare. And as for the photos? You can see them here, although it's probably safe to say that a gallery full of photos probably can't do this property justice.
Although they've been dating for more than a year (and coparenting Stormi for most of it), it seems this is the first property that Scott and Jenner have officially bought together, which is a big step for their relationship — but also an exciting one.
As far as the features of this house go, it's hard to know where to start. The house is obviously roomy and seems to feature plenty of privacy, which is likely pretty important to Jenner, and the kitchen looks amazing, with what appears to be four ovens included (that'll come in handy on Thanksgiving). And the skyline view from their house? Incredible.
Even though this is Jenner and Scott's first purchase together, they've actually been living together for awhile now. In August, Jenner told Vogue Australia that they "never miss a night" together, although they're not often just staying in one place. She said:
"I'm actually scrolling through Instagram right now, and it says that me and Travis don't live together. So I just want to say that we never miss a night with each other. We go back and forth from my Calabasas house and the city home that we actually got together. So just if you wanted to add that in."
It's not clear whether the "city home" Jenner mentioned is this new house, though.
TMZ also reported that Jenner's previous house was $12 million, so this one was close in price — and she's now selling a piece of land for $5.5 million in Hidden Hills, right next to the house she's been living in until now. Reportedly, she was planning to build a garden and a barn for her horses there, but if she and Scott are moving in together in a new house, it makes sense that she'd want to sell that plot.
Hopefully, Jenner will give fans a tour of her new house soon — whether that happens on social media or on a future episode of Keeping Up With The Kardashians. It's hard not to have some serious house envy over this, but at least fans can live vicariously through her for now.