Kylie Jenner's "Baby Bump" Was Spotted, But Fans Still Aren't Satisfied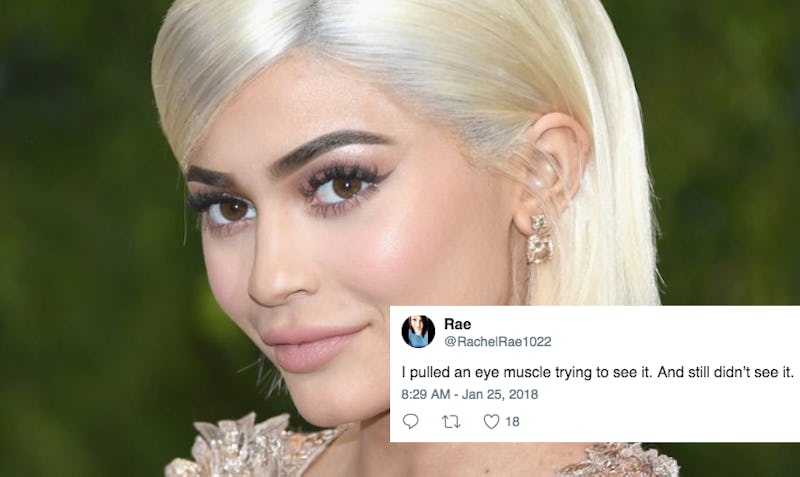 Dia Dipasupil/Getty Images Entertainment/Getty Images
Well, everyone, it's happening. Maybe. Kind of. Amid never ending rumors that Kylie Jenner is expecting a baby, on Thursday morning, TMZ posted what may be a photo and video of Jenner's baby bump. And now, predictably, fans are reacting to Jenner's "baby bump" on Twitter. How could those of us who are part of the Keeping Up With The Kardashians obsession not comment on this seemingly huge development? Jenner's been in hiding for months; this is a big deal.
Unfortunately, this photo doesn't officially answer any questions. It seems to be Jenner for sure, especially since Kris Jenner and Jenner's best friend Jordyn Woods are there, but it's hard to see her bump since she's wearing black. The video isn't very clear, and doesn't show Jenner very much at all. But understandably, after all of this agonizing waiting for answers, people are starting to get antsy. Anything that might be a clue about the current state of Jenner's womb is welcomed... including a blurry photo and video from TMZ.
Just like everything else that has happened in this triple Kardashian baby bonanza the last few months, fans are already freaking out about and dissecting this new development in the Jenner department. And then, there are others who are simply tired of waiting for her to make an official announcement.
Some people, having seen this new footage, aren't quite convinced that it means anything at all. The internet is a tough crowd, folks.
To be fair, she can be a girl in a big shirt and pregnant at the same time... or she could just be wearing baggy clothing. But judging by Jenner's usual style, what she was wearing in the photo did seem to be something she'd wear if she was attempting to hide a bump as best as she could a month away from her reported due date.
And then, of course, there were those who are still on the conspiracy theory train...
Can we all just agree that Kim Kardashian, as she has stated openly, used a gestational surrogate from an agency and not her sister? No? OK.
Some people are just bored with the news by now, which is totally understandable. To go this long without any kind of confirmation? Unless you're super invested in the Kardashian/Jenner family, you're probably not going to wait around that long, so it makes sense that some people are starting to lose interest.
There are those who think this photo means the mystery has officially been solved, so we should all stop talking about it (NEVER):
And this fan thinks the mystery still needs to be cracked:
And then, there's this person, who has realized what the true meaning behind this whole fiasco might be: Good marketing.
It's a little absurd to assume that Jenner (or anyone in her family) would get pregnant for the publicity, because honestly, they don't need it that bad. But since this family loves to be strategic about how and when they announce the big things that happen in their lives, it's not totally out of the realm of possibility that Jenner is waiting until her announcement will make the most business sense. She's no fool.
Plus, that tweet does make a good point. The longer Jenner waits to share the news, the more people talk... but now, the curiosity is starting to get the better of plenty of people.
The moral of the story: Kylie Jenner needs to fill us in ASAP on what is going on here. The people are getting restless, and we've waited long enough for answers (and baby bump selfies, honestly). Do it, Jenner. Save 2018 for us all.