Shop Kylie Jenner's "Like, Realizing Stuff" Quote In An All-New Way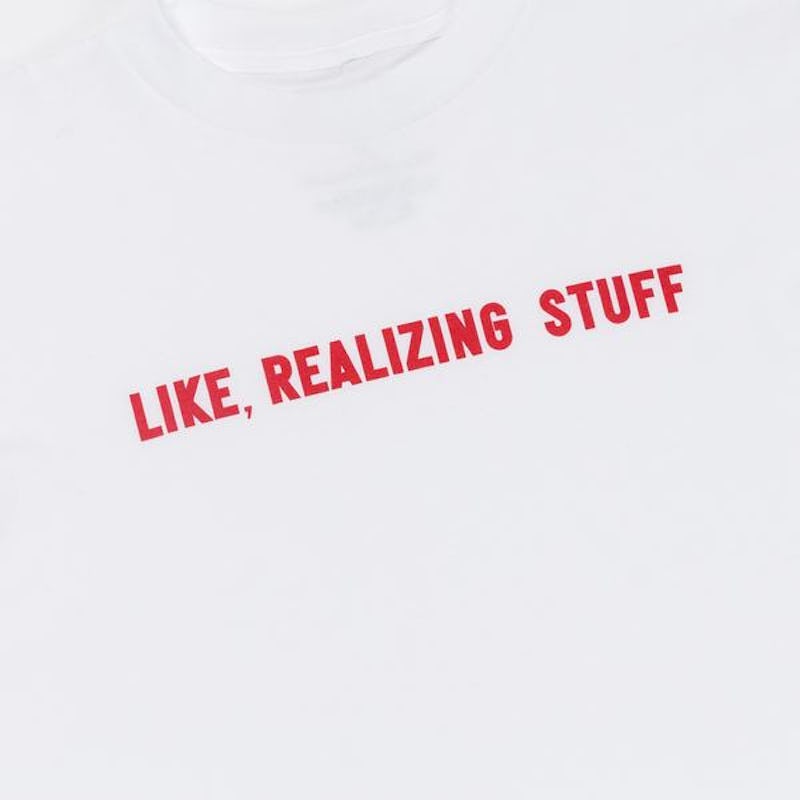 Courtesy The Kylie Shop
To say that Kylie Jenner is an icon would be an understatement. So, it's no wonder that she's able to market merch with her face, famous phrases, family members and more printed on it. One of your favorite items from the Kylie Shop is about to take an all-new form that fans are sure to love. Kylie Jenner's "Like, Realizing Stuff" phrase will soon be sold on a phone case, so get ready to upgrade your tech game in a major way.
According to Jenner's Snapchat, five new iPhone cases will be available to shop on the Kylie Shop's website at exactly 1 p.m. ET/10 a.m.PT on May 2. This launch will include new versions of her Kylie Cosmetics logo merch, Kris Jenner Attitude logo and last, but certainly not least, the "Like, Realizing Stuff" quote.
If you were a fan of her "Like, Realizing Stuff" tee, then you're going to love this phone accessory. A t-shirt's great and all, but with this phrase on your phone, you'll be able to take a little bit of that Jenner swagger with you wherever you go. Because you know you'd never leave your cell behind, obviously. Cases from her site typically retail for $15 for iPhone 6-7+, so I'm assuming you can expect the same from the latest items to come from the brand.
Jenner's got newness headed your way.
Expect these items to drop (and likely sell out very quickly) on May 2.
The "Like, Realizing Stuff" option is likely to be quite popular.
The t-shirt most certainly was!
There were many fans who needed this piece in their life. Honestly, I can't say I blame them.
The Kris Jenner Attitude print was a huge hit as well. So, get excited to shop it in iPhone case form, too.
The phone case will complete your look, and is dropping at the same time as the "Like, Realizing Stuff" version, so there will be plenty of goods to add to your cart.
Kylie Jenner Lips iPhone Case, $15, The Kylie Shop
These new products will join the already pretty amazing range of tech accessories up for grabs on the merch site.
Like, Realizing Stuff Tee, $35, The Kylie Shop
If you haven't already snatched this up, you better get it in your cart just in time to match it to your new iPhone cover. Size Large is still in stock on online at The Kylie Shop.
Jenner never fails to disappoint, and her upcoming merch drop is no different. Are you ready to be decked out in even more Jenner-inspired gear? You better be because it's coming for you!