Kylie Jenner Just Tried Cereal With Milk For The First Time & Twitter Can't Handle It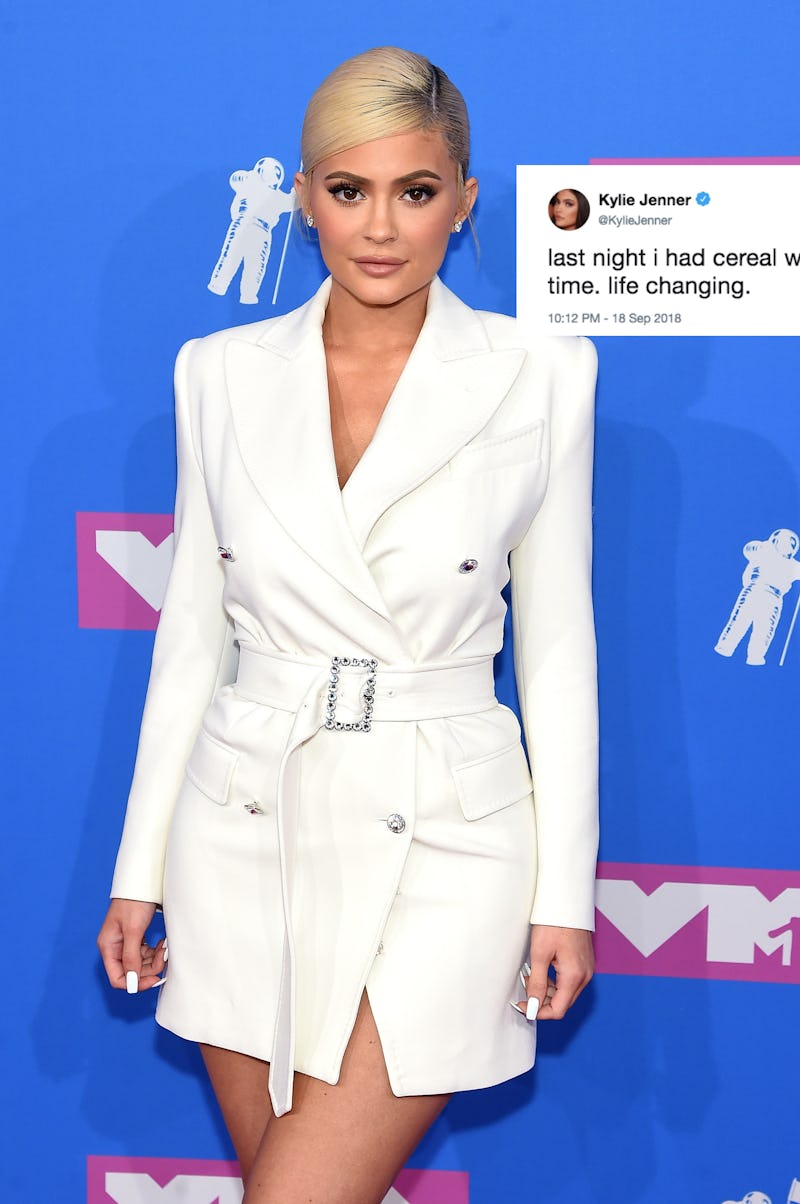 Jamie McCarthy/Getty Images Entertainment/Getty Images; Kylie Jenner/Twitter
There are hard truths in life that you just have to accept, and one of them is the fact that the Kardashian-Jenner family will always live a very different life than the rest of us do. Example: The fact that Kylie Jenner just tried cereal with milk for the first time at 21 years of age. For most of us, this becomes a normal part of our diet before we can even remember, but for Jenner, this is brand new. Mind blowing, isn't it? And so far, the internet is completely losing it over this development.
It all started on Tuesday night, when Jenner tweeted, "Last night I had cereal with milk for the first time. Life changing."
It's hard to imagine what had to happen for this day to come so late in Jenner's life. Was she just not into milk as a kid? Did she prefer dry cereal above all else (some of us do, after all)? Did Kris Jenner completely drop the ball and forget to introduce her toddler to the fine cuisine that is Cheerios and milk?
And most importantly, is Jenner the only one, or has the whole family been missing out on milk in their cereal?
Unfortunately, Jenner didn't answer any of those questions, but being that her followers completely lost it after this tweet, she did end up answering a few others. For the record, the cereal she was eating was Cinnamon Toast Crunch — which is obviously far superior to other cereals, especially when you're adding milk to the equation.
She also clarified that the type of milk in her cereal was regular — not almond, although she was wondering if that's something she needs to branch out and try. Is it, though? Is there any substitute for legit real milk in your cereal? It probably depends on your taste buds... and your tolerance to lactose.
And although she was a milk-in-cereal newbie, Jenner also confirmed that she did, in fact, put the cereal in the bowl first. Are there people who pour the milk in first? If so, they're probably the same people who bite into string cheese instead of peeling it.
If you're wondering what took her so long, it seems like she just preferred cereal without milk, as many people do (although a lot of those people have at least tried cereal with milk before deciding that dry cereal only is their preference).
But at least her breakfast horizons have been expanded, and she has this new option available to her. Milk in cereal, in Jenner's words, "was cool." Indeed, it is.
But even though she was open about this new chapter in her life, that didn't stop people from losing their minds on Twitter... including Seth Rogen.
Congratulations to Jenner on reaching this milestone in her life. Now, she knows what it is to fully enjoy a bowl of cereal, with milk and without — and more importantly, this increases the chance that Stormi will not have to miss out the way her mother did. Eat that cereal, girl. Especially if it's Cinnamon Toast Crunch, because Cinnamon Toast Crunch is delicious.