Kylie Jenner's Purse Collection Costs More Than The Average House In The United States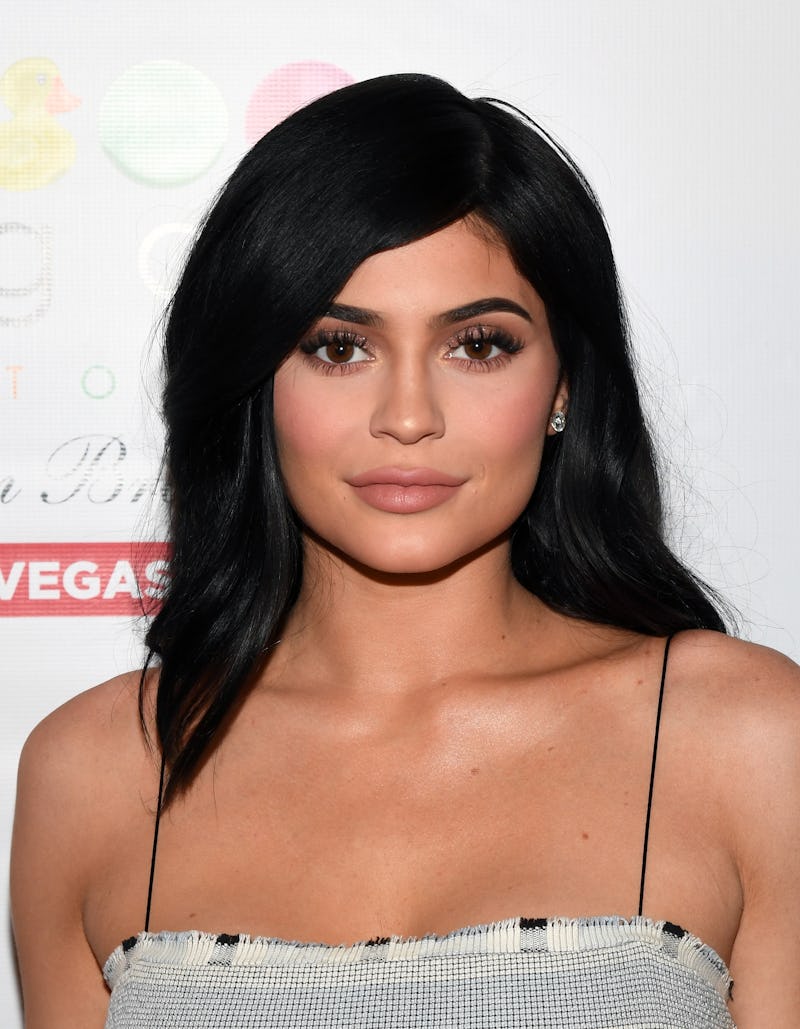 Ethan Miller/Getty Images Entertainment/Getty Images
This new mom might have been off the social media scene for a few months, but she's making up for it. As People found, Kylie Jenner shared a photo of her purse closet and it costs more than the average home in the United States. Did you really expect anything less? Get ready to be mesmerized, because this all-mirrored closet is the ultimate fashion-lover's dream.
Every since Jenner moved into her house, people have been dying to see a tour. Although she didn't give people exactly what they wanted, she did take a photo standing inside her purse closet that will hold them over for a while. The entire room, which is roughly the size of my freshman dorm room, is lined with mirrors and shelves to hold over 80 designer bags. Brands include Supreme, Louis Vuitton, and Hermes. It's pretty much a tiny museum of designer bags.
Seeing as one Supreme bag retails for over $7,000 and Hermes Birkin Bags range from $11,000 to $380,000, aka the most expensive bag to ever be auctioned off, this is one expensive room. In fact, Hello Giggles found that the bottom row alone cost $14,000. That's not including the Hermes or the Gucci bags behind her. Cosmopolitan even suggests that that room costs more towards the $1 million mark.
Simply put, Jenner's purse closet definitely cost more than the average home in the United States, which is $300,000, according to Forbes.
The photo has over six million likes on Instagram and for a good reason. Fingers crossed that Jenner decides to have a charitable closet clean-out, just like Kim Kardashian did. Because I know that there are a lot of people wanting to get his or her hands on the items in this closet. If Stormi gets to inherit any of these purses, she's is one lucky girl.
As People found, the closet was designed by interior designer Martyn Lawrence Bullard. The designer uploaded a photo of one of the corners of the closet on his Instagram. According to the post, there's a crystal rock chandelier in the room and the ceiling has metallic paper to go along with the mirrors.
"Every girls dream, and a few boys too! A corner of @kyliejenner 's purse closet i designed for her, lacquer floating shelves over mirrored walls, rock crystal chandelier and my own silver mica ceiling paper," Bullard's Instagram caption reads.
This isn't the only post that Jenner has uploaded as of recently. She even posted a photo of her and her best friend Jordyn Woods with the caption, "back at it again." At first glance, it looks like everything is back to normal. Except for the diaper in the corner of the image, which is a new accessory for Jenner.
All jokes aside, it's nice to see that Jenner is back to sharing her life with her fans. People really missed her for the months that she took off while pregnant. More specifically, they missed seeing all of her incredible outfits and accessories.
It looks like Jenner missed showing them off too. Since she's been back on the grid, she's posted photos of her matching dalmatian-print shoes and purse combo and maroon Adidas tracksuit in addition to her possibly million dollar closet. Fingers cross that even more are coming, so that the world can do some much-missed gawking.
It's only a matter of time before little Stormi will be stomping around in some incredible outfits and accessories as well. Up until now, Stormi has only been seen in swaddled blankets, but give her a few months. Because there's no way this kind of style can't be passed down.