Kylie Jenner's "Stormi Weather" Halloween Costume Is Mother-Daughter Goals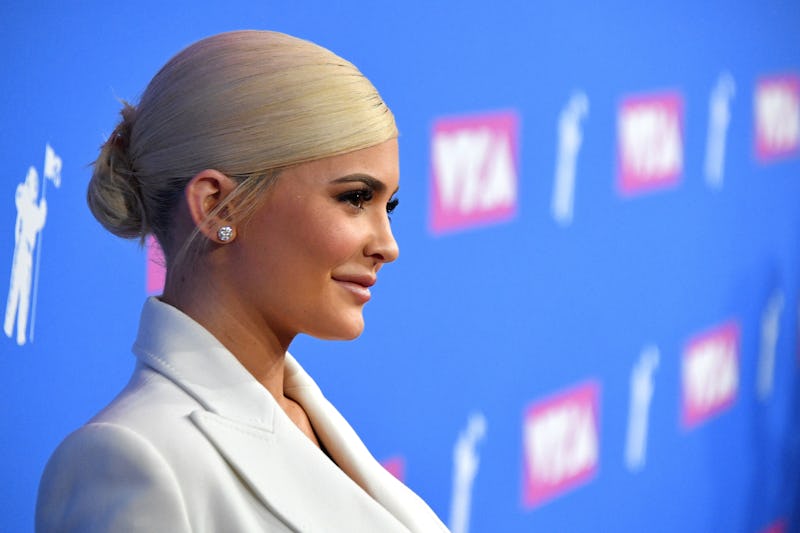 Dia Dipasupil/Getty Images Entertainment/Getty Images
The youngest Kardashian sibling turned Halloween into a family affair this year. Kylie Jenner's "Stormi Weather" Halloween costume was a pretty adorable mother-daughter take on the holiday. Posted in her Instagram stories, Jenner debuted her latest costume with baby Stormi after releasing a series of pictures of her as Barbie. For her second costume of the day, Jenner was a storm cloud, and Stormi was a bolt of lightning.
This is the third matching mother-daughter costume that Jenner has done with her daughter this year. For her annual Halloween dinner on Oct. 27, Jenner and Stormi wore matching skeleton costumes. Then, on Oct. 30, Jenner wore matching butterfly costumes with Stormi.
The butterfly has more significance for the Jenner-Scott family than simply being a great Halloween costume. Jenner and Scott both having matching butterfly tattoos, Jenner getting hers on her right leg and Scott getting his on his left leg.
What's more, one of the songs on Scott's latest album is "Butterfly Effect," and for Jenner's 20th birthday last year, Scott gave her a $60,000 butterfly diamond necklace. To add to the butterfly love, Stormi's nursery is covered in butterfly-related decor, per Jenner's frequent Instagram stories.
Jenner seems to be a fan of Halloween in general. In addition to her mommy-daughter Halloween costumes, she went all-out in a Barbie photoshoot for Instagram on Wednesday, looking like the most realistic human barbie that you've seen since Life Size came out.
Jenner also dressed up with her sisters for Halloween in an extra special way. In a series of photos first announced by Kim Kardashian then released by Daily Mail, the five Kardashian-Jenner siblings (Kim, Kourtney, Khloe, Kendall, and Kylie) dressed up as bonafide Victoria's Secret Angels, endorsed by Victoria's Secret itself.
Though Kendall is the only one who's strutted down the Victoria's Secret runway in real life, the photos certainly made it seem like any of the sisters could handle the wings on a runway. The siblings wore the matching outfits for a massive Halloween part in Los Angeles on Wednesday evening. Victoria's Secret reportedly gave them their wings for the specific occasion.
Jenner, specifically, wore a cream lingerie getup complete with sparkling, seemingly rhinestone-studded bodysuit and an absolutely massive pair of fluffy wings.
On Kim's Instagram, she wrote of the outfits, "Thank you @VictoriasSecret for sending us actual runway looks and real wings to borrow for the night!!! OMG a dream come true! Got to be a Victoria Secret Angel for the night! And Kendall got good practice lol."
On Jenner's Instagram, she revealed that Victoria's Secret had loaned her Candice Bergen's wings, specifically. She wrote, "thanks @victoriassecret for letting me borrow @angelcandices outfit for the night 👼🏼✨i felt like an angel."
Kourtney wrote of the outfits, "I opened the show. Thank you @victoriassecret for making me the first ever 5'1" angel. 👼🏼✨"
Model Kendall wrote, "throwback VS vibe with my sisters 👼🏻 thank you for letting us steal your wings for the night @victoriassecret"
Khloe has not posted any photos of her in the sibling outfit, but she did post an adorable picture of her and baby True in matching Unicorn onesies. She wrote, "Happy Halloween!!!! It's our first Halloween together!!!! She's too cute to spook!! (Don't judge me, I have more costumes to post lol) 🦄🐼"