Kylie's First Photo With Stormi Was Recreated As A Manicure & It's A Tad Terrifying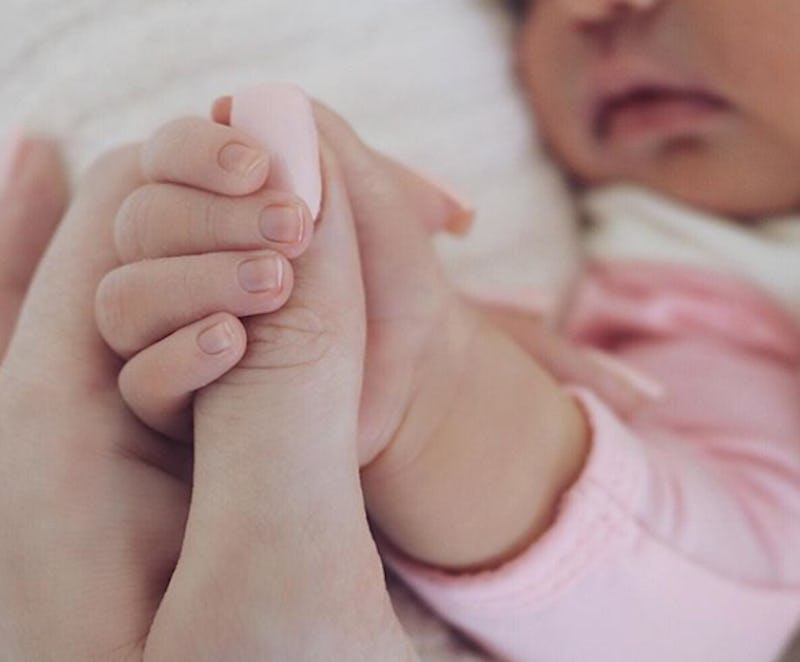 Kylie Jenner on Instagram
The Kardashian-Jenner family is definitely reality TV royalty, but some people are definitely bigger fans than others. When the news broke that Kylie Jenner had a baby, her top enthusiasts wished her the warmest wishes and celebrated the newest addition. But some people took that excitement a step further and expressed their elation through nail art. Russian nail studio Nail Sunny recreated Kylie's Instagram baby announcement on someone's manicure, and the results are... interesting.
For those not in the know, Kylie kept her pregnancy a secret for nine months (!!!) because she wanted to experience it without the pressures of public opinion, and instead focused all of her energy on preparing for motherhood. So when she announced that the rumors were true and made a name reveal post on Instagram, it nearly broke the internet.
She posted a photo of her daughter holding onto her finger, and simply captioned it "Stormi Webster." As of right now, the post got over 17 million likes, making it the most liked photo on Instagram, ever. As Seventeen pointed out, it even beat out Beyonce's baby announcement (11.2 M) by six million likes. And beating Beyonce in anything isn't an easy thing. In order to commemorate that moment, someone walked into Nail Sunny and requested that image to be replicated in 3D on their nails.
Painting their client's nails that same baby pink as Kylie's manicure in the photo, the technician then went to work creating a clay version of the moment, where Stormi's fingers are wrapped around Kylie's finger, who is then glued onto the client's finger. I know, it's a lot to follow — and the end result is just as trippy as the description.
Nail Sunny is the number one nail chain in Russia, and their Instagram account has 1.5 million followers. Scrolling through their account, you notice a lot of traditional manicures accented with nail art posts that show the scope of their nail artists' talents. From an Olympic's theme manicure that has a 3D version of the rings, to a Valentine's Day manicure that has the word "love" written in cursive across all five digits, they have some very imaginative ideas. But the Kylie name reveal might have been their most outlandish one yet.
A video of how the picture came to life on the manicure was posted, allowing us a behind-the-scenes glimpse of its architecture.
Those baby fingers are way too life-like. The reaction to the video was varied, inviting both wonder and discomfort.
"This is why god doesnt talk to us anymore," one follower wrote, not loving the Chucky-like quality of the baby fingers.
"Sweet but scary af," another person wrote, getting the sentiment of the mani but still feeling spooked by the actual fingers. "
Okay so maybe there won't be too many copy-cat appointments underway, but it's a gold star for creativity. The same salon chain also payed homage to Kylie's pregnancy photo a week prior, covering all their bases with the star's new experience with motherhood. Khloe Kardashian posted a photo of the two of them pregnant in the beginning of February, where both are washed in pink and red light, wearing undies, and showing off their growing bellies.
Nail Sunny made a life-like replica of Kylie on someone's hands, sporting the same pregnant belly and crop top sweater. They simply captioned it, "Guess who ? ❤️ #congratulations# for @kyliejenner."
It's pretty cool to see that people all over the world are sending Kylie well wishes, though it would probably take a mega-fan to request a mani like this.