The First 'A Star Is Born' Photo Looks Tense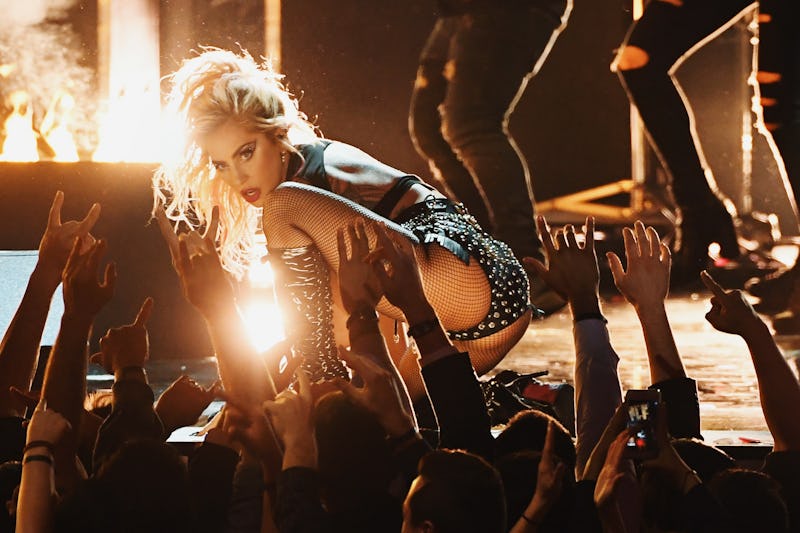 Kevin Winter/Getty Images Entertainment/Getty Images
Now that filming is officially underway, Warner Bros has released a first photo from A Star is Born, Bradley Cooper and Lady Gaga's upcoming musical reboot. Due out September 28, 2018, the movie traces the oft-made love story of two musicians, Ally (Lady Gaga), a rising singer, and Jackson Maine (Cooper), an aging country star. The two spark up a passionate romance, and, as Jackson helps propel Ally into the national spotlight, he must come to grips with his own waning career, watching her flourish while he fades into the background. Fittingly, the photo encapsulates that narrative to a T.
Ally is pictured singing front and center, while a guitar-slinging Jackson looks on from the background, gazing at Ally with what seems like a mix of envy and admiration. The film marks the fourth time A Star Is Born has come to life on screen. The original feature — directed by William Wellman and starring Janet Gaynor — debuted in 1937, and was then remade with Judy Garland in 1954 and Barbra Streissand in 1976. In the past, it has ended tragically, with Jackson (typically named Norman) committing suicide because he believes he's holding Ally (previously called Esther) back.
This particular version is notable for a number of reasons. It's Cooper's directorial debut, and Lady Gaga's first major role on the big screen. She previously dipped into acting for American Horror Story, for which she won a Golden Globe in 2016. Notably, she'll be credited under her real name, Stefani Germanotta.
As of yet, few details have been revealed about what direction the newest iteration on A Star Is Born will take, but, from the looks of it, Cooper and Gaga will be harboring some major on-screen tension.