Lady Gaga Responds To People Criticizing Her Body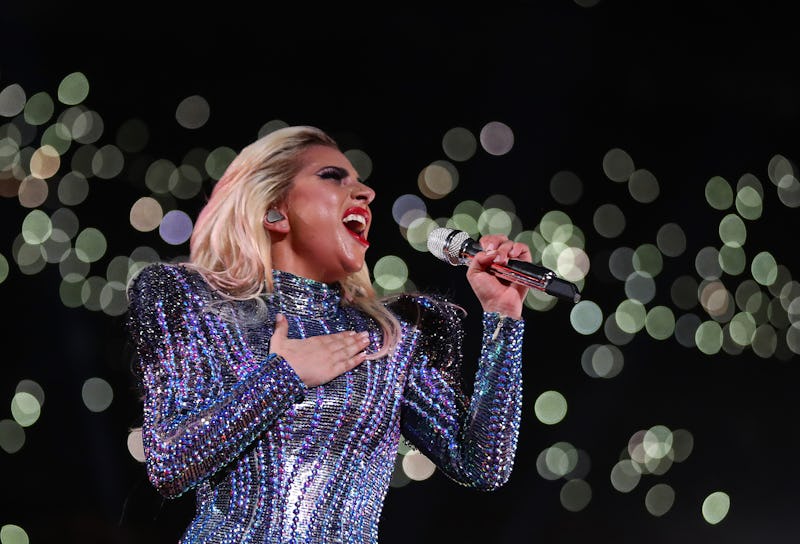 Al Bello/Getty Images Sport/Getty Images
Ugh, must the trolls ruin everything? On Sunday, Lady Gaga reached a career peak with her Super Bowl halftime show performance that was epic, sparkly, and aerodynamic. But what did a particularly rude corner of the Internet choose to focus on? How the star's body looked onstage. However, the queen of confidence was not fazed, and instead Lady Gaga turned the criticism into a positive message for fans.
If you didn't get the chance to tune in, Gaga started out on the roof of the NRG stadium, in front of a red, white, and blue constellation. From the sky she sang a mash up of "God Bless America" and Woody Guthrie's "This Land Is Your Land", and then jumped and flew down to the field. Once firmly on the ground, or, er, enormous throne, Gaga continued to break out some of her biggest hits, including "Poker Face" and "Born This Way". The show featured some serious special effects, with a light up stage, a glitter-covered piano, fireworks, and hundreds of light sticks that turned the crowd into a glistening sea. That's right, a lot was happening during this performance, but some people chose to focus on the negative.
Late on Tuesday night, Lady Gaga took to Instagram to address the conversation. She took on the haters with a strong message about loving her body, and posted it with an indisputably stunning pic from the performance.
In the caption on the photo, Gaga asserts her love for herself and her body, writing "I heard my body is a topic of conversation so I wanted to say, I'm proud of my body and you should be proud of yours too."
She goes on to explain why fans shouldn't listen to anyone who tries to undermine their success, whether that's from negative body comments or other criticisms. The rest of the post reads,
No matter who you are or what you do. I could give you a million reasons why you don't need to cater to anyone or anything to succeed. Be you, and be relentlessly you. That's the stuff of champions. thank you so much everyone for supporting me. I love you guys. Xoxo, gaga
The singer has every reason to be proud of her performance. According to E! News, the star trained for months prior to the show, and there is plenty of rehearsal evidence on her Instagram. Many fellow celebs spoke out to praise Gaga's performance, including Reese Witherspoon, P!nk, and even former vice-president Joe Biden.
Lady Gaga's ability to spin such an unpleasant debacle into an uplifting message will no doubt her respect from fans and peers. Since the beginning of her career, fans have turned to the singer as a consistent source of empowerment. Her music has always been about embracing your identity, and Gaga practices what she preaches. She could have simply been angry at the cruel critiques, but instead she seized the negative energy and transformed it into this message about body confident for fans. Thanks, Lady Gaga.