Lady Gaga Just Wore The Highest Heels You Have EVER Seen & Her Feet Must Be Screaming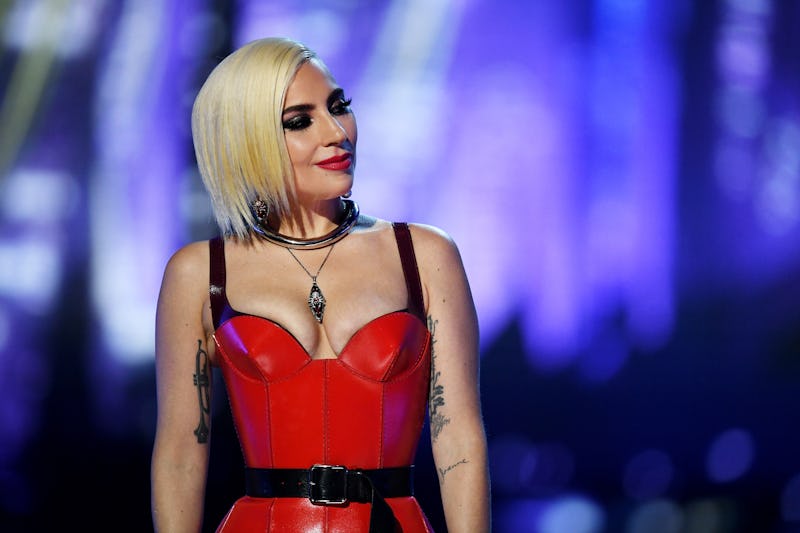 Kevin Winter/Getty Images Entertainment/Getty Images
Lady Gaga is known for her extravagant gowns (aka meat dresses) and super high shoes, but her latest outfit is one that no one was expecting. As BuzzFeed found, Lady Gaga wore high heeled boots that are taller than ever before. Actually, they're probably higher than the ones that you're imagining, too.
There's no one that knows how to dress like Gaga, and she's been showing off her styles all week long. It all started with super long wigs and literal helmet hair, as BuzzFeed found, but her latest shoes are the most shocking yet. Lady Gaga rocked platform boots that put her almost a foot higher into the air. Although she didn't stop to let anyone measure them, there are at least ten inches of sole on these bad boys.
The singer paired the all-black boots with fishnet stockings and a red lace dress with exaggerated sleeves. The entire outfit is most definitely a look, but the shoes are what steals the shoe. To be completely honest, these defy the laws of gravity. How she manages to walk from the car t the studio is mind boggling.
Here's a look at the entire outfits, so you can try and figure it out for yourself.
According to Twitter user @LaMaisonGagax, Lady Gaga's patent lace-up boots are from the brand Pleaser Shoes. The brand is known for their high platformed kicks and is "the leader in sexy and alternative footwear," according to the website. Neither the singer nor the brand have said that the brand is behind the creations though.
If you're looking to try and press your fashion luck like Gaga, these boots are actually pretty readily available. You can buy then right now from Walmart for a cool $118.95. Oh, and you'll even get free shipping. Because if you're daring enough to try these out, you might as well get free shipping on them.
You're also able to purchase a smaller version of the same style shoe on Overstock for $78.95. It's the exact same look, but a whole lot of inches smaller. Consider them your warm up for Gaga-level style. There are tons of other different level of platform raises as well, ranging from a half inch raise to five inches.
Unlike other shoes, these ones come with a warning int he product description. The brand apparently wants people to know that these are not shoes for dancing or even walking, believe it or not. These might not come with health insurance or even a money back guarantee, but they do give you a warning that they're not your average shoe.
"Warning: extreme high heels are not recommended for walking or dancing," it says on the website. Yes, it really does say that.
This star might be five foot two, but you could never tell from all the shoes that she wears. While these are the highest boots that she has worn in a while, she's got a few other pairs in her closet that come close. She even wears some that have a platform, but no heel at all.
Considering that these shoes aren't for walking or dancing, Gaga is making a pretty bold fashion statement with the accessories. If even the brand is telling you not to walk in these shoes, this is one fashion statement that you might want to let Lady Gaga make on her own.
There's a good chance that a lot of practice went into wearing a shoe like this. No one can know for sure. One thing is for sure though — this likely won't be the last time the singer rocks a shoe like this.