Lady Gaga Says "Shallow" From 'A Star Is Born' Has A Much Deeper Meaning Than You Think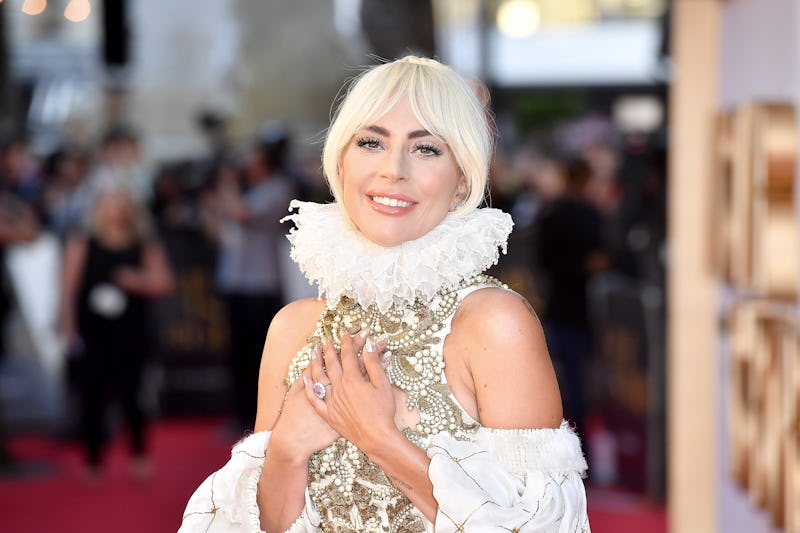 Jeff Spicer/Getty Images Entertainment/Getty Images
From the get go, the song "Shallow" is what made fans instantly fall in love with Ally and Jackson Maine. At surface level, the song beautifully captures Ally and Jackson's complex love story. But in a new interview with Variety, Lady Gaga revealed why "Shallow" actually has even deeper meaning for her. An instant smash, the Star Is Born song became Lady Gaga's longest-leading number one on Billboard's Digital Song Sales chart.
The movie scene, in which Gaga's Ally sings a capella to Bradley Cooper's Jackson in an empty grocery store parking lot, is simple, but beautiful. But Gaga actually finds incredible depth and layers in the song, even applying it to the #MeToo movement. As explained to Variety, Gaga, a sexual assault survivor, found the song particularly powerful amid the recent Brett Kavanaugh hearings.
She explained:
"We are living in a time where there's so much conversation about women's voices being heard... Men listening to those voices. And also, men not listening to those voices. Women being silenced in very public ways, like Dr. [Christine Blasey] Ford with Justice [Brett] Kavanaugh. Judge Kavanaugh being appointed is basically like telling every single woman in the country that's been assaulted, 'We don't care. Or we don't believe you.'"
To her, the beauty and hope in "Shallow" is that men will listen to women and vice versa:
"That conversation is what makes the song successful and beautiful and why people cry when they hear it. It's because that man and woman connect, and they are listening to each other."
Clearly, the song is adored by so many fans. The music video has received over 100 million views since it dropped on YouTube in late September. And although Gaga's comments suggest that "Shallow" has meaning much bigger than herself or the film, she does see personal significance in it as well.
The artist explained what the project, as culturally massive as it's become, means to her on an intimate level and how it can truly impact others. "I only want to win now," she said metaphorically, "because I want that kid who feels like me, that misfit or outcast that didn't belong, to win. The reward for me is that this movie is a win for them."
Until Oscar nominations are revealed in late January, it's uncertain whether or not "Shallow" (co-written and produced by Gaga) will be nominated. But if it is, which is super likely given its wild success, Gaga and Cooper already have a plan. Gaga told Variety she'd "one hundred percent" perform the song at the show.
Further, Cooper is already planning on singing the song live with his co-star. "We talked about that actually, because I'm such a maniac," the director explained. "I started texting her the whole pitch of how we should do it. So we'll see. There might be a cool, unorthodox way we could perform it."
But regardless of trophy wins, "Shallow," and everything it means to those who listen to it, has already been a champion in so many ways.