Fans Were In Awe Of Gaga's Hair At SB51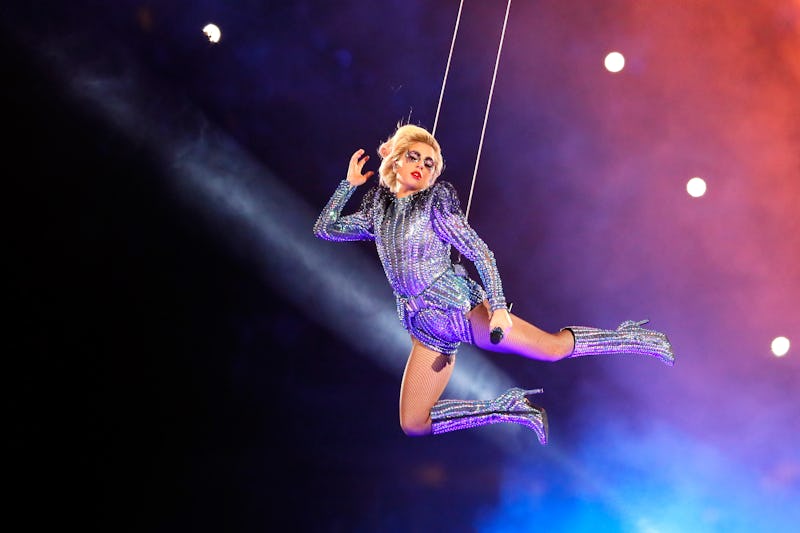 Kevin C. Cox/Getty Images Sport/Getty Images
For two years in a row, we've been blessed by Lady Gaga's hair at the Super Bowl. In 2016, the singer blew us away with her rendition of "The Star-Spangled Banner" — along with some major glitter eyeshadow and seriously fierce teased up strands. For Super Bowl 51, Gaga went with a retro-inspired updo that was seriously dramatic.
At an NFL press conference on the Thursday before the game, Lady Gaga wouldn't spill much about what she'd be wearing at halftime, but she hint at the several outfit changes we experienced during the performance. Gaga's hair, however, held its own through a leap from the top of the stadium and several flips through the air. Once she hit the stage, however, Gaga let it all down.
The look was created by celebrity hairstylist Frederic Aspiras using Matrix Style Link products — and, apparently, a Dyson blow dryer, if this video from backstage is any indication. Aspiras and Gaga have worked together plenty of times before, including for the 2016 halftime show. This year's initial style was a departure from what Aspiras has recently been doing with the singer's hair, but the second style sticks right with what's become her signature look.
Aspiras must have used several bottles of hairspray to make the 'do last through this.
And then it all came out.
How does it look this good after all that swinging around?!
Of course, Lady Gaga's enthusiastic Little Monsters took to Twitter the instant she hit the stage to share all their feelings about her performance, and that quickly changing 'do.
Impressive, no?
She's some sort of magical creature.
Seriously.
So good <3
Everyone wants that Gaga 'do.
It may have even won her some new fans!
Hell yes.