Lala From 'Vanderpump Rules' Just Made Her Relationship Official With A New Year's Selfie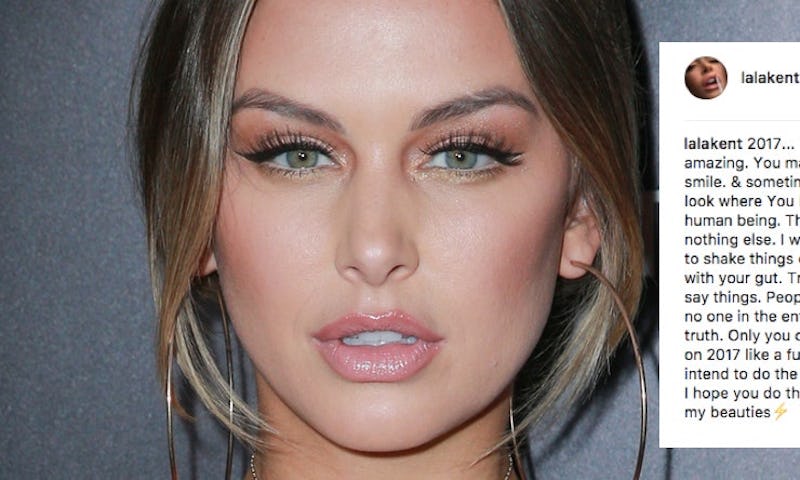 Rich Fury/Getty Images Entertainment/Getty Images; Lala Kent/Instagram
For Vanderpump Rules fans who spent the better part of last year wondering about SUR hostess Lala Kent's supposedly married mystery man, the quest for scraps of truthfulness has finally ended. In a Jan. 1 Instagram post celebrating the new year, Lala Kent shared a photo with boyfriend Randall Emmett, officially making their relationship public.
The 27-year-old reality star posted a sweet photo of herself and Emmett to her Instagram account, which shows Emmett (wearing a royal blue baseball cap) goofily kissing Lala's cheek while she flashes a toothy grin at the camera. She's literally beaming. Lala penned a comparably mushy caption, expressing her joint distaste-gratefulness for the whirlwind of events that was 2017. She wrote,
2017...You were tough. You were amazing. You made me cry. You made me smile and sometimes you really sucked. But look where you brought me—just as a human being. The growth I feel is like nothing else.
The vaguely pixelated selfie is a pretty big deal for the duo, who have been reportedly dating for about 18 months, according to E! News, despite the fact that their relationship has only been confirmed for a choice number of weeks. After a year of inquiries surrounding the name of Lala's lover-man, Page Six finally blew the lid off Emmett's formerly unknown identity last month, when it confirmed that he was, in fact, the other half of Lala's top-secret love affair. And now — judging by Lala's mushy Instagram post, at least — it seems like she and the 46-year-old Power EP are starting their year off with a few less secrets.
Lala then offered a few of her hard-earned wisdoms to fans (and perhaps a bit of an "f*ck you" to the haters who made 2017 so lousy). She continued,
I want everyone to remember to shake things off. Go with your heart. Go with your gut. Trust your mind. People can say things. People can write things... but no one in the entire world knows your truth. Only you do. Never forget that. I took on 2017 like a f*cking champion. I fully intend to do the same in all years to come. I hope you do the same.
It's certainly true that 2017 has been quite the year for Lala, whose formerly secret relationship with Emmett had become the most titillating unsolvable mystery of Vanderpump Rules. While Emmett's name was never mentioned, his existence played an arguably critical role in the overall arc of the reality show's fifth season. Lala's covert relationship stirred up more than its fair share of drama, mostly because Emmett's then-married status gave fellow female SUR employees license to dub Lala (then a Vanderpump newbie) a "homewrecker." And, in the world of Vanderpump Rules — land of the chronically wandering-eyed boyfriend — a "homewrecker" is generally considered a pretty monumental threat.
During past seasons, Lala flashed hints about her beau's decidedly lofty social status, crediting his bank account for her brand-new Rolls Royce and generally first-class lifestyle — and Lala wasn't kidding. For substantive proof, fellow SUR employee (and veteran Vanderpump star) Katie Maloney — who, alongside co-worker Scheana Marie, definitely piloted the anti-Lala "homewrecker" campaign of seasons past — posted an Instagram photo of herself and Lala reaping the benefits of Emmett's aforementioned private air travel experience. Lala posted the same photo of her and Katie to Instagram on Dec. 19 (the same day the Page Six story broke), with the caption, "She signed an NDA so I'm not worried about it."
The "NDA" bit served as a running joke (but not really a joke) on Vanderpump Rules throughout the cast's quest for answers regarding Lala's relationship. And while she never said it outright, it wasn't long before her co-workers gleaned that an NDA wasn't necessary because Lala's boyfriend was famous; it was because he was married.
After eight years of marriage, Emmett's divorce from actor Ambyr Childers was just recently finalized on Dec. 22, E! News confirmed. Though the two filed for divorce in January 2017, they'd reportedly separated twice before — once in 2015, and again in 2016. So, when Lala told moderator Andy Cohen that "no," she was definitely not dating a married man, during the Vanderpump Rules Season 5 reunion episode (which aired over the course of three weeks in April 2017), it wasn't quite true.
But, if Lala and Emmett's relationship up until this point is any indication, it's probably safe to say that fans just don't know the whole story.