Lamar Odom Comes Clean About His Infidelity & Drug Use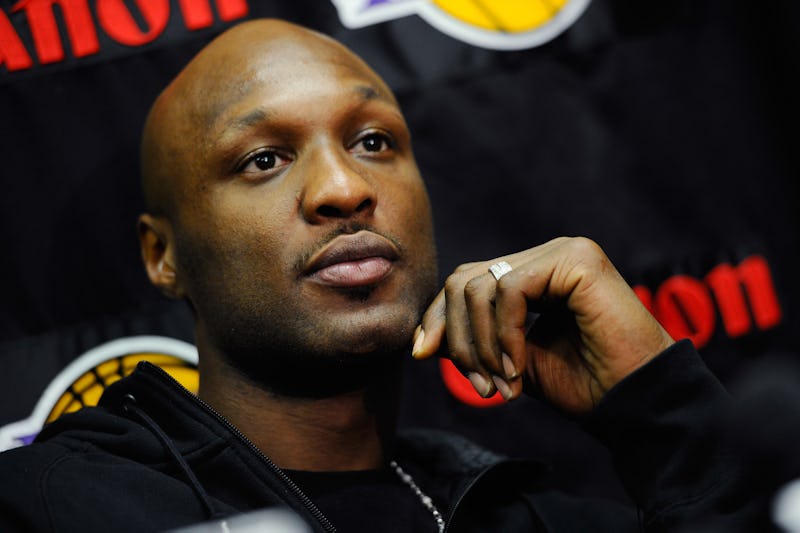 Kevork Djansezian/Getty Images Sport/Getty Images
Entertainment is an unforgiving industry. When your achievements are immortalized with awards and your mistakes are plastered on tabloids, there isn't even the slightest room for error. Your reputation and your career can change in an instant — and people never forget. But everyone loves a comeback story especially after a brutally honest, hard fought public battle back to the top. Following a grueling recovery after being found unconscious in a Nevada brothel in October 2015, NBA player Lamar Odom has come clean about his dependency on cocaine and his multiple affairs during his four year marriage to Khloé Kardashian in an interview with Us Weekly.
Odom claimed that although Kardashian disapproved of his drug use once she found out, she "tolerated" it. But their continued ups and downs lead to Kardashian filing for divorce in 2013. A representative for Kardashian had no comment for Bustle regarding Odom's interview.
"I was in a very dark place and very confrontational," he said to Us Weekly. "I wasn't trying to repair my marriage; I was just trying to get high. My life was all about drugs at that point."
Nearly two years after Kardashian first filed for divorce, Odom suffered 12 strokes and two heart attacks after he was found comatose on Oct. 13, 2015 at the Love Ranch South in Pahrump, N.V.
His remarkably candid interview, riddled with regrets, missteps, and renewed sense of self reintroduces fans and critics alike to an imperfect man fighting for his future by coming to terms with his past. Although Odom now refers to himself as a "walking miracle," he admitted to the magazine that he is no angel.
The 37-year-old baller pointed out that being on the arm of a Kardashian and staring on a Keeping Up With the Kardashians spinoff introduced him to a whole new audience and more women. Odom — the two-time NBA champion and Sixth Man of the Year — was now "Lammy" to those who tuned in to E!'s Khloé and Lamar reality show. Although he holds himself accountable for his indiscretions, he unfortunately chooses poor verbiage when describing the women he says flocked to him:
"When I became Khloé Kardashian's man and on TV, it made me look more enticing. People who didn't even know basketball would approach me because they knew Lammy ... B*tches and THOTs came out of the woodwork. If there is one thing I regret when I was married, it was having multiple affairs with different women. That wasn't the stand-up thing to do. I wish I could have kept my d*ck in my pants."
Although the basketball player credits faith, his children, and Kardashian for guiding him through his rehabilitation process, he noted how humbling his hospitalization was. "I'm a big strong dude who has made it to the highest level of doing what he loves. And now I can't walk or talk."
There is only so much reality TV allows viewers to see and experience with the stars they come to know. Odom should not be commended for simply acknowledging his mistakes; they are an unfortunate and inescapable part of his narrative. But he does sound remorseful for his past actions and is actively seeking treatment to improve his health for the sake of his children. Despite his many reincarnations, the public may never know the true Lamar Odom. But a sober, healthy man, flaws and all, will suffice.