Lana Del Rey Just Confirmed That Radiohead Is Suing Her For Copyright Infringement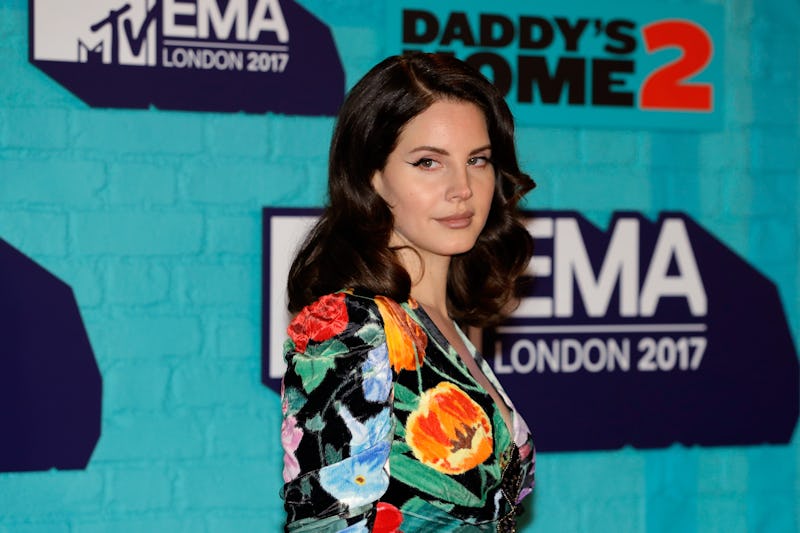 Andreas Rentz/Getty Images Entertainment/Getty Images
The new year is getting off to a pretty rocky start for Lana Del Rey. Rumors circulated this morning that Radiohead was in the process of suing the singer for copyright infringement, though the band hadn't confirmed much of the news to anyone. On Sunday, Jan. 7, Lana Del Rey confirmed via Twitter Radiohead is suing her for copyright infringement due to similarities between her Lust for Life song "Get Free," and the band's 1992 song "Creep." Bustle has reached out to Radiohead for comment, though we haven't received a response at this time.
Del Rey tweeted about the lawsuit to her 8.2 million fans on Sunday, claiming that the band's lawyers have been "relentless" so far, and that Radiohead is currently trying to get 100 percent of the publishing for "Get Free."
"It's true about the lawsuit. Although I know my song wasn't inspired by Creep, Radiohead feel it was and want 100% of the publishing - I offered up to 40 over the last few months but they will only accept 100. Their lawyers have been relentless, so we will deal with it in court."
Lana Del Rey, Kieron Menzies, and Rick Nowels are currently listed as co-writers for "Get Free." The song is featured along with "Love" and the A$AP Rocky-assisted "Groupie Love" on Del Rey's most recent album, Lust for Life, which was released in July 2017.
"Creep" appeared on Radiohead's 1993 album, Pablo Honey, becoming a nationwide hit and charting at 34 on the Billboard Hot 100.
This isn't Radiohead's first time going through some legal issues with "Creep." Pitchfork reports that, following the song's release in 1992, the band was allegedly sued over its similarities to the Hollies' 1974 song "The Air That I Breathe."
Unlike Lana Del Rey, Radiohead hasn't yet publicly addressed or confirmed the lawsuit. If you haven't heard the songs, you can be the judge of if they sound similar or not.
Lust for Life is Lana Del Rey's fifth studio album, and was released in July by Interscope Records. The project just received a Grammy nomination for Best Pop Vocal Album along with Coldplay's Kaleidoscope, Imagine Dragons' Believe, Kesha's Rainbow, Lady Gaga's Joanne, and Ed Sheeran's Divide. According to a poll on Grammy.com, Lust for Life comes in second behind Joanne for the album many fans think will end up taking home the award.
Lana Del Rey's tweet has been retweeted 10,000 times since this morning, and many of the singer's fans are sticking by her.
Many of those who have responded to the tweet agree that the songs don't sound alike.
Others have different opinions, with some pointing out that, though they do sound similar, Radiohead's request to get 100 percent of the publishing sounds a little harsh.
Then, of course, there are some who feel as though Radiohead shouldn't be making an attempt to sue Del Rey over copyright infringement of the song when they were sued for the same thing decades ago.
Of course, a good majority of these tweets come from Lana Del Rey superfans, so they're likely a little biased. There are people who have noticed some similarities between the two songs.
Again, you can be the judge of whether or not the songs sound the same, but ultimately it really won't matter what fans of both groups may think. Lana Del Rey having to give up 100 percent of the publishing does sound a little harsh, but this is obviously something that should be left up to the courts to decide. A court date has yet to yet to go on public record.