The Host Of 'Tinder Live' Has Written A New Book About Being OK With Being Alone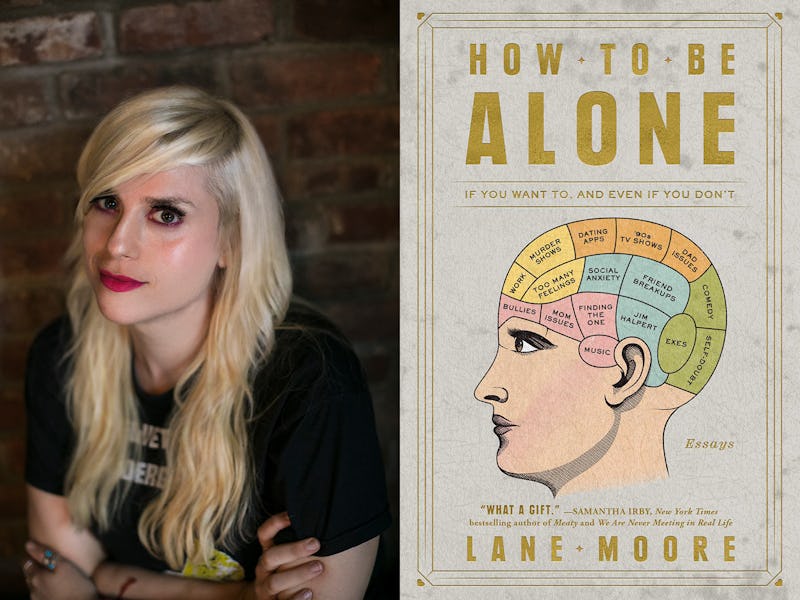 Lane Moore, courtesy of Amber Marlow
Spray-painted on the ground outside of Brooklyn cafe is a stencil I have seen around the city before: "Protect Your Heart." It seems particularly counterintuitive today, because I am about to sit down with writer, musician, comedian, and actor Lane Moore to discuss How to Be Alone, an essay collection she hopes will allow readers to access their emotions about loneliness — whatever they might be.
Throughout the book, Moore excavates her personal history to share her experiences with loneliness; she writes of a childhood best friend's departure, of having to be her own parent, of dealing with bad relationships, of raising someone else's children when you're still a kid yourself, and of the exacting pain of being by yourself during the holidays. It is at once a narrative and a guide, and Moore offers up these stories from her life so someone else, somewhere can relate if they need to. So they know they're not alone.
"I've always wanted to be someone for other people that I didn't have," Moore tells me, a cup of tea between her hands. She's wrapped up in a long, cozy beige cardigan over a slipdress and marigold tights. Shortly after we begin speaking, she pulls her cardigan tightly around her. She's clutching her arm to stop herself from shaking. She tells me it's because of the stress of talking about this book.
Moore was neglected as a child, and she lived in her car as a teenager. She eventually moved to New York, where she lived in hostels and subsisted mostly on $1 boxes of Walgreens dried fruit. She had her heart broken by romantic partners she thought she loved, not realizing she had developed coping mechanisms to endure emotional abuse. But she survived. "I think that everything I've been through, it has given me superpowers in terms of being alone," she says. In the book, she shares she is still in the process of learning to trust herself, take care of herself, and love herself.
How to Be Alone is Moore's first book, but she's been crafting her career in media for a long time. She began her career as an intern at The Onion, a job she secured after following up in person by pleading with their building's doorman to let her upstairs. Eventually, she began editing a comedy blog while also developing her a comedy career alongside her band It Was Romance. She later the became the Sex and Relationships editor at Cosmopolitan, where she won a 2016 GLAAD Award for her role in expanding queer coverage on the site. Not long after, Moore began to focus on her own projects, including Tinder Live, a comedy show where Moore uses the dating app in front of a live audience and hilariously chats with her matches, accompanied by celebrity guests. At its core, Tinder Live comes from the same place as How to Be Alone: Moore wants to be there for people who are struggling, to bring some humor to difficult situations.
"At times I've struggled to feel seen, to have my history feel seen, to have where I come from feel seen because I 'turned out great.' But that doesn't mean that I Am Fine," she writes in the book. "I am working every day, tirelessly, like you wouldn't believe, on being fine... I'm so tired and I just want to travel and eat and smile and move through the world with a semblance of peace."
Prior to reading Moore's book, only two books had made me cry: Gary Soto's The Cat's Meow when I was 10, and Elizabeth Kendall's Autobiography of a Wardrobe when I was 22. But Moore's vivid voice leapt off the page and melted my icy journalist heart. In the essay "All This Pain Must Be Worth It Because You're Supposed to Be My Soulmate," she describes her own dating life — and much of it felt painfully relatable to my own. My heart ached for both of us. "I cried a lot writing it," Moore says. "I'm still crying."
How to Be Alone was born from Moore's desire for catharsis, not just for herself, but for others. "I wanted to talk about some stuff that was kind of heavy but written in a funny way," she says. Despite an agent telling her nobody wants to read something sad, Moore believed people really did want to access to darker parts of themselves. "A lot times a book doesn't cut you that deep is maybe because the person who made it didn't allow themselves to go that deep," Moore says. "I did it because I think it's worth it. I think that's the brave part."
She begins to cry and I hold her hand.