LAPD Cannot Confirm Musician Tom Petty Is Dead At Age 66 — CORRECTION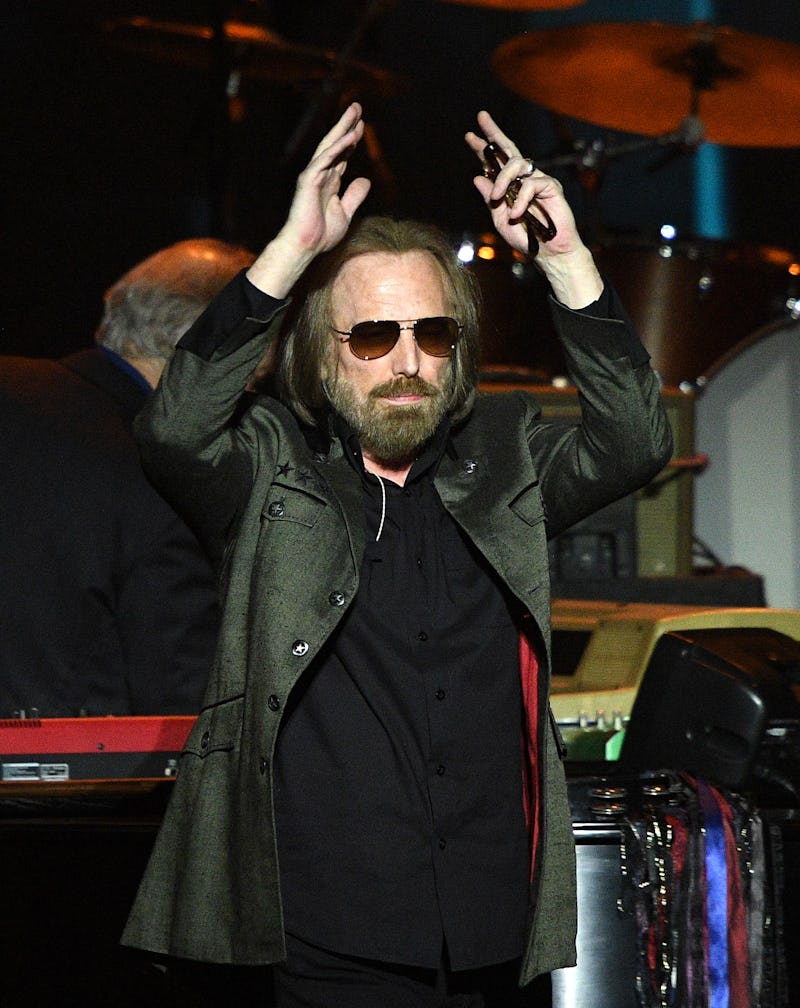 Kevork Djansezian/Getty Images Entertainment/Getty Images
Update: Late Monday night, manager Tony Dimitriades confirmed that singer Tom Petty "died peacefully at 8:40 p.m. PT surrounded by family, bandmates and friends." He said that Petty could not be revived after going into cardiac arrest in his Malibu home.
Update: At 4:55 p.m. on Oct. 2, the LAPD tweeted that they had "no information about the passing of singer Tom Petty.. Initial information was inadvertantly [sic] provided to some media sources. However, the LAPD has no investigative role in this matter. We apologize for any inconvenience in this reporting." Bustle had reached out to Petty's reps and the LAPD for confirmation, but did not receive a response by the time of publication.
Update: According to a Monday tweet from ABC News' Clayton Sandell, there is no official confirmation of Petty's death, but the Los Angeles County Sheriff's Department said Petty was transported to the hospital, but cannot confirm his condition. TMZ also reported Monday the LAPD confirmation of his death is inaccurate and the LA Sheriff's Department handled the emergency. Per TMZ, Petty is alive, but "the singer is not expected to live throughout the day, but he's still clinging to life."
Earlier: After being rushed to the hospital in critical condition, it's now being reported that Tom Petty has died at the age of 66. The musician and lead singer of Tom Petty and the Heartbreakers was initially put on life support, according to the TMZ report that broke the news, after EMTs hurried to his home in Malibu, California on Sunday night. The same report claimed that he was found unconscious and in "full cardiac arrest." However, The Hollywood Reporter claimed that authorities could not "confirm [the man they found] was Petty," and that they rushed to respond to an emergency call on Monday morning, not Sunday night. The conflicting reports made it hard to truly know what was going on, at least until the tragic announcement of Petty's death by CBS News, who reportedly confirmed the news with the Los Angeles Police Department.
It was TMZ that first reported that Petty would be pulled off of life support at the hospital, which led to an outpouring of sadness and solidarity with his family and friends from mourning fans. The musician's career goes back almost 50 years; according to CBS News, he was first inspired to go into music after seeing the Beatles. "I really saw in The Beatles that here's something I could do," he reportedly said. "I knew I could do it. It wasn't long before there were groups springing up in garages all over the place." The singer has fronted bands Mudcrutch to the Epics to the Heartbreakers, and he has sold over 50 million records during his long career.
At the time of his hospitalization, Petty had just wrapped up a 40th anniversary tour which, in a strangely prescient Rolling Stone article, the singer said he thought would be the band's last. Though, obviously, he was not saying that for such a morbid reason:
"I'm thinking it may be the last trip around the country. It's very likely we'll keep playing, but will we take on 50 shows in one tour? I don't think so. I'd be lying if I didn't say I was thinking this might be the last big one. We're all on the backside of our 60s. I have a granddaughter now I'd like to see as much as I can. I don't want to spend my life on the road. This tour will take me away for four months. With a little kid, that's a lot of time."
Petty was married to Dana York, his second wife who he married in 2001. The second marriage happened five years after his divorce from first wife Jane Benyo, with whom he had two daughters: Adria and Kimberly.
Over the years, the singer has been very open about the various struggles and hardships in his life, including a heroin addiction he detailed for the first time in his 2015 book Petty: The Biography and his abusive childhood. He told Men's Journal in 2015 that, despite his father beating him, his mother was his saving grace:
"She tried to keep an element of civilization in the house to show us there was more to life than rednecks. She read to me a lot. And she liked music: She had a record player and would play Nat King Cole and the West Side Story soundtrack. I think of her every time I hear those songs."
It seems right, then, that the biggest way that Petty has touched lives and moved people is through his music, let alone that he had such a long running career doing exactly what he loved. It's hard to think that a talent like his is really gone, but his legacy will never die.