Lara Trump Thinks The "Kavanaugh Effect" Is Inspiring Women To Vote For Republicans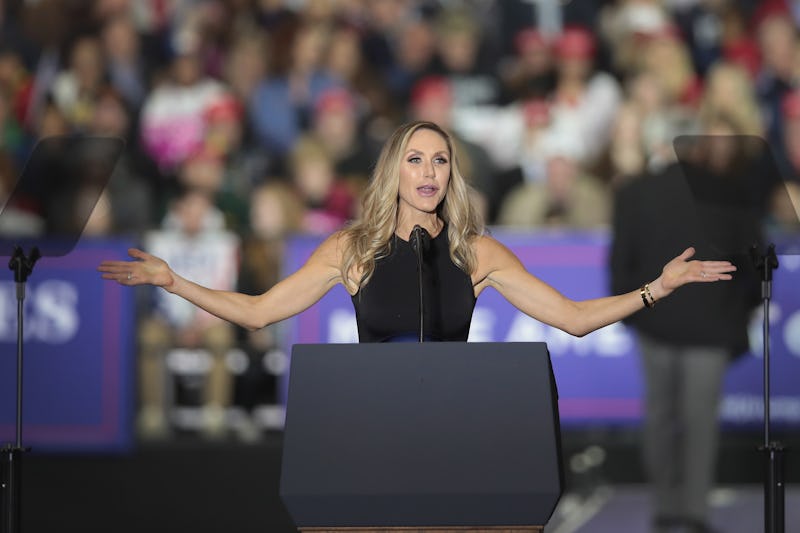 Scott Olson/Getty Images News/Getty Images
With November's midterm elections just under three weeks away, prominent Democratic and Republican figures are pulling out all the stops trying to get people to the polls. But according to one member of the Trump family, a key demographic may already be mobilized by recent political events to side with the GOP. On Fox News on Wednesday, Lara Trump said Kavanaugh's confirmation is inspiring Republican women to "go out and vote." However, that claim doesn't tell the whole story.
"After what I like to call the Kavanaugh effect," she told Fox host Shannon Bream, "the number of women that I think are more inspired on the Republican end now to get out and vote is really astonishing."
Polling suggests that voters overall are more motivated to vote in this year's midterms than in 2014 — according to a Washington Post-ABC News poll released on Sunday, 81 percent of Democrats say they will vote next month, compared to 63 percent in 2014; 79 percent of Republicans plan to vote, compared to 75 percent in 2014. However, the picture gets more complicated when the focus is on women alone, and particularly Republican women. The Post reports the GOP doing unfavorably with women overall, including that the party has lost female voters it secured in the 2016 presidential election.
However, an NPR/PBS News Hour/Marist poll released earlier this month provides a closer view of female voters after the Kavanaugh hearings that indicate Trump's speculations might be correct. According to their report, 83 percent of Republican women say the November elections are "very important," now, compared to 71 percent in July.
Despite those numbers on voting, when it comes to Kavanaugh, approval took a clear downward swing from the nomination in July to his confirmation this month. According to The Post, 51 percent of people polled disapproved of his confirmation, compared to 41 percent who approved. Women were more critical of Kavanaugh than men, with 58 percent disapproval and 37 percent approval as of last week.
Polling among Republican women was quite a bit more complicated. A Morning Consult/Politico poll of Republican women during the confirmation process found that the sexual assault allegations brought forward by Dr. Christine Blasey Ford (which Kavanaugh vehemently denies) were especially damaging to his approval rates. After Ford's allegations became public — and before other women had come forward — female Republican support for the nominee dropped 18 percentage points, to 49 percent in favor and 15 percent in opposition.
And yet, in approximately the same time frame, other polls showed an increase in Kavanaugh approval among Republican women. HuffPost/YouGov poll found a 12 point increase in approval from Sept. 18 to 22, and a YouGov/Economist reported a net gain of two points between Sept. 18 and 25.
"I've found women coming up to me telling me how frustrated they were with [the confirmation process], how much it makes them want to go out and vote for Republicans," Trump said during her Wednesday interview. She added that a "pretty amazing" number of women have been showing up to Republican political events.
It's worth noting, with these contradictory reports, that polling is a tricky, and not entirely reliable way to gauge voter opinion. Question wording, sample sizes, and polling methods can all affect outcomes. So despite what a poll — or Trump — says, the only real measure of female Republican voting enthusiasm will come on Election Day.