Larry Nassar Sent A 6-Page Letter To A Judge About His Mental Ability To Face His Victims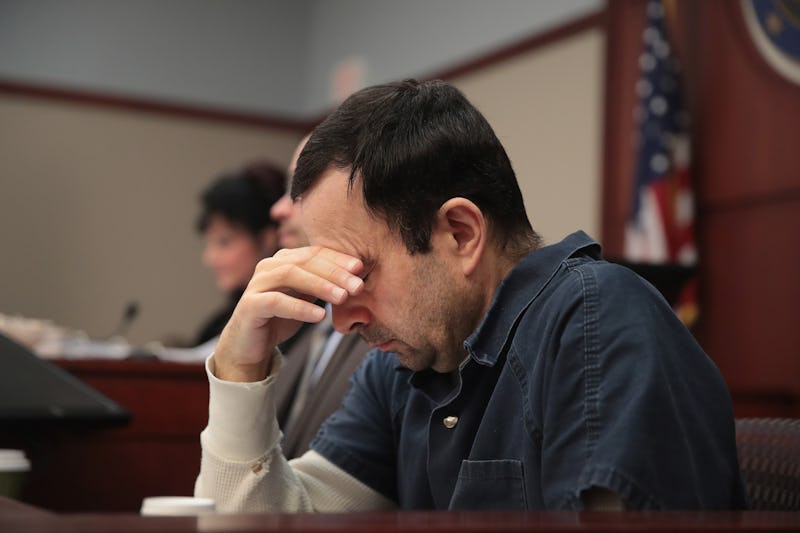 Scott Olson/Getty Images News/Getty Images
The former Team USA Gymnastics doctor who pleaded guilty last year to molesting seven underage girls is now complaining about having to face his survivors and listen to their stories. In a six-page letter to the judge presiding over his case, Larry Nassar expressed concern about his mental ability to hear the women he'd abused speak about how his actions had affected their lives. Nassar also accused the judge of turning his sentencing proceedings into a "media circus" so she could sit in the spotlight a little longer.
"She wants me to sit in the witness box next to her for all four days so the media cameras will be directed toward her," Nassar wrote in his letter. "Aquilina said if I pass out she'll have the EMTs revive me and then prop me up in the witness box. ... I'm very concerned about my ability to be able to face witnesses this next four days mentally." Ingham County Circuit Court Judge Rosemarie Aquilina read Nassar's letter aloud in court Thursday before responding to his complaints.
"This isn't worth the paper it's written on," Aquilina said Thursday in reference to Nassar's letter. "There's no truth in here. It's delusional." The judge went on to call Nassar's complaints and concerns "mumbo-jumbo" and advised him to "talk about these issues with a therapist" rather than with her.
More than 130 women and girls have come forward to accuse Nassar of sexually assaulting them, including Olympic gymnasts Simone Biles, Gabby Douglas, McKayla Maroney, and Aly Raisman. Of those, 101 are expected to speak in court, confronting their abuser and sharing impact statements with the judge as part of the plea deal Nassar signed.
Although the judge notified Nassar the court had mental health and emergency medical professionals on standby, Aquilina appeared largely unsympathetic to Nassar's letter. "You may find it harsh that you are here listening," CBS Sports reported Aquilina told Nassar in court Thursday. "But nothing is as harsh than what your victims endured for thousands of hours at your hands. Spending four or five days listening to them is significantly minor considering the hours of pleasure you've had at their expense and ruining their lives."
According to the Washington Post, impact statements from 50 victims had been heard in court by the time the second day of Nassar's sentencing hearing had adjourned Wednesday. Throughout each statement Nassar has sat on the witness stand, his face toward the court to give the dozens of women he abused perhaps their first — perhaps their only — chance to confront him face-to-face.
On Thursday, the court heard a statement from Olympic gold medalist McKayla Maroney, who said Nassar began abusing her since when was 13 or 14 years old and had continued to do so until she retired from gymnastics in 2016 at the age of of 20. "He abused my trust," Buzzfeed News reported Maroney wrote in her statement. "He abused my body and he left scars on my psyche that will never go away."
Along with condemning Nassar, Maroney also lashed out at Michigan State University, USA Gymnastics, and the U.S. Olympic Committee for enabling him. "A simple fact is this," Maroney's statement read. "If MSU, USA Gymnastics, and the U.S. Olympic committee had paid attention to any of the red flags in Larry Nassar's behavior, I would have never met him. I wouldn't have been abused by him."
The judge will reportedly disclose additional parts of Nassar's letter at the end of his sentencing hearing, according to ESPN. Aquilina did not make the letter public after reading portions of it in court Thursday and has not said if she will or not.